100 Flavors of Éclair @ Crimson Hotel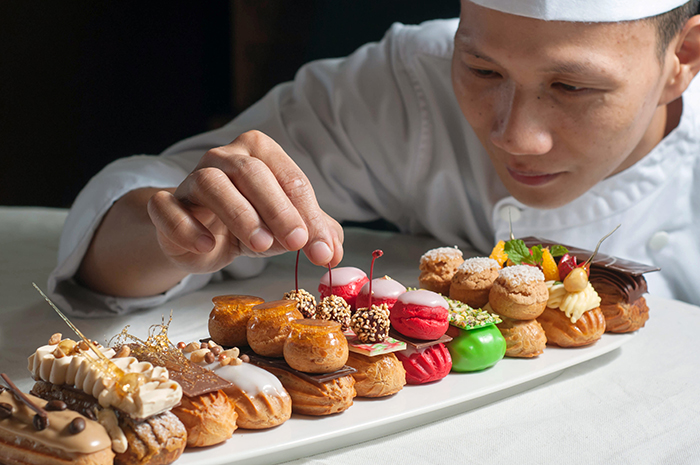 With a history dating back to 1700's, "petite duchesse" (pain à la duchesse in French) or modernly known now as éclair – made of choux dough filled with cream and topped with icing. On February 5, Crimson Hotel Filinvest City, Manila is set to make a world record of showcasing 100 luscious flavors of éclair at the grand lobby – The Gallery. For a very limited time, this sweet spectacle will feature all time-favorite to creatively delicious flavors for everybody's liking, such as – Vanilla Mousse with Honeycomb, Mixed Berry Yoghurt Mousse, Malt Ball Crunch, Hershey's Dream, Toblerone, Wonka Bar, Chocolate Whisky Caramel, Cheese and Chive, Strawberries and Cream, Leche Flan, English Tea and Vanilla, Black Forest, Chocolate Ganache, Rocky Road, Vanilla Cheesecake, Salted Caramel, Caramelized Banana, Rum Raisin, Cheddar and Sweet Onion, Tripple Chocolate, Passion Fruit, Ham and Cheese, Tira Tira (classic Filipino candy), Black Currant and a whole lot more (visit crimsonhotel.com/manila for the complete list of flavors). The 100 Flavors of Éclair will be until February 14, selling in per piece at Php100 only and in box of 5 pieces for only Php450 net.
Just minutes away via a smooth riding experience at the Skyway, located at the laid back south of the metro, where a balance of city living and lush green spaces can relax you in many ways is the Crimson Hotel Filinvest City, Manila refuge. For more information and reservations, please call (632) 863 2222 or visit website crimsonhotel.com/manila. Crimson Hotel Filinvest City, Manila is inside Entrata Urban Complex, 2609 Civic Drive, Filinvest City, Alabang, Muntinlupa City 1781.
Hits: 111