Food, Family and Prosperity: Celebrate the Good Life this Chinese New Year at TriNoma from February 5 to 8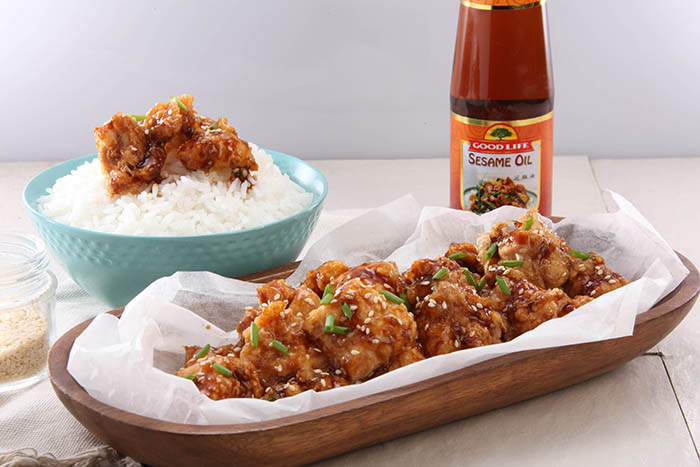 Gongxi facai! For many people around the world, the Chinese New Year signals a fresh start; a time of hope and exciting opportunities. A grand celebration, the Chinese New Year or Spring Festival pays tribute to ancient cultural traditions and customs. It is also an event that bonds family and friends together for good food, warm fellowship and endless laughter.
In the Philippines, the Chinese New Year has become one of the highly anticipated holiday events not only among the Filipino-Chinese community but also for Filipinos who actively take part in the celebrations in hopes of receiving great tidings in the Year of the Monkey.  Symbolical food and dishes are also the centerpiece of the festivities to bring year-long prosperity. And because eating is considered a happy affair, symbolical delicacies are generously shared among family and friends to bring good fortune and harmony. Among these are noodles (for longevity), rice cakes (for prosperity), dumplings (for good luck), chicken or duck (for unity and family togetherness) and fish (for abundance).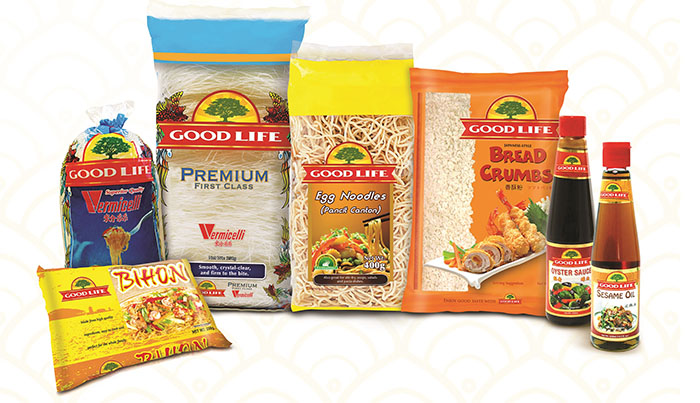 Just like the Chinese, Filipinos have strongly associated meaningful occasions with celebratory food. For instance, noodle dishes, which are a staple in Chinese cuisine, have become part of almost every important celebration and life milestone, like birthdays, graduations, fiestas and holidays. As a tribute to Filipinos who cook for their families "from the heart", one leading food brand – Good Life – proudly brings the distinct Asian culinary flavors into more Filipino kitchens and family occasions.
Offering a complete line of Asian food products that bring out the genuine taste and flavor of your favorite Asian dishes since year 2000, Good Life – which name is inspired by the Chinese's common association of longevity with noodles — carries products like Vermicelli, Egg Noodles, Bihon, Sesame Oil, Oyster Sauce and Japanese-Style Bread Crumbs. And because Good Life products are of top grade food quality standards, one is assured of delighting loved ones with best-tasting dish renditions.
"A lot of people associate ​the good life with good relationships and the delightful experience of having good times with family and friends ," said Fly Ace Corporation's Vice President for Marketing Mr. Abraham P. Cipriano, Jr. "So, it is only fitting that Good Life products help you create those daily celebrations of having a delightful Asian feast for the entire family to enjoy together."
This year, Good Life marks the start of the Chinese New Year in an event entitled Good Life Flavors of Fortune: A Celebration of Good Life, from February 5 to 8, 2016 at the TriNoma Activity Center. Taste the culinary feast from the Good Life Chinese Food Fair, witness the 1st ever Good Life Chinese Culinary Cook Off in partnership with the Center for Culinary Arts Manila, and learn from the Chinese Cuisine Cooking Demos! Together with event partners ChinoyTV, Confucius Institute and Bahay Tsinoy, there will be Chinese exhibits such as Lingnan Style Paintings, You Speak Hokkien, booth activities featuring Calligraphy, Chinese Paper Cutting and Lantern Making and various cultural performances on stage. Watch live demonstrations of Chinese Lantern Making, Collaborative Chinese Painting and the traditional Dragon and Lion Dance exhibition. And, get to know your 2016 fortune straight from Feng Shui masters Hanz Cua and Naneth Yu Guinto. It will definitely be a fun day of eating, cooking and celebrating traditions and culture, so mark the date on your calendars!
Good Life Flavors of Fortune: A Celebration of Good Life is made possible with event partners ChiNoyTV, Federation of Filipino Chinese Chamber of Commerce and Industry Inc., Confucius Institute, Bahay Tsinoy, Center for Culinary Arts Manila, Masflex, Tecnogas, Tai Chi, Slimmers World, Ho-Land Hopia and Bakery, Waters Philippines, Faber Castell, Phil Sen Hua, King Chef Seafood Restaurant, Cook Magazine, Breakfast Magazine, Food Magazine, Working Mom, Appetite, WatchAppetite, Business Mirror, Malaya Business Insight, Business World, The Manila Times, WhenInManila.com and the official venue partner, TriNoma!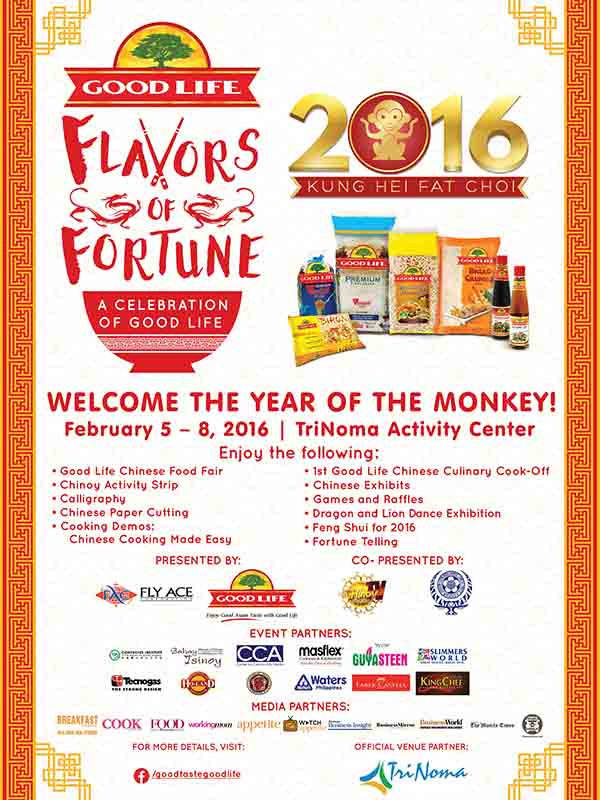 Celebrate family togetherness and many more joyful occasions all year-long with Good Life food products. Good Life is a food brand under Fly Ace Corporation, one of the leading food and beverage consumer goods companies in the country today. Learn more at www.flyacecorp.com.one of the country's leading food and beverage companies. Good Life food products are available in all major supermarkets and grocery stores nationwide. Learn more at http://www.flyacecorp.com/or like Good Life in FB (goodtastegoodlife).
Hits: 121