Crowne Plaza Manila Galleria and Holiday Inn Manila Galleria Welcome New Executive Chef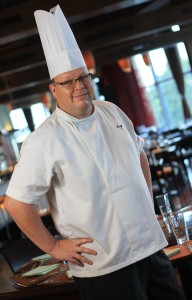 Crowne Plaza Manila Galleria and Holiday Inn Manila Galleria welcome a culinary master to lead its respective kitchens. Chef Ingo Oldenburg, a German national who brings with him over 20 years of experience in various deluxe restaurants and luxury hotels in Europe, Africa, Middle East and Asia.
Chef Ingo is a German Culinary Masters Degree holder and has been trained by internationally acclaimed institutions in culinary management. He specializes in large-scale culinary operations of hotels and resorts, and has successfully collaborated with Michelin Star Chefs Jarad Gallagher, Pere Massana, and Shiqin Chen to name a few. He started his career in various restaurants in Germany, and then moved to United Kingdom where he became part of Fredericks Hotel in Maidenhead and Mayfair Intercontinental Hotel London. Chef Ingo also had a stint as Sous Chef for Banquet and Catering at the Ritz-Carlton Wolfburg in Germany before moving to Dubai to join Sheraton Jumeirah Beach, and later on to Sheraton Miramar in Egypt. Prior to joining Crowne Plaza Manila Galleria and Holiday Inn Manila Galleria, Chef Ingo was the Executive Chef of Pullman Jakarta in Indonesia.
Handling both kitchens of the two hospitality landmarks in Ortigas Center, Chef Ingo is incorporating new flavors and introducing new dishes in the menus to provide more options for guests and patrons. He plans to launch various campaigns in all outlets to tap new markets such as Wine Pairing Dinners, Baking Classes, and hybrid food. "I would like Crowne Plaza and Holiday Inn Manila Galleria to be known for unique items while still meeting the popular taste," he shares. "I would like to offer what I love to eat and match it with the taste of the people," he added.
Chef Ingo's signature dishes include Foie Gras Duo which features grilled Foie gras with fresh pomelo, apple puree and balsamic reduction and Foie gras mocha, and Beef Carpaccio served with Arugula salad and drizzled with truffle oil, Manchego cheese shavings and sunny side quail egg.
Be one of the first to try Chef Ingo's specialty dishes when you visit Crowne Plaza Manila Galleria and Holiday Inn Manila Galleria. For inquiries and reservations, please call 633-7222 or email fandb.reservations@ihg.com
Hits: 65