Keep kids healthy and jolly with these fun back-to-school baon recipes
It's back-to-school time! While growing kids need plenty of energy and nutrition to fuel their mind and body while at school, planning a well-balanced and delicious packed lunch or recess snack every day can be quite a challenge for Moms.
Luckily, Mommies don't have to be stressed out or stuck for daily baon ideas with these fun, easy-to-cook recipes courtesy of JOLLY, the country's leading canned vegetable brand.  Every can of Jolly contains no artificial preservatives — only water, salt and citric acid are used. And they are canned at the optimal point of freshness – ensuring a consistent quality of the vegetables. Ideal for students and busy Moms, get kids off to a flying start this school year by whipping up these yummy and very healthy lunchbox treats which they will surely love.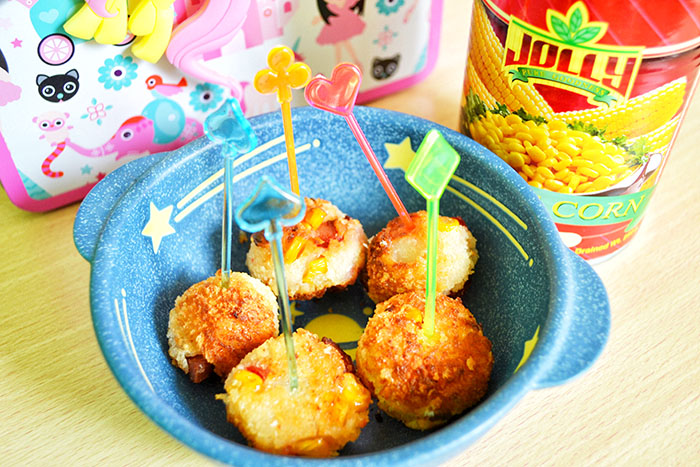 CORN AND HOTDOG FRITTERS
by Mommy Luchie of tweenselmom.com
Ingredients:
1/3 cup Jolly Heart Mate Canola Oil
2 cups  flour
2 teaspoons baking powder
1 teaspoon salt
1/2 teaspoon white sugar
1 teaspoon melted butter
2 pieces  eggs
1/3 cup Jolly Cow Fresh Milk
1 can Jolly Whole Corn
Kernels 425g, drained
3-4 pieces  jumbo hotdogs,
diced into small pieces
1/2 cup cheddar cheese,
diced into small pieces
½ cup Good Life Bread Crumbs
Cooking procedure:
Heat Jolly Heart Mate Canola Oil in a deep pan.
In a bowl, combine Jolly Whole Corn Kernels with remaining ingredients except for bread crumbs. Mix until well combined.
Using a tablespoon, scoop a portion and form it into a ball and then coat it with bread crumbs. Repeat the process for the remaining mixture.
Deep fry until it turns golden brown. Serve with mayo-ketchup dip.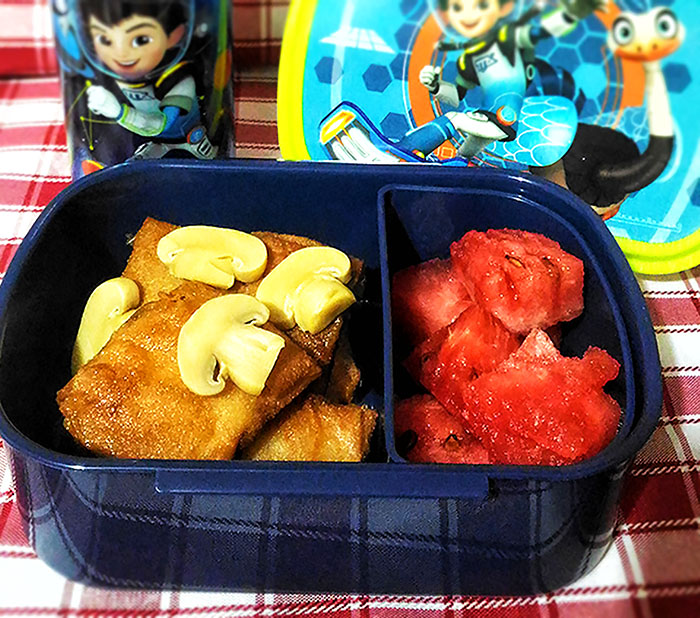 CHICKEN AND MUSHROOM POCKETS
by Mommy Luisa of artofbeingamom.com
Ingredients:
2 cups Jolly Claro Palm Oil
1 piece white onion, minced
3 cloves garlic, minced
250 grams chicken breast fillet, boiled and diced
1 can Jolly Mushrooms Pieces and Stems (400g), drained and chopped
½ teaspoon salt
¼ teaspoon ground black pepper
8-10 pieces spring roll wrapper
½  cup cheese grated
Cooking procedure:
In a heated pan, saute onion, garlic, chicken and Jolly Mushrooms in 2 tablespoons Jolly Claro Palm Oil. Season with salt and pepper.
Get a piece of the spring roll wrapper and cut it in half. Place one teaspoon of the filling and 1/2 teaspoon of grated cheese at the edge of the wrapper. Fold over into pockets until sealed well. Repeat the process until wrapper and filling is used up.
Deep fry the pockets until golden brown. Serve warm with ketchup.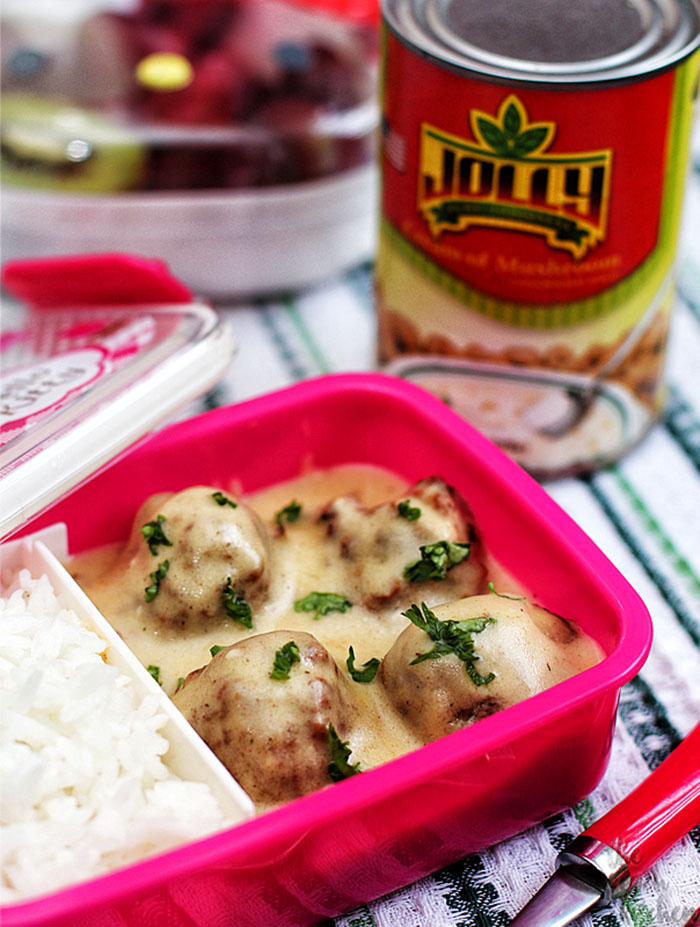 SWEDISH MEATBALLS
by: Mommy Peach of mommypeach.com
Ingredients:
MEATBALLS
4 tablespoons Dona Elena Pure Olive Oil
1 large white onion, chopped finely
250 grams ground beef
250 grams ground pork
1 can Jolly Mushrooms Pieces and
Stems, drained and chopped
½ teaspoon ground allspice
½ teaspoon ground nutmeg
1 piece egg
2 tablespoon bread crumbs or all-purpose
flour
salt and pepper to taste
GRAVY
3 teaspoons butter
2 teaspoons all -purpose flour
1 piece beef cube dissolved in
3 cups water
1 can Jolly Cream of Mushroom Soup
½ cup sour cream
salt and pepper to taste
chopped parsley for garnish
Cooking procedure:
Meatball
Heat Dona Elena Pure Olive Oil in a non-stick skillet and sauté onions until it becomes translucent. Set aside.
Combine ground beef, ground pork, Jolly Mushrooms, sautéed onions, allspice, nutmeg, egg, bread crumbs, salt and pepper in a large bowl. Mix well until combined.
Scoop ½ tablespoon of the meat mixture and roll the mixture into a ball. Do this with the remaining mixture.
Add the remaining Dona Elena Pure Olive Oil into the pan and fry meatballs in batches until golden brown. Set aside.
Gravy
Melt butter in the same pan, whisk the all-purpose flour until brown. Add beef broth and Jolly Cream of Mushroom Soup while whisking.
Continue whisking until the mixture is free of lumps. Add sour cream, salt and pepper.
Put the cooked meatballs into the pan and bring to a simmer while stirring constantly. Simmer for 1-2 minutes until meatballs are heated through.
Garnish with chopped parsley. Serve with rice or mashed potatoes.
Make school time the perfect time to introduce kids to healthier eating habits with these delightful lunchbox ideas from JOLLY, which carries a wide range of canned food varieties: JOLLY Mushrooms (the leading canned mushroom brand in the country, it contains an impressive 14mg of L-ergothioneine, a powerful antioxidant that is uniquely found in mushrooms); Jolly Corn (the leading corn brand), including other vegetables like asparagus, garbanzos, green peas, pimiento, salted black beans, tomato paste and water chestnut.
Imported and distributed by Fly Ace Corp., one of the country's leading food and beverage consumer goods companies, Jolly products are available in leading supermarkets nationwide. To know more delicious ways on how to incorporate healthy nutrition in your daily menu, recipes are available at JOLLY's official website www.jolly.com.ph and FB page: Jolly Eats.
Hits: 218