Cazuela Serves Spanish Colonial Cuisine
The cazuela is a clay pot used in cooking, it serves as a vessel for combining ingredients to make sumptuous dishes.
Chefs Mon Urbano and Day Salonga had a similar idea for their newly-opened Cazuela restaurant. "We want our diners to experience the flavors of the different countries colonized by Spain. We aim to go beyond traditional Spanish fare and want to showcase dishes created because of the Spanish galleon trade," says Chef Day.
"Spanish Colonial Cuisine is the result of using local ingredients from various countries to produce Spanish flavors," explains Chef Mon. For better understanding, a spread of Cazuela's most popular items was served to an intimate group of media guests during a recent lunch.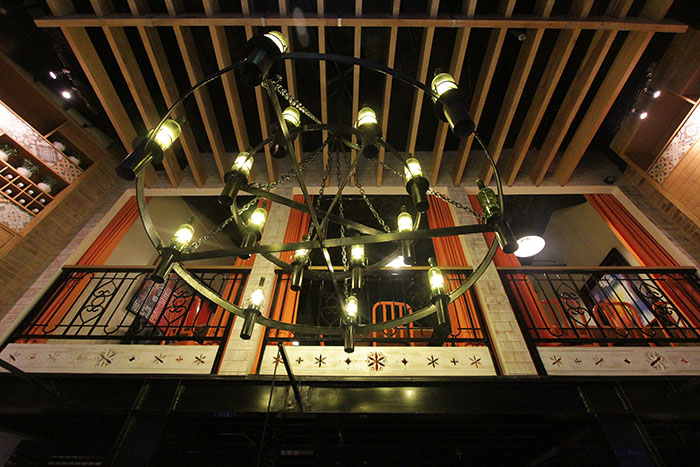 Among those presented were the Ox Tail Estofado and Lamb Skewers which are products of the marriage of Spanish and Latin American, the Pan-seared Mackerel which showed shades of Spanish, Filipino, and American. And the Veal Caldereta and Baby Squid al Ajillo which are heavy with Filipino influences.
Cazuela's best-sellers include the Tuna Ceviche, Gambas al Ajillo, Callos, and their Paellas. All best washed down with Sangria, of course. For dessert, there is Kesong Puti Cheesecake and Gel Salonga's Brazo de Fernando otherwise known as Gypsy Cake, which was part of Inquirer Lifestyle's Best Desserts 2015.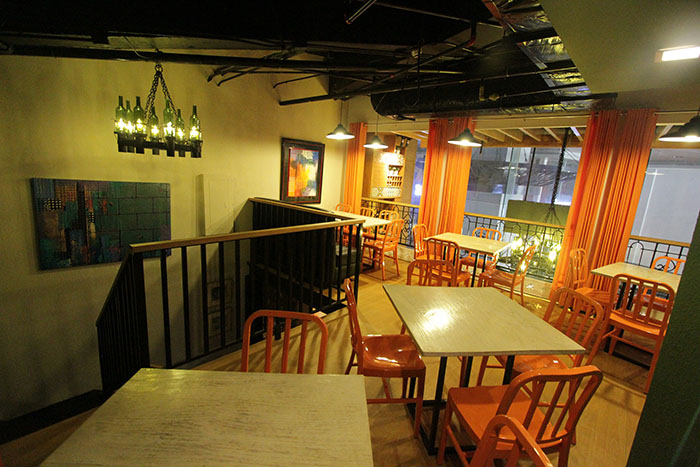 Veering away from the traditional makes Cazuela stand out from the other Spanish restaurants in the metro. It also allows for a more flexible and extensive menu to satisfy the wide range of diner preferences. Every member of the family will feel welcome with the options available.
Prices are reasonable too. The average check per person is between P350 and P500. Those who are always on the lookout for special deals will appreciate Cazuela's P799 Wine-All-You-Can promo, which runs every Monday, Wednesday, Friday, and Saturday from 9:00pm to 12:00 midnight. Sangria lovers should drop by every Tuesday, Thursday, and Saturday from 9:00pm to 12:00 midnight to get 50% off their  2nd pitcher.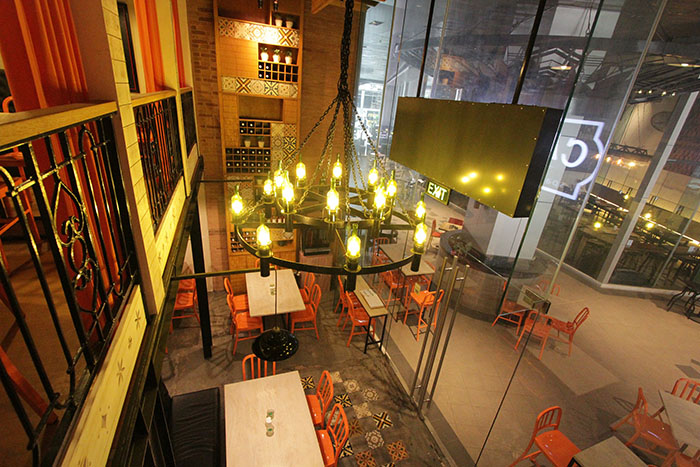 From 10:00pm onwards, guests can order after-party chow of Angusilog (made from certified Angus beef tapa), Brown Rice Arroz Caldo, Homemade Garlic Chorizo, and Tapang Waterbuffalo (Carabao).
The mood of Cazuela is vibrant. Bright paintings adorn the walls and patches of colorful Machuca tiles can be spotted here and there – as creative enhancements of the floor-to-ceiling wine shelves and as embellishments on the cement-based finish of the flooring. The wrought iron chandeliers with wine bottle lamps add a little whimsy to the venue while the black leather couches and soft orange curtains contribute to the coziness. "This was a collaboration of the owners with interior designers Vince Subeldia and Louie Khan," shares Chef Mon.
The restaurant's indoor and outdoor seating can accommodate a total of 60 persons. Events and exclusive functions are welcome. Cazuela can also bring the party to you through their cocktails and tapas catering service.
            Cazuela is managed and operated by Cazuela JV Corporation which includes Atty. Gener Sansaet, Marissa Ebdane, and John and Ces Manalo. All the recipes were conceptualized and developed by executive chefs Mon and Day with the assistance of sous chefs Andre Espiritu and Cristina So.
Cazuela is open from 11:00 am to 12:00 midnight from Mondays to Wednesdays and at 11:00 am to 2:00 am from Thursdays to Saturdays. But operating hours is scheduled to begin earlier (at 10:00am) in a few weeks.
The restaurant is located at G/F The Sapphire Bloc, Sapphire Road, Ortigas Center, Pasig City. For inquiries and reservations, you may call (02) 590 5460 or (0995) 5510424.
Online, you may reach Cazuela through Facebook at www.facebook.com/CazuelaManila and Instagram @cazuelamanila.
Chefs Mon Urbano and Day Salonga established MonDay Chefs in 2008, the consultancy company provides creative solutions and management services to restaurants/food establishments, locally and around the Asian region. The duo owns Ted's Kitchen, Ted's Bed and Breakfast, and Ted's Warehouse Events Space in Santa Cruz, Laguna. They are also part owners of The Commissary Kitchen in Paranaque City. They have authored two books, "The Malunggay Cookbook" and "Make Good Money with Malunggay", both 2013 Gourmand World Cookbooks Award winners.
Hits: 89