Different ways to enjoy fried chicken
Kenny Rogers' OMG Unfried Fried Chicken can be enjoyed with deliciously healthy sides and salads, is best shared with family and friends—and it has less oil and calories!
Every bite of golden-brown, crispy skin and moist, juicy meat of scrumptious fried chicken is indeed a treat. However, the amount of oil used to deep-fry the perfect fried chicken and the calories this adds to every meal is a concern for those who want to enjoy a mouthwatering yet guiltless treat.
Kenny Rogers' OMG Unfried Fried Chicken is cooked using an innovative cooking method that seals all the flavors in without having to deep fry it in oil. This creates an outrageous, mouthwatering, and guiltless meal that one can enjoy in different ways.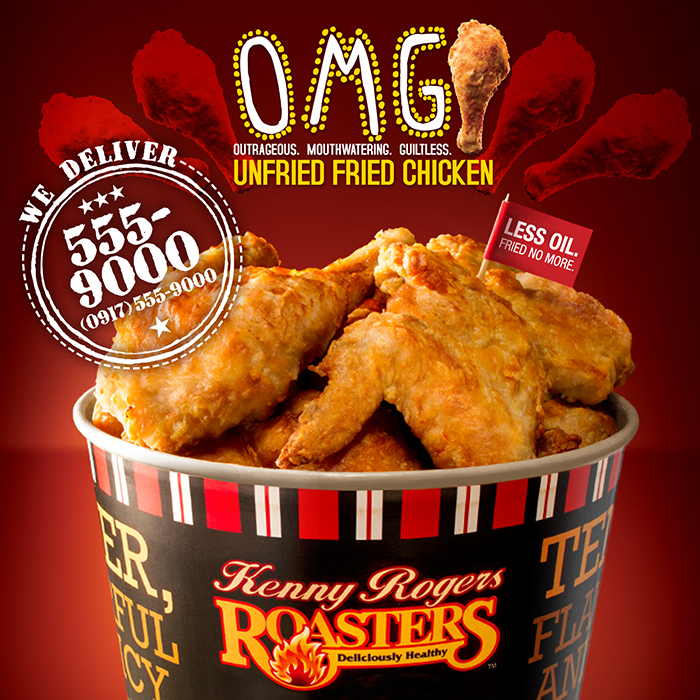 Guiltless indulgence. Dining will never be dull and boring with the flavorful OMG Unfried Fried Chicken. A guiltless treat on its own, this unique unfried fried chicken has less oil and yet still delivers all the yummy characteristics of a solid fried chicken delight: just the right crispiness, mouthwatering juiciness, and a delectable balance of savory flavors that will leave diners craving for more.
Pairing up. The OMG Unfried Fried Chicken comes in Solo Plates A (P195.00) and B (P215.00), with the customer's choice of side dishes, plus rice, muffin, and drink. This new OMG Chicken is a perfect match to any of Kenny's signature sides. Customers will definitely find a satisfying meal, going for deliciously healthy choices with an array of side dishes from greens and veggies like steamed vegetables to smart carbs like mashed potato, and other fruits and salads. Diners can easily customize their OMG Solo Meal treat based on their cravings, as well as dietary needs.
Meeting fitness goals. Flavoring up the fitness journey without giving up a fave treat is made easier with Kenny Rogers' Signature Healthy Plates. Even the health conscious can now enjoy OMG goodness with their favorite High Fiber, High Protein or Classic Healthy Plates. Diet-conscious fried chicken lovers can opt to have the Classic Roasted Chicken replaced with the new OMG Unfried Fried Chicken, and customers get a mouthwatering fried chicken experience with less oil and zero guilt!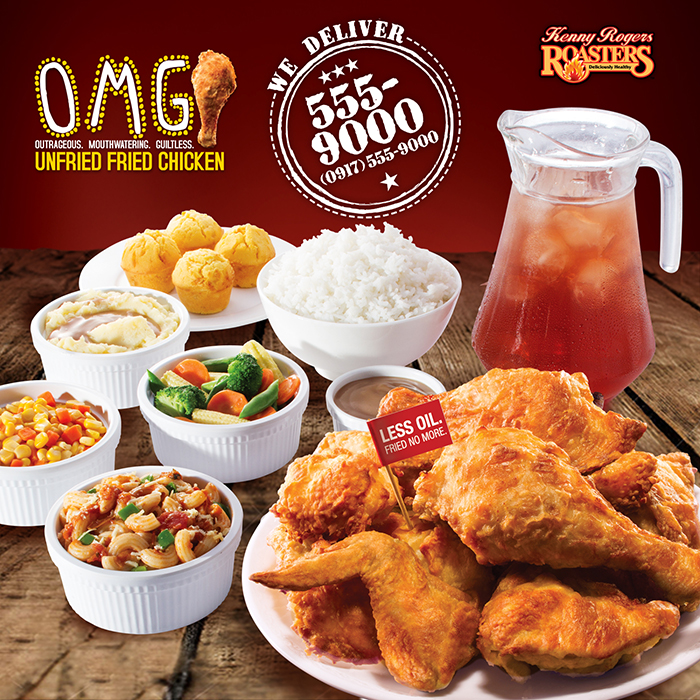 Take a bite and share. Sharing the OMG Unfried Fried Chicken experience with the whole family and barkada is easy and rewarding with Kenny Rogers Group Meal (P730.00). Enjoy eight pieces of this unique fried chicken treat together with four sides, four muffins, four servings of rice, and drinks. Create more outrageously fun memories with loved ones with a flavor-packed healthy treat!
For fun get-togethers anytime, anywhere. There are lots of ways to enjoy the new OMG Unfried Fried Chicken by Kenny Rogers Roasters. And since it's available for delivery, everyone can now create more OMG moments with Kenny's by simply calling 555-900 or ordering online at www.kennys.com.ph to get your fix of chicken with less oil, fried no more, anytime, anywhere.
Hits: 214