Robinsons Supermarket celebrates World Bread Day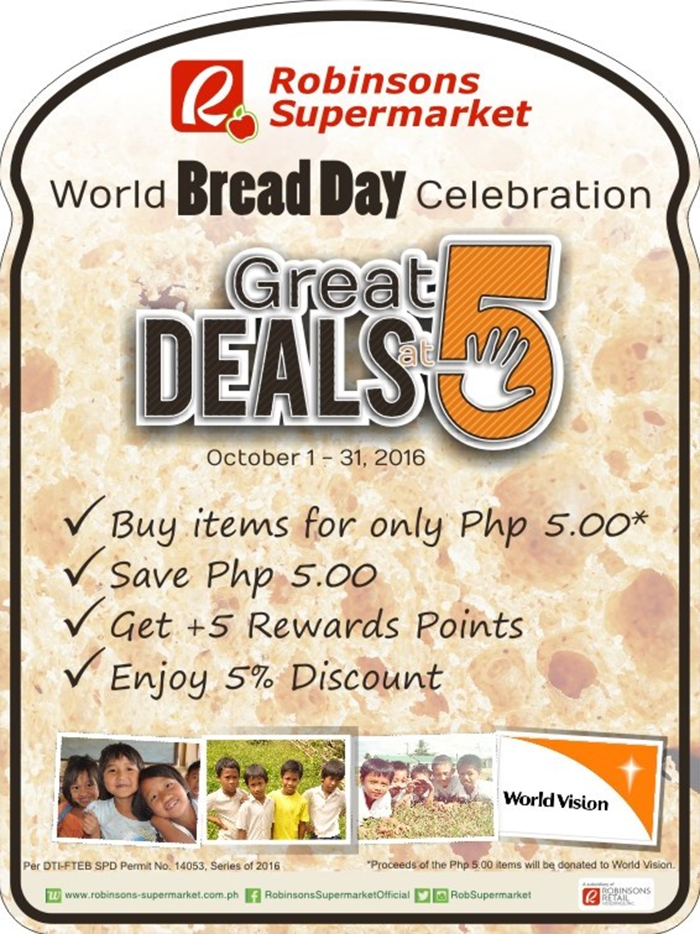 Robinsons Supermarket kicks off its annual month-long celebration of World Bread Day at Robinsons Place Antipolo last October 7, 2016. Now, on its 6th year, the celebration highlights, "Great Deals at 5." Deals include savings of PHP 5.00, additional 5 Robinsons Rewards Card points and 5% discount on bread products for the whole month of October. Customers can also purchase items ranging from eggs to milk for only PHP 5.00 when they purchase PHP 175.00 worth of any bread and/or cupcake. The PHP 5.00 collected from the purchase of these items will be donated to World Vision.
One of the annual activities during World Bread Day is the bake-off competition where Robinsons Supermarket concessionaires show-off their versatility and inventiveness on a selected theme. This year, the theme is cream cheese-stuffed muffins. The creations were judged based on taste, theme relevance and creativity. Customers can sample these stuffed muffins at select Robinsons Supermarket bakeshops.
A 5,000 pc tower composed of bread, muffins and cupcakes was also a scene-stealer at the celebration. Customers were free to grab a piece for free, much to everyone's delight. A giant dice game and bread-themed activities were set-up for customers to play and win more prizes.
Join the celebration and visit Robinsons Supermarket today. Find out more about Robinsons Supermarket's World Bread Day celebration. Like it on Facebook at www.facebook/RobinsonsSupermarketOfficial or visit its official website at www.robinsons-supermarket.com.ph to stay updated on the offers and activities.
Hits: 58