Halloween is Black as Night at Richmonde Hotel Ortigas
As the darkness fills with chills and thrills on All Hallow's Eve, why not reward yourself with mysterious delights you can enjoy with your family and friends? Let Richmonde Hotel Ortigas turn your Halloween spooks to snug comforts and fun excitement!
From October 28 to November 2, 2016, be ready for the Black as Night Halloween Room Packages to enchant your All Saints' Day weekend with your loved ones. The amazing rates start at PhP 3,800nett for the Basic Black Package and PhP 4,300nett for the Sweet as Sin Package that includes a bottle of wine and a cheese platter for a romantic touch even on a night of frights. All room packages are inclusive of buffet breakfast for two, Wi-Fi access, and use of the Health Club's gym & pool, and are applicable to Superior Room, Deluxe Room, and Junior Suite bookings.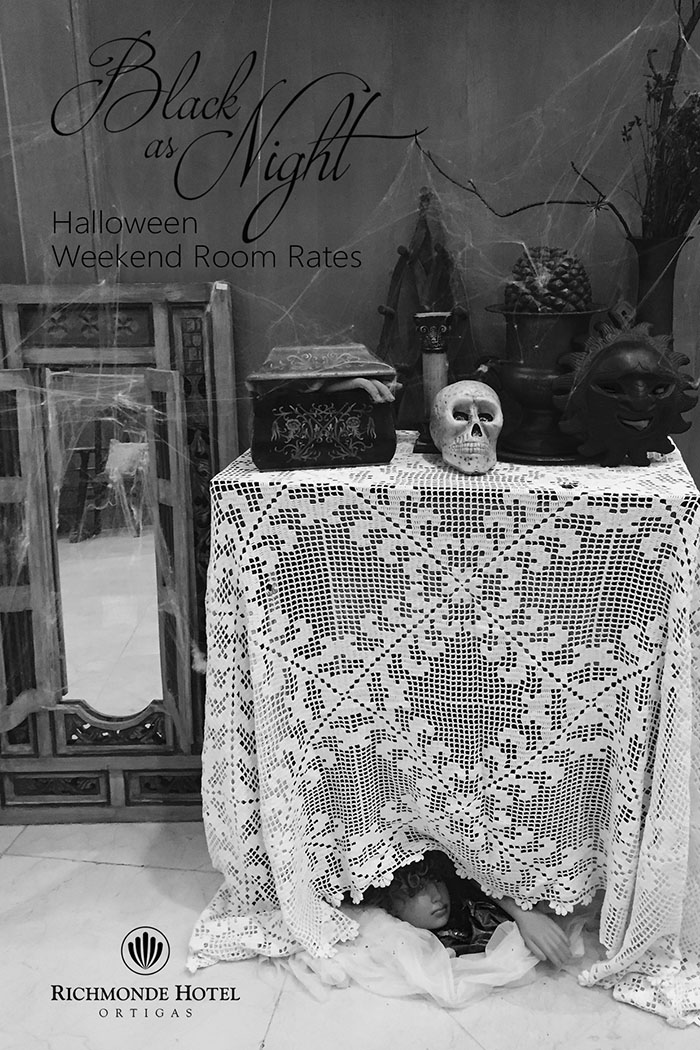 Be freakishly entertained with your buddies at The Exchange Bar on October 28 with the Dark Carnival Halloween Happy Hour. For only PhP 750nett, there will be a parade of countless flavorful drinks including San Miguel Products, featured cocktail drinks, iced tea or soft drinks; a buffet spread showcasing our all-time favorite pica–pica food; and an upbeat live entertainment that will surely do the trick and balance the act altogether. The Happy Hour is from 6pm – 10pm. The pica–pica buffet is open until 9pm. All guests who will join in this Halloween fun fair will also have the chance to win in the raffle with prizes that include gift certificates overnight accommodations, Happy Hour for two and lunch buffet for two.
For inquiries and reservations, call (632) 638-7777.  Richmonde Hotel Ortigas is located at 21 San Miguel Avenue, Ortigas Center, Pasig City. For more information, send an email to rho@richmondehotel.com.ph or log on to www.richmondehotels.com.ph.   For the freshest updates on hotel promotions, like us on facebook at www.facebook.com/ RichmondeHotelOrtigas  and follow us on Twitter and Instagram at @Richmonde_RHO.
Hits: 43