Treat Yourself to Luxury Soft-Serve at Kiss the Tiramisu PH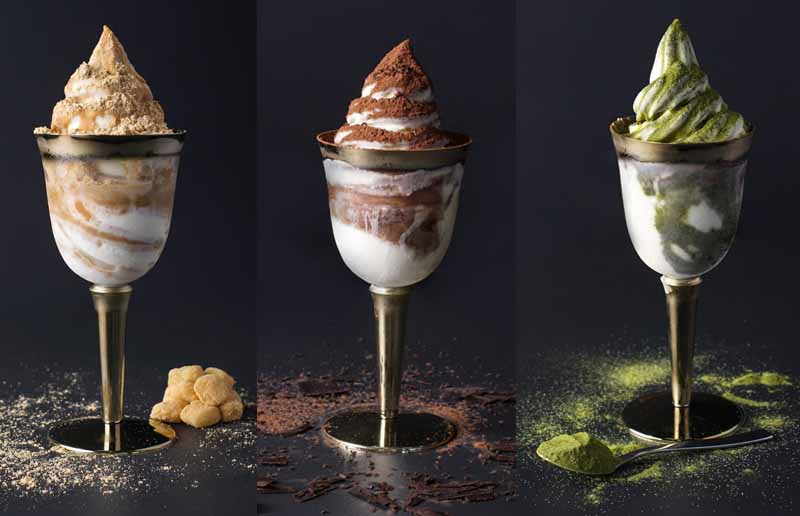 Happy days are here! Kiss the Tiramisu opens their first Philippine branch in Makati. Dessert enthusiasts can look forward to the Korean dessert café's rich and decadent products, made with the finest ingredients.
Kiss the Tiramisu takes pride in their luxurious soft-serve ice cream, made with luscious mascarpone cheese and pure fresh milk from Korea. "The founder of Kiss the Tiramisu wondered why the Italian dessert has only been served in cake form," says Shirley Vy, owner of Foodeology, Inc., official Philippine franchisees of Kiss the Tiramisu. "From there, the café's classic tiramisu ice cream was born."
Presented in elegant acrylic goblets, each serving is an elevated dessert experience from the first bite. "We assemble the soft serve right in front of our customers. They get to see how each treat is skilfully made, with layers of premium ingredients," shared Vy.
Kiss the Tiramisu also carries the matcha and injeolmi flavors from their classic line. "Matcha is a hit with our customers. We sprinkle generous amounts of pure matcha powder and sauce on top of the ice cream," says Vy. "Injeolmi, on the other hand, is a delicious Korean rice cake, covered in powdered dried soy beans. These distinct Asian flavors complement our sweet, creamy tiramisu soft-serve."
Foodies can also look forward to two flavors that are exclusively available in the Philippines, which Kiss the Tiramisu will be launching soon. "We understand how Filipinos are passionate about food. We're excited to introduce local flavors in new and exciting ways." Aside from these treats, the café also serves cakes and coffee, completing their range of heavenly desserts.
"There is always something to be happy about, no matter how your day goes. Maybe you were able to check all your tasks off your to-do list, or you got promoted at work. Whatever that is, Kiss the Tiramisu wants to be with you at your happiest moments. We believe that every day deserves its own reward," says Vy.
Hits: 111