My Daily Collagen Drink Helps Nourish Your Cells for Radiant Skin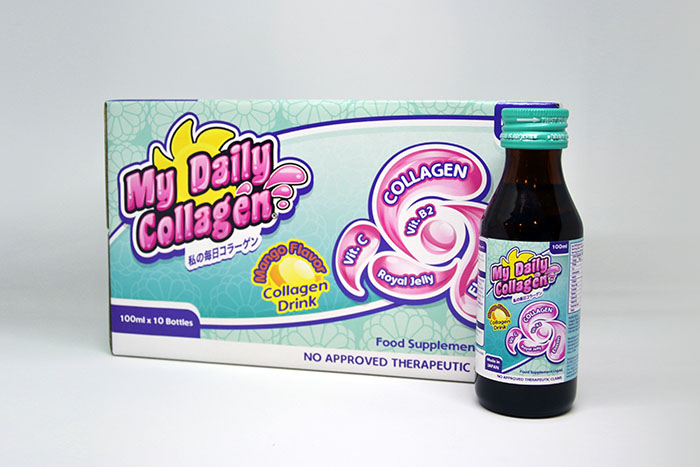 We all want to keep people guessing about our age, right? Through the years, many adventurers have been trying to find that mythical fountain of youth, but science may have come up with something even better.
According to experts, the secret to a youthful glow is a fibrous protein called collagen, which in combination with Hyaluronic Acid, has a powerful role in giving our skin firmness and elasticity. It is produced by the body at the cellular level, and it constantly regenerates when we are younger. Moreover, collagen is a key element in the health of joints, cartilage, tendons, bones and all connective human tissue.
It accounts for almost 30% of the human body, but as we age, collagen production slows down and the existing collagen can get damaged due to sun exposure and bad skin habits. As a result, skin starts to sag and wrinkles begin to greet you in the mirror.
One way of achieving a youthful glow is to replenish the supply of collagen in our body. My Daily Collagen is a supplement drink from Japan that is formulated to promote a firmer, youthful and radiant skin. The refreshing mango-flavored drink is fortified with Collagen, Vitamin B1, Vitamin B2, Vitamin C, Elastin and Royal Jelly.
Unlike other collagen brands, each My Daily Collagen bottle has the right amount of easily-absorbed marine collagen peptide, which is said to be the purest and safest form of collagen. Each delicious serving gives us 1000 mg for our daily intake to ensure that the daily requirement of collagen is supplied. It also has the added nutrient benefits from Vitamin C and Royal Jelly, to help provide overall health benefits in a convenient, ready-to drink, and delicious beverage.
My Daily Collagen helps reduce wrinkles and improve skin conditions. The combination of Hyaluronic Acid and vitamins rejuvenates your skin from inside, while the Royal Jelly helps to boost the immune system.
Drinking My Daily Collagen regularly likewise supports the regrowth of joint tissue and can help relieve joint pains, particularly in older adults. It has a positive effect on weight loss, hair growth and nail strength and can promote a restful sleep as it helps balance hormones and alleviate anxiety. As collagen is also a building block for other major organs, it even detoxifies the liver and helps repair leaky gut syndrome and prevents the hardening of arteries.
The breakthrough wellness drink is popular in Japan – you can even buy it at their convenience stores! Luckily, we Filipinos can now enjoy the same collagen-rich delicious drink because it is now available in the Philippines, through the partnership between the 100% Filipino company Global Wellness Enterprise that develops, and distributes products that promote good health, enhance beauty, and optimize personal care, and the Nizona Corporation of Japan, which distributes Japanese health products worldwide.  This natural supplement is derived from natural ingredients, from the careful selection of raw materials through the entire manufacturing process in GMP and Japanese Ministry of Health approved facilities – so you know that it is safe!
For healthy, youthful skin, enjoy a chilled bottle of My Daily Collagen once a day, either in the morning or before you go to bed at night as part of that beauty regimen. My Daily Collagen is available in Mercury Drug, Rose Pharmacy, Southstar Drug and through Lazada. For more information about My Daily Collagen and other Global Wellness Enterprise products that promote a healthy lifestyle, visit www.globalwellnessph.com
Hits: 226