Welch's 'Share What's Good' re-discovers real benefits of making healthier choices and achieving a happy, balanced lifestyle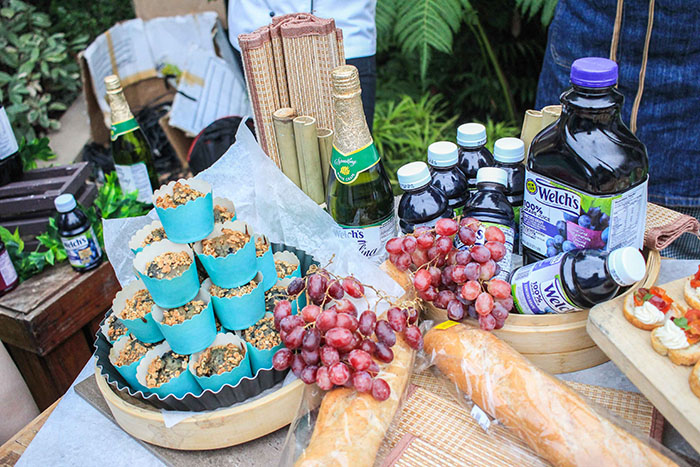 With health, wellness, and nutrition becoming a prime concern among Filipinos, Welch's recently enjoined families in re-discovering the many benefits of making better choices and achieving a balanced lifestyle during its "Share What's Good" special event held at the Ayala The 30th Mall in Pasig City.
An advocate of better nutritional choices for families all over the world for more than 140 years, Welch's, led by Erika Rodriguez, VP for Marketing of Welch's PH, teamed up with mom-bloggers, as well as nutrition and culinary experts to spread the good news —  to encourage and educate more people of the many easy and enjoyable ways to stay healthy amid the rush of everyday modern living.
'Informed' choices begin at home
Beyond showcasing its natural goodness, Welch's message, in essence, aims to relay to its consumers, most especially mothers,  the benefits of making better choices at home and how these may impact the family's health and wellness in many ways.
"At Welch's, we value what's REAL, we value family, we value health and wellness and we value sharing what's good.  Here in the Philippines, Welch's has been providing generations of Filipino families with products  that bring a happy balance of goodness and deliciousness for over 40 years," said Erika Rodriguez, VP for Marketing of Welch's PH.
Produced from a vineyard owned by around a thousand farmer-families across America who put their heart into the product, opening a bottle of Welch's Grape Juice is like "unleashing the power of 'purple' in every sip."  "Unlike other beverages that contain huge amounts sugar and articificial coloring, Welch's is vitamin-packed and absolutely natural," shared Rodriguez.
"Because Moms are the ones who mainly decide in the household, we want to involve them more in our advocacy for better health and making informed food choices. We try to support and educate mothers, and share to them the benefits of nutrition, like in our social media pages, we provide healthy, easy-to-do recipes for them to cook for their families," Rodriguez said.
Because it is made with Concord grapes, each bottle Welch's contains a large, concentrated amount of polyphenols which  a natural plant nutrient that plays a key role in supporting a healthy heart.  These same polyphenols contribute to the antioxidant power of 100% grape juice.
For mommy bloggers Louisa Mercado (Art of Being a Mom) and Dr. Gia Sison (giasison.com), central to children's overall health and well-being is spending quality bonding time, and establishing positive connection by disengaging from busy "mobile lifestyles".  As for ensuring better nutrition for kids, they both concurred that it must start at home, by being an "informed" parent. According to them, for children to be able to make healthy choices on their own,  parents have to set a good example to them on what to eat and not to.
To showcase Welch's Grape Juice's versatility in the kitchen, Chefs Peachy Mathay of PACE and Trisha Ocampo of CCA, Manila led the food pairing event and prepared the following recipes:  Banana Grape Smoothie, Berry Grape Crunch Muffins and Grape Salsa.
Apart from the inspiring talks and healthy snacks, guests were also regaled by live music and flowing Welch's real grape juice.
The Power of Polyphenols
In her talk, Dr. Ma. Paz Sales of the Nutritionist-Dietitians Association of the Philippines (NDAP) underscored the importance of knowing and checking the nutritional values, especially ensuring the regular intake of fruits and vegetables. While doing away with fad diets and carefully reading the labels as some ways to achieve better nutrition,  to fulfill the proper nutritional requirement on the otherhand, Sales stressed the importance of getting expert advice from nutritionist-dietitians.
"As for kids, they are growing, don't put them into diet. You need to know what they like, what they don't. Make ways to create a balance; make them eat what they want and what they need, but never put them into diet," she added.
For more information about the science behind 100% grape juice and the many delicious ways you can enjoy it, visit www.welchs.com or follow Welch's PH in Facebook. Welch's fruit drinks and snacks are available in leading retail stores nationwide.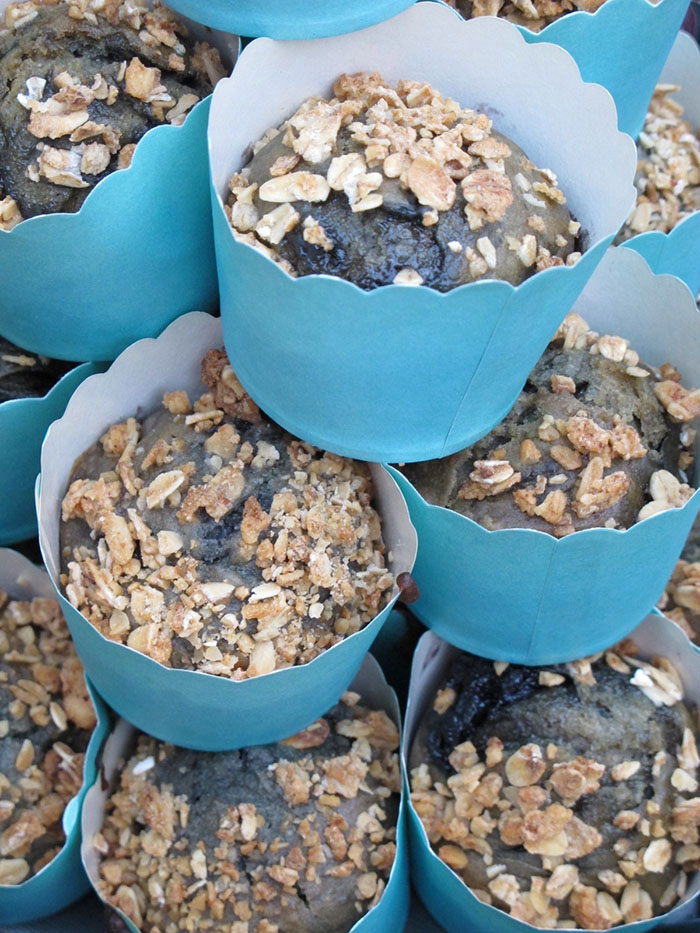 Grape Berry Crunch Muffins
Ingredients:
½ cup low-fat granola
1 cup whole wheat flour
1 cup all-purpose flour
1 ½ tsp baking powder
½ tsp baking soda
½ tsp salt
¾ cup Welch's 100% Grape Juice
1 large egg
¼ cup canola oil
⅔ cup light brown sugar
1 tsp grated lemon zest
1 ½ cups Welch's Frozen Blueberries
Procedure:
Preheat the oven to 400° F. Coat a muffin pan with cooking spray or line with paper cups.
Place the granola in a heavy-duty plastic bag and crush it lightly with a rolling pin or other heavy object to break up any large clumps. Set aside.
In a large bowl, combine the whole wheat flour, all-purpose flour, baking powder, baking soda and salt. Mix until blended.
In a medium bowl, whisk together the grape juice, egg, oil, sugar and lemon zest until incorporated. Add this wet mixture to the dry ingredients, blend and stir with a rubber spatula until homogenized. Fold in the blueberries.
Fill the prepared muffin cups about two-thirds with batter. Sprinkle with the granola and pat it in lightly so that it adheres.
Cool muffins in wire rack. Serve warm or in room temperature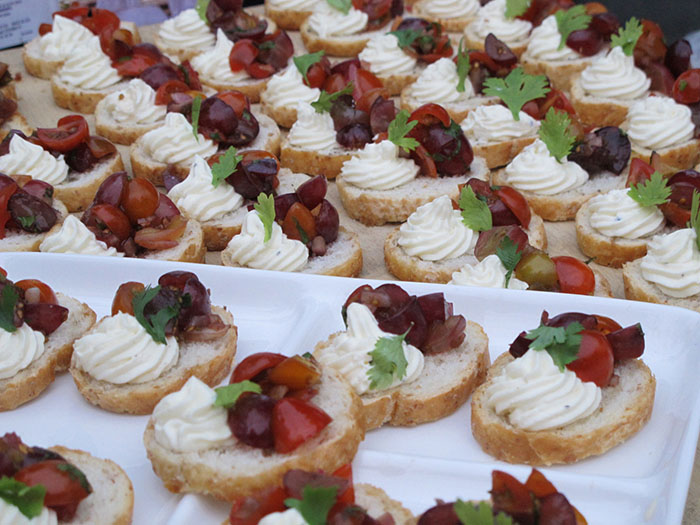 Grape Salsa with Goat Cheese Crostini
Yield:    20 crostini
Ingredients:
1 tbsp balsamic vinegar
½ cup Welch's 100% Grape Juice
1 cups seedless grapes, quartered (red, green or a mix)
1  cup tomatoes, diced
1 Tbsp jalapeño, chopped
1 bunch cilantro, chopped
½ cup red onions
1 tbsp lime juice          
to taste, salt and pepper
8 oz goat cheese
225g cream cheese
¼ cup heavy cream
1 pc baguette
cilantro
Procedure:
In a sauce pan, pour in the balsamic vinegar and the WELCH 100% GRAPE JUICE and reduce in half or until coats the back of the spoon.  Cool down and set aside.
In a mixer (using a paddle) or bowl, mix the goat cheese, cream cheese, Heavy cream together until light and fluffy. Season with salt and pepper.  Set aside in the refrigerator.
In a bowl, add the quartered grapes, tomatoes, jalapeño, cilantro, red onions, lime juice, and the reduced grape juice. Season with salt and pepper.  Set aside in a refrigerator.
Slice the baguette by ¼" and arrange in a baking tray. Drizzle with olive oil and season with salt and pepper. Flip and repeat the process.  Bake in a 350F oven until golden about 5-8 minutes.
To assemble, spread the goat cheese on the crostini. Add a spoon of grape salsa and garnish with cilantro.
Hits: 53