SIP and Grab: How to win half a million within 100 seconds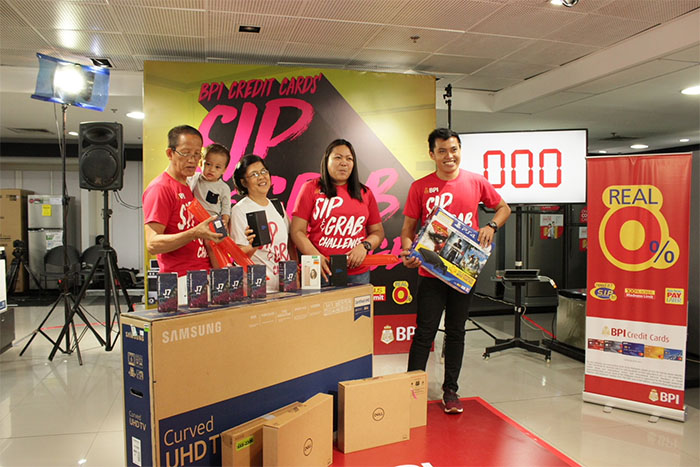 They say one-half of life is luck, but it looks like some people are blessed with more.
Jamie Lirazan, the first lucky racer of Bank of the Philippine Islands' (BPI's) SIP and Grab Challenge, grabbed appliances and gadgets worth Php 456,000. Thanks to BPI Credit Cards' first ever SIP & Grab Challenge at SM Appliance Center in Makati recently, she was picked in a raffle to be the first lucky racer for the promo.
She went home with a Samsung Curve 55", a PS4, laptops, and cellphone units in a span of 100 seconds. Her experience was indeed nerve-wrecking yet exciting as she considers this a once-in-a-lifetime opportunity.
Prior to the race, she planned on getting the TV, which was a request from her family. "I felt nervous because I only had 12 seconds left and yet the items were still not in the BPI red box."
All items in the red box after 100 seconds were hers to bring home. Fortunately, she made it.
"We are beyond thankful for this wonderful experience. We did not expect that we will win among the thousands of participants. Thank you BPI for this opportunity," she said.
Be the next lucky racer to take home appliances. You can grab blenders, hair dryers, microwave ovens, rice cookers, electronics such as mobile phones, laptops, TVs, and even items as big as a washing machine! Who knows, you might be the next lucky winner for the second leg, or even the third leg of the promo!
BPI Credit Cardholders earn a raffle entry for every BPI Special Installment Plan (SIP) transaction, with a minimum single-receipt of P20,000, with a 12-month term or longer. Aside from Jaime, two more lucky racers will be drawn.
The BPI SIP & Grab Challenge is open nationwide to all active BPI Credit Cardholders in good credit standing. These cards include: BPI Blue Mastercard, BPI Family Mastercard, BPI Amore Visa, BPI Gold Mastercard, BPI Skymiles Mastercard, BPI Amore Visa Platinum, BPI Petron Mastercard, BPI Skymiles Platinum Mastercard, BPI Edge Mastercard, and BPI VISA Signature.
This promo runs until May 31, 2018.
Hits: 110