National Heroes' Day Celebration At The Manila Hotel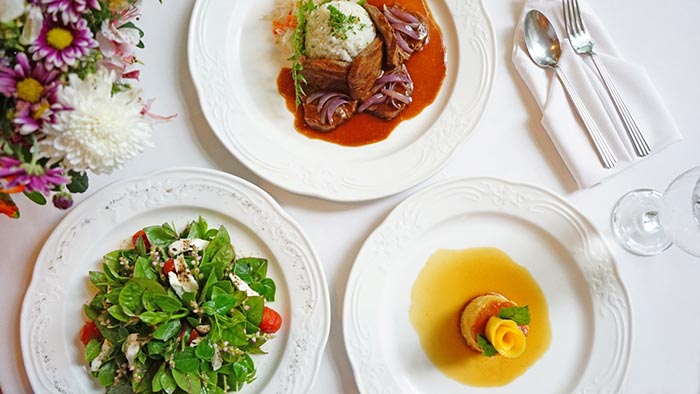 Monday, the 27th of August, is National Heroes' Day, a national holiday that commemorates the Filipinos who laid the foundation for the country's independence. The Manila Hotel celebrates with kaBAYANIhan, a two-week food festival featuring a special buffet created by Chef Jessie Sincioco, to be held at Café Ilang-Ilang.
The menu is a selection of the iconic dishes that nourished the men and women who fought for, and contributed to the country's freedom and independence.
The warm broth of Tinolang Manok with its fragrant ginger and flavorful native chicken, was a specialty of Melchora Aquino, more popularly known as Tandang Sora. She is often called the Mother of the Katipuneros. Her version of tinola, thickened with a little rice, nourished the wounded revolutionaries who took shelter with her. It's said that she dispensed this soup along with medicines, prayers and motherly advice to the young soldiers of the Katipunan, raising their morale and giving comfort.
Bistek Tagalog inspired the palate of Jose Rizal when he was writing his seminal novels, Noli Me Tangere and El Filibusterismo. Chef Jessie's version is made with premium Angus beef tenderloin cooked to such perfection that it yields to the knife like butter. It comes with savory bistek sauce and delicately flavored rice. 
The Bulacan-born Gregorio del Pilar used to walk around the streets of his home town selling kakanin that his mother made. Among these were his favorite sapin-sapin, made from glutinous rice, presented in multicolored layers.
These little vignettes show us a more human side of the heroes who come down to us in the history books only by their tales of valor. The kaBAYANIhan food festival is a unique and delicious way of celebrating our national history, by sharing in the rich flavors so beloved by our national patriots. kaBAYANIhan will run from August 20 to September 2 at Café Ilang-Ilang, and will be available for lunch and dinner. A special degustacion menu will be held at The Champagne Room on August 30 and 31. 
CHEF JESSIE SINCIOCO
Chef Jessie Sincioco is a multi-awarded chef who actively three upscale restaurants in Makati City and Pasig City. She won the grand prize in the baking category of The Great Maya Cookfest in 1983, became the first Filipino pastry chef in 1990, and twice won the coveted l"Assiete D'Or, the gold tropy awarded in Chefs On Parade, the most prestigious culinary competition in the Philippines. She was hand-picked to cook for His Holiness Pope Francis during the Pontiff's four-day visit to the Philippines in 2015, and led the preparations for the Gala dinner for the Heads of State and delegates of the ASEAN Summit 2017. 
CAFÉ ILANG-ILANG
Café Ilang-Ilang is a chic casual dining space that brings together a vast array of cuisines from across all continents. The restaurant offers an extensive selection of buffet delights, with a fresh spin on its various open kitchens and a delectable dessert space. It's eight live cooking stations offer Asian, Mediterranean, European and Western dishes. Café Ilang-Ilang also has a stunning Pan-Asian kitchen, Churrasco station, decadent dessert station, and an Italian kitchen with a wood-fired pizza oven. A la carte dishes are also available.
For enquiries and reservations, call Food and Beverage Restaurant Reservations at 527 0011 extension 1261 to 1264, or email resvn@themanilahotel.com; Room Reservations at extension 1174 to 1176, or email resvn@themanilahotel.com.
The Manila Hotel, the Grand Dame of Manila, has been serving beautiful memories 106 years and counting. Defined by its history, elegance, and world-class service, The Manila Hotel maintains to be the hotel-of-choice of the most distinguished and discriminating guests, for a truly memorable experience. Visit www.manila-hotel.com.ph, for more hotel information.
Hits: 238