Foods you can cook for your kids these 'Ber' months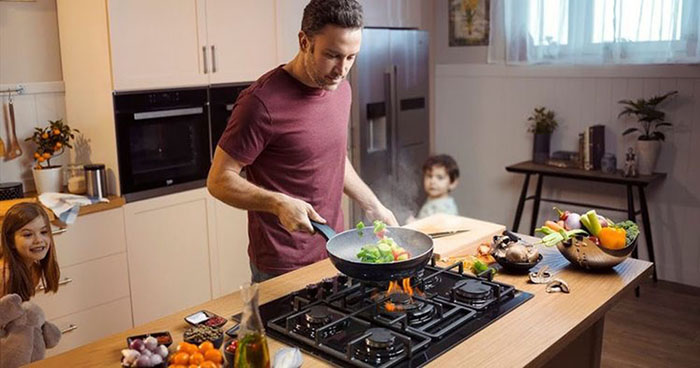 Ber months have officially begun and, Christmas season is just ahead of us. Aside from treating yourselves with Bibingka and Puto Bumbong, Ber months are also a great time to prepare healthy meals for the kids, especially with the unpredictable weather conditions.
A great way to make sure your children are in good shape during Ber months is to make healthy yet delicious foods at home. To make the season even more special, Beko Philippines, the Official Partner of the Everyday, listed exciting food recipes approved by the FC Barcelona (FCB) nutritionists, which you can prepare for your family.
Broccoli Pesto Pasta
300g broccoli, florets removed and blanched
20g fresh basil leaves
30g extra virgin olive oil
100g freshly grated Parmesan
20g pine nuts
1 clove of garlic, minced
3g lemon juice
1g salt
In the bowl of a food processor, combine broccoli, basil, and oil and pulse until combined. Add parmesan, pine nuts, garlic, lemon juice and salt and blend until combined.
Cook the pasta and mix it with the pesto sauce.
Spaghetti Meatball Cups
Ingredients:
350g spaghetti
3 large eggs
180g cups shredded mozzarella
60g grated parmesan, divided, plus for garnish
300g marinara
500g ground beef
50g cup of bread crumbs
1 clove of garlic, minced
15g freshly chopped parsley, plus for garnish
Salt and Pepper
15g extra virgin olive oil
Direction:
Preheat the oven to 200° C. Cook the spaghetti until very al dente. Drain and rinse under cold water.
In a large bowl, toss cooled spaghetti with 2 beaten eggs, shredded mozzarella, ½ cup of grated parmesan.
Grease a muffin tin and nest spaghetti inside. Using the bottom of a small glass, firmly press down to create a well.
Bake until set.
While the spaghetti cups bake, make meatballs; In a large bowl, combine ground beef, bread crumbs, garlic, remaining egg, parmesan and parsley. Season with salt and pepper. Roll into balls.
In a large skillet over medium heat, heat oil. Brown the meatballs, then drain fat. Pour over marinara and let simmer for 5 minutes.
Spoon the meatball onto the spaghetti nest. Garnish with parmesan and parsley.
Potato Cake with Tuna Bolognese
Ingredients:
800g of potato puree
400g fresh or tinned tuna
1 large onion
800g mature tomato
4 spoonsful of olive oil
Salt and pepper
Oregano
Direction:
Fry the finely chopped onion in a pan with hot oil until well done. Add the grated mature tomatoes and leave to cook until the tomato sauce is formed.
Season as desired.
Add the tuna flakes. If using fresh tuna, grill before flaking.
Season with oregano as desired.
In a suitable mould, make the cake with a layer of puree, then a layer of tuna Bolognese and repeat. Finish with a layer of puree, sprinkling the grated cheese over the top.
For some Filipinos, the onset of Ber months means bringing out Christmas decorations or doing some early gift shopping. However, the changing weather this season can also take a toll on your kids' health.
To prepare warm, hearty meals for the whole family, consider using Beko's HISW 73225 SOB built-in gas hob. Its high-efficiency gas burner cooks food more quickly, and is 25 percent more efficient than a standard burner, giving you the extra magic that you need when preparing meals.
Beko's built-in gas hob also has a gas safety feature, which automatically turns off your gas supply if ever the wind comes and blow your gas flames out or if your pan boils over, keeping you and your kids safe. With its EasyFit and EasyPlug features, you can enjoy hassle-free cooking, allowing you to prepare bowlfuls of soups and dishes for your family so they can stay warm, healthy, and full, all the time.
Hits: 177