FEED THE CITY PH 2018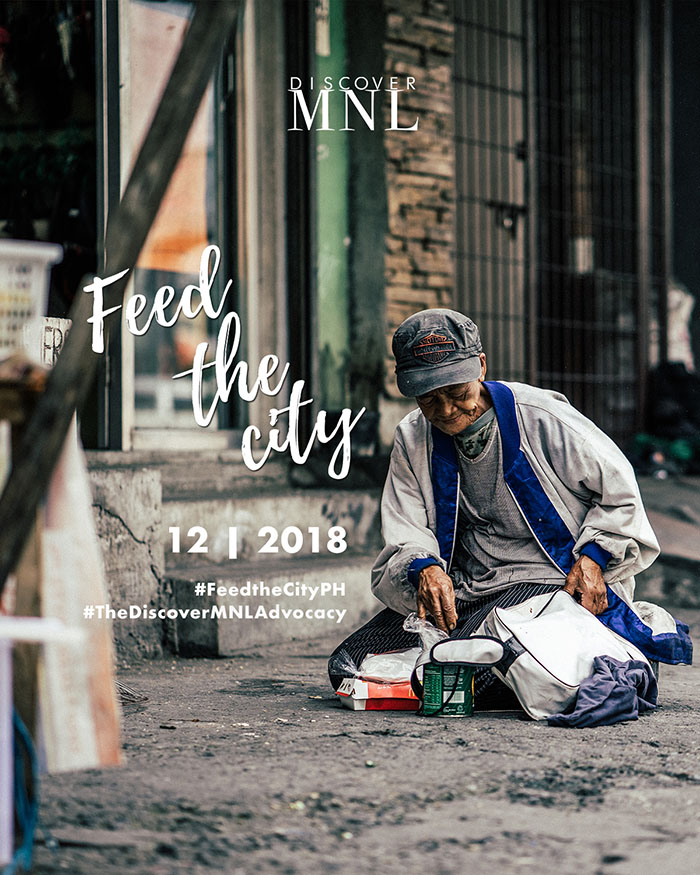 According to the UN COH, Manila is the city with the highest homeless population, with 3.1 million homeless people living in the city.
That fact is just one of the triggers behind #FeedtheCityPH | #TheDiscoverMNLAdvocacy. 
#FeedtheCityPH is the annual advocacy event of DiscoverMNL, a food, travel and lifestyle blog focused on the Philippines.
This movement aims to create an impact by sharing what they have to these people and, hopefully, trigger a movement within our community to do the same.
#FeedtheCityPH officially had their pilot run last 2016. The DiscoverMNL team along with their pool of volunteers and partners, through this advocacy, have been able to successfully share care packages of basic goods, fresh food and clothing to the less privileged. Each year they further exceed their goal of reaching 100 families across the metro, sharing not just the gift kits, but a spark of hope and love within these busy times. The entire movement is then shared on their channel to share the moment, create a movement and inspire people to give back.
Watch the videos of their previous runs here: 2016 – 2017.
This year, the team will continue the mission to feed the city not just with food, clothing and basic daily necessities, but with their passion to help connect people off all walks of life outside the digital landscape.
On December 15, the DiscoverMNL team and volunteers will once again board the vans that will take them to the streets of Manila carrying pre-packed gifts for the people and families who's stories are yet to be told.
For those who still wish to donate, Donations may be dropped at Park Triangle BGC, Basement (BMS room). Rizal drive cor. 32nd street, BGC (across STI near Market Market). Please look for Security OIC Jojit Nafora and inform them that it's for #FeedTheCityPH. Cut-off for dropping of donations will be on November 28. These are the items that the team are still collecting: noodles, canned goods, hand towels, large eco bags, re-usable utensils and tumblers.
Also, part of the proceeds of the Rainbow Collective 2019 LGBT planner sold through this collab link will be allotted for the advocacy.
#TheDiscoverMNLAdvocacy #FeedtheCityPH 2018 is in partnership with Toyota Motor Philippines. Co-presented by Skinstation, Bonifacio Global City and AMB Health. Major Sponsors: Jollibee, Park Triangle BGC, BGC Corporate Center, Johnson's Baby Philippines, Elait, Overdoughs, Yuk Dae Jang, Buca di Beppo and Gelatofix. Minor Sponsors: Power Room Beauty Lounge, Flossom Kitchen + Café, Coffee Bean and Tea Leaf, Castro PR, The Rainbow Collective and Megaworld Lifestyle Malls.  Official Media Partner: ABS-CBN Lifestyle.
Hits: 69