Robinsons Bank simplifies bank account opening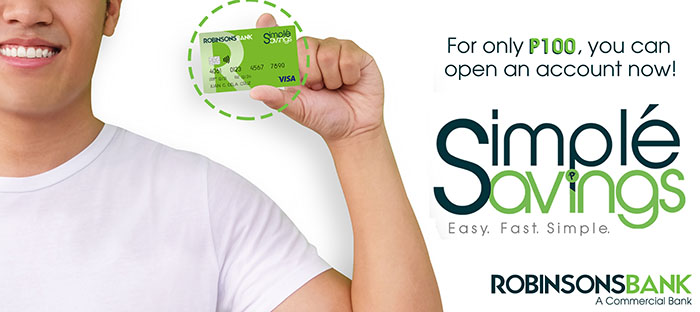 Robinsons Bank (RBank) has recently launched its new Simple Savings bank account, specifically designed to make account opening simple, fast, and easy. The Bangko Sentral ng Pilipinas (BSP) issued Circular 992 which sets out a framework for banks in promoting a basic deposit account to the unbanked. Financial inclusion is a priority for the BSP as it pursues its goal of getting more Filipinos involved in the country's banking system which offers a safe, secured, and guaranteed financial environment.
Simple Savings was designed to lower barriers of entry to the financial system in order to reach out to the unbanked, providing them with their first step towards becoming financially secured. New-to-bank clients can open their very own Simple Savings account with only one (1) ID, the most basic information and have instant access to an online Visa Debit Card, all for the low opening fee of Php100. What's more, it earns interest and can be used to shop online as well as Point-of-Sale (POS) transactions for different purchases, shopping, and dining.
Interested customers can open an account by simply visiting the nearest Robinsons Bank branch or open online at https://www.robinsonsbank.com.ph/products-and-services/branch-banking/simple-savings.
Backed by the JG Summit conglomerate – one of the largest conglomerates in the Philippines which owns and operates brands such as Cebu Pacific, Robinsons Land, Universal Robina Corporation, Robinsons Malls, and more – Robinsons Bank is primed to embark on various opportunities to improve lives and propel financial inclusion.
For inquiries and concerns, you may reach Robinsons Bank through its Customer Care Center at 637-CARE (2273) or domestic toll-free 1-800-10-637-CARE (2273); or go to its website at www.robinsonsbank.com.ph. Like them on Facebook at www.facebook.com/robinsonsbank/ and follow them on Twitter @RBankCorp.
Hits: 71