Gumtect for More Foodie Moments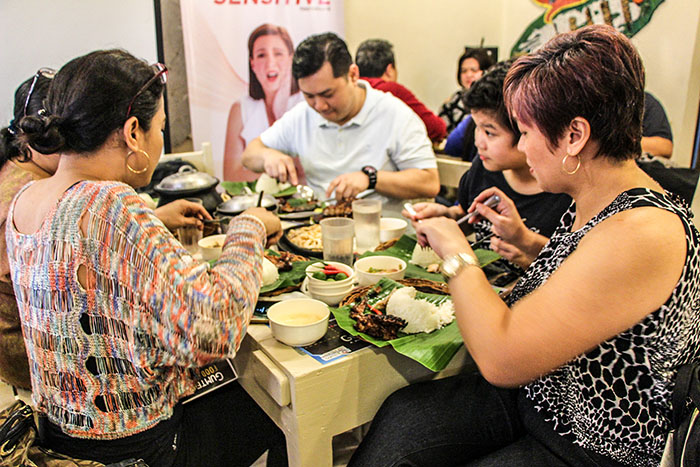 Filipinos love to eat, and even if holiday parties and celebrations have subsided, gatherings and get-togethers continue. Just think of the Chinese New Year, and the upcoming Valentine's Day, fiestas, and graduation parties! While we're still up for exciting food trips, it is important to take care of our oral health and be ready for non-stop eating and drinking we all enjoy doing.
Doug and Chesca Kramer give the same encouragement to foodies like them who also love bonding moments over food.
As oral healthcare advocates for Gumtect, Doug and Chesca Kramer share how important it is that they take care of their teeth and gums, so they don't miss out on any foodie moments when they get together with their friends and family.
"Despite our busy schedules, we enjoy the gatherings and reunions to relax and catch up over food," shares Doug. "I have a really sweet tooth, and I enjoy having conversations over dessert, but for me to be able to just enjoy the food, I also ensure to take care of my gums and teeth so there's no hassle of gum problems."
Doug advocates oral care with the use of Gumtect Gum Care toothpaste, which works to promote healthy gums, protects against harmful mouth bacteria, and moisturizes and strengthens the gums.
As for Chesca, her already hectic schedule as a mom can only get busier with activities with her kids on the horizon. She shares that with her sensitive teeth, she needs to take care of her gums so pangingilo doesn't get in the way of her indulging in her favorite dishes with her loved ones.
According to a study in 2011 by the National Monitoring and Evaluation Dental Survey, 48% of Filipinos suffer from some form of gum disease. Receding gums are often accompanied with tooth sensitivity.
Commonly caused by wearing of the thin outer covering of the tooth (enamel), over-brushing, acidic food, and gum receding, pangingilo or dental hypersensitivity begins when the inner part of the tooth is uncovered. This results to an oh-so-familiar brief yet sharp sensation of tooth sensitivity.
"I want to maximize my bonding moments with my family, especially enjoying food together like ice cream and buko salad. I want to be able to indulge in my favorite dishes without having to think about pangingilo," Chesca says.
For Chesca, she recommends using Gumtect Sensitive toothpaste and Gumtect Sensitive mouthwash as they are specially formulated with Dynamic Desensitizing System to be able to help relieve tooth sensitivity.
Dr. JV Jaurigue, External Vice President of the Philippine Society of Periodontology, shares about the connection of gum health with overall health and stresses the importance of proper oral care. "Oral care is essential to our health. Rather than dealing with complications and difficulties of gum diseases, it is better to prevent them from happening," he said.
Gumtect Gum Care is the only gum care toothpaste with GUMSHIELD+ which contains Allantoin, which improves the condition of the gums, Vitamin E, which moisturizes gums, and Triclean, which reduces the formation of plaque and shields against harmful mouth bacteria; while Gumtect Sensitive has a Dynamic Desensitizing System that helps relieve sensitive teeth. Both Gumtect Sensitive and Gumtect Gum Care also have Active Anti-Cavity Protection that ensures fresh breath and strong teeth enamel.
With Filipinos' love for gastronomic adventures especially those shared with family and friends, our oral health should always be in top shape so we won't miss out on any foodie moment!
To know more about gum health care tips, visit www.facebook.com/Gumtect.
Hits: 70