Fun in the Summertime!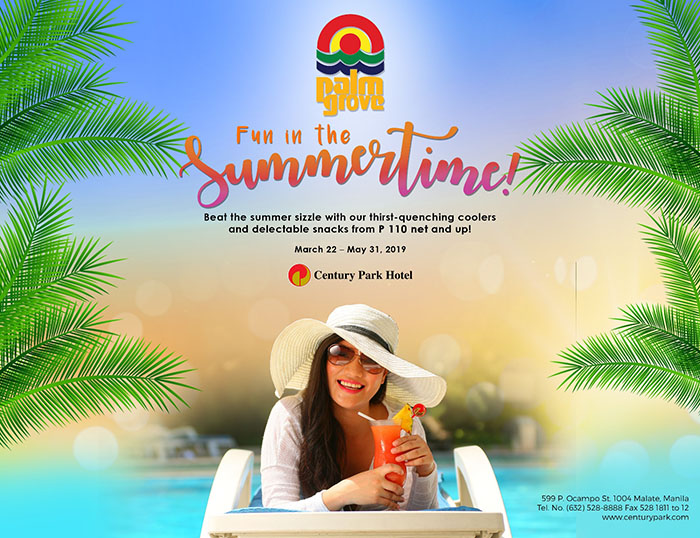 Summer has officially started with the scorching sun beating on our backs. All too soon, everyone is heading to the beach or pools or for majority who are in Metro Manila, they are doing the most accessible of all: getting their hands on cold drinks and desserts to beat the sweltering heat.
Palm Grove, the poolside outlet of Century Park Hotel, is all geared up for the sunny season with it's Fun in the Summertime treats.
Beat the summer sizzle with our thirst-quenching coolers and delectable snacks from P110 net and up from March 22 – May 31, 2019!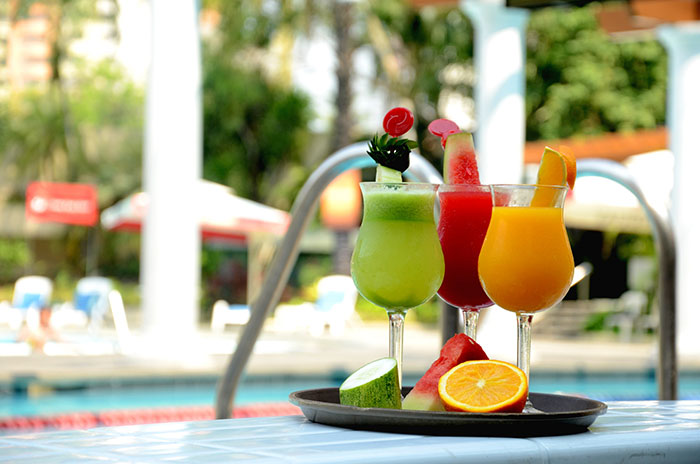 Kids and adults alike can enjoy ice-cold juices and classic Pinoy cold desserts of halo-halo (P250 net), mais con yelo (P180 net), and banana saba con yelo (P180 net) served on a coconut shell.
If you are in the mood for ice cream, you can customize your own sweet dish with options of 1, 2 or 4 scoops from P168net and up. Toppings such as choco chips, rice krispies, frosties, marshmallows, salted peanuts, roasted almonds, pistachio nuts, pink sea salt, chili flakes, cheese bites, pastries and fresh fruits are at your disposal.
You can also enjoy a buy 1, get 1 on beer, soft drinks, iced tea and bottled water.
Active kids and even adults can get hungry after a long swim at the hotel's outdoor temperature-controlled pools. Palm Grove has prepared special snacks and boxes ranging from pasta, sandwiches, chicken tenders, fries and a whole lot more.
"It is already outdoor season in the country and we highly anticipate guests who will be longing for a day in our pools.  We have prepared a number of cool treats and delicious snacks to cap off a perfect day at Century Park Hotel, we hope everyone enjoys what we have in store," said Anthony Tan, CPH's General Manager.
To know more about the promo, visit www.centurypark.com or contact information@centurypark.com.ph and telephone number: (632) 528-8888.
Hits: 111