Award Winning Cuisines at Makati Diamond Residences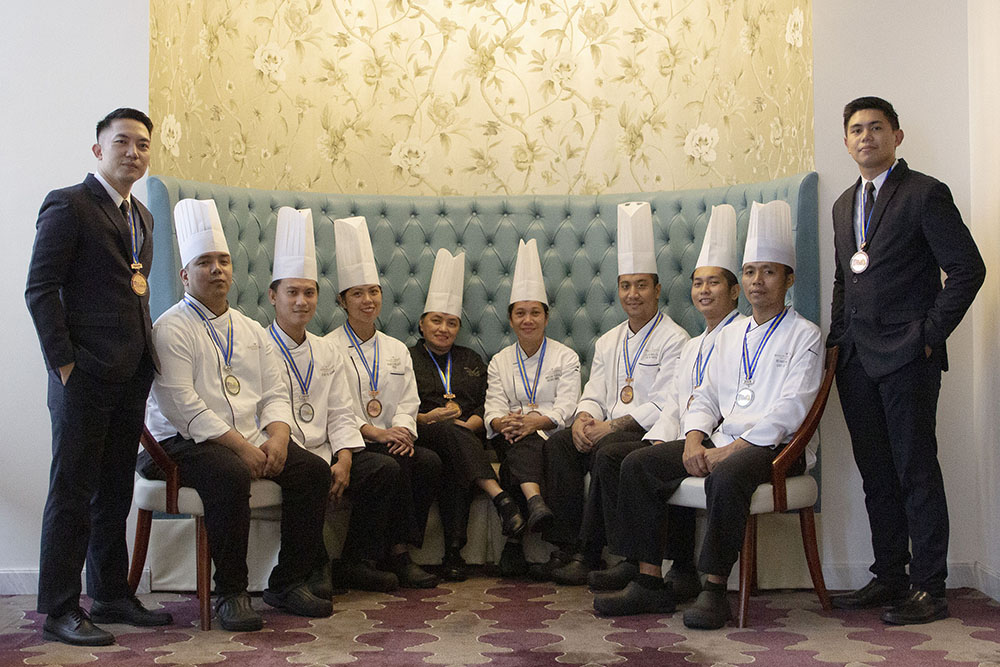 Makati Diamond Residences took part in the Philippine Culinary Cup competition last August 7 to 10, 2019 and came out victorious, winning in all 6 entries entered and taking home a total of 5 silver medals and 10 bronze medals.
The young chefs made us proud with silver awards for the K8 Pasta Category and K5 U.S. Beef Category. Commis Chef Mary-Ann Ganit presented Divella Colavita Tofe pasta with bottarga, blistered tomatoes, topped with pistachio basil, and caper sauce, while Commis Chef Neville Keith Corpuz served braised beef rib fingers, orzo and blistered tomatoes.
Chef de Partie Jessienor Paet also demonstrated his skill by taking home 2 bronze medals in both the K11 U.S. Pork Chinese Category and the K6 Poultry Category. His award-winning dishes included pork shoulder in hoisin and salad boat and braised duck leg with whole grain mustard sauce.
With teamwork and dedication for excellence, the two team challenge entries prevailed, with one award in silver and another in bronze.
Leading the award for silver in the Filipino Cuisine Challenge are Chef De Partie Richard Manmano, Commis Chef John Robert Arevalo, and Commis Chef Deo Carlo de Guzman, who had presented one-of-a-kind local dishes including pritong adobong itik, laswa soup, kinilaw na puso ng saging, and palabok-style fried rice.
Executive Chef Merlinda Junio, together with Senior Sous Chef Michelle Ann Toledo, Chef de Partie Alan Mislos, Chef de Partie Donald Pesigan, and the support of Kitchen Manager Imelda Tecson, Steward Supervisor Gregorio Mina, Banquet Captain Waiter Michael Nino Apo and Alfred Waiter Patrick Teodoro was honored with 8 bronze medals and the 2nd runner up award for the UFS Great Banquet Challenge. The buffet menu started with a potato mousse with morcilla and crisp prosciutto appetizer, together with a vegetarian nicoise salad and minestrone soup with orzo. Delicious carving highlights included the lamb sausage ring, ratatouille, basil pesto and crisp pork confit with apple bits and sweet chili sauce. Other dishes included braised short ribs with porcini glaze, sous vide salmon with sauce vierge, chicken chasseur, potato truffle croquettes, cauliflower and broccoli mismosa and Adlai saffron rice pilaf.
Sample our delicious cuisines on your next corporate or social event or try our breakfast our weekday lunch buffet at Alfred. For event inquiries, call (02) 317 0999 local 1114 or email events@makatidiamond.com. Book a table at Alfred at (0917) 636 4875 or email dine@makatidiamond.com.
Hits: 142