"Find your Fika" Celebrate a perfect Nordic coffee moment with Nespresso this festive season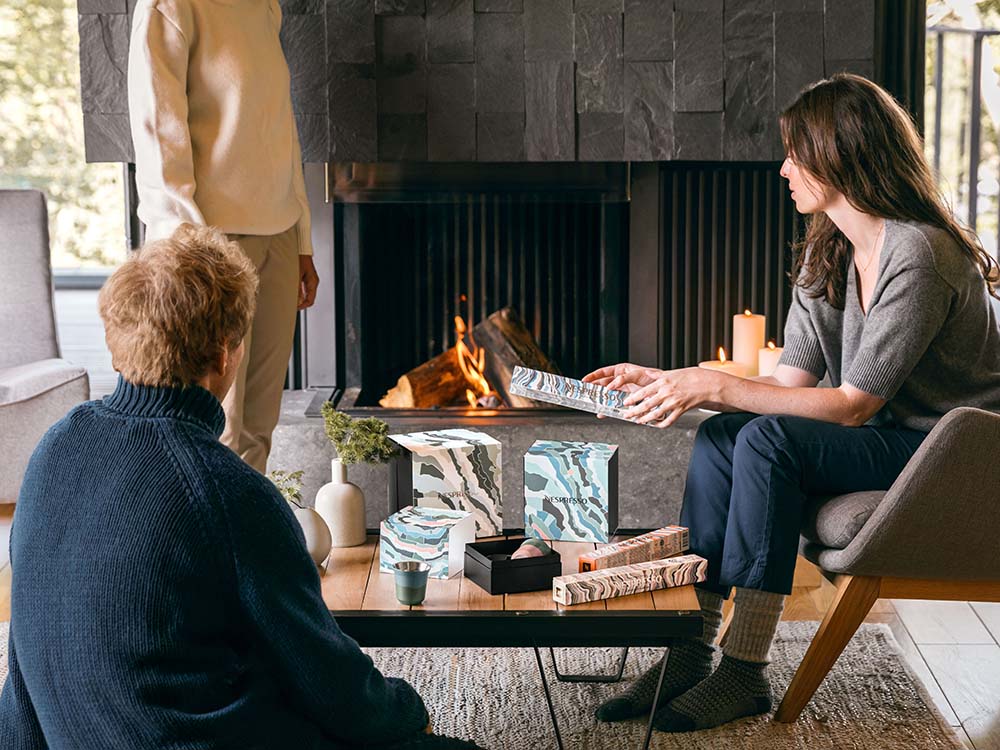 This is the season to celebrate with nearest and dearest and share special, indulgent moments together.
This holiday season, Nespresso has designed its iconic end of year range around indulgent Nordic moments. Incorporating the growing Scandinavian-inspired cultural trends of Hygge and Fika, Nespresso is encouraging its customers to put the busy festive season on pause, for a moment's connection with a friend or family member.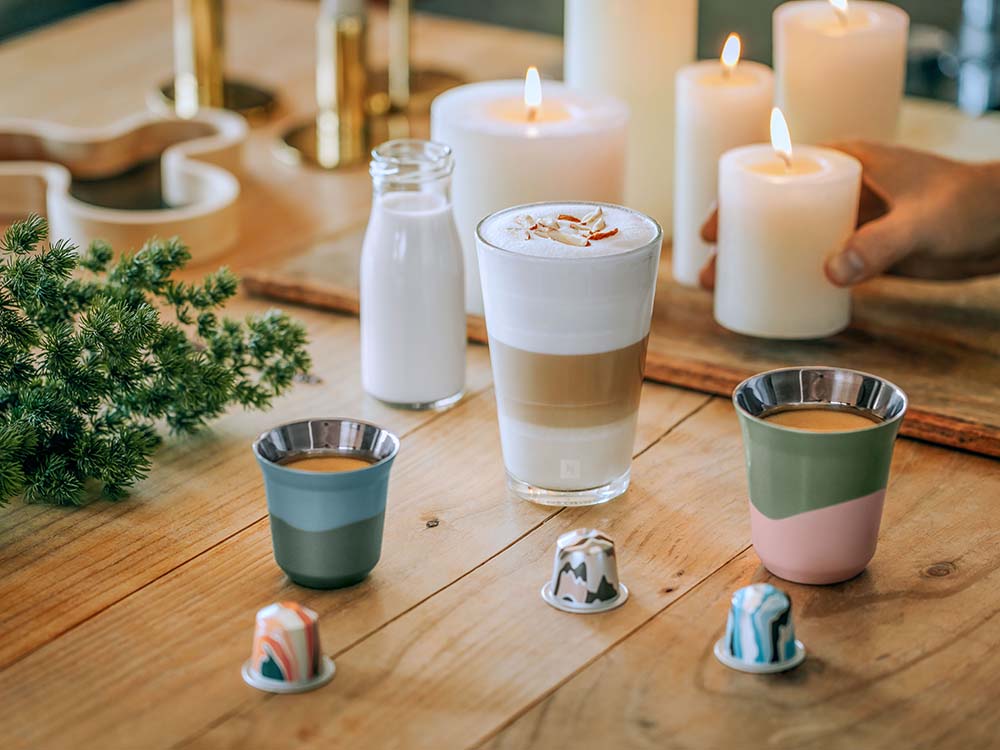 In partnership with renowned Danish designer, Louise Campbell, Nespresso has launched a range of Limited Edition coffees and accessories, which take design and flavour inspiration from the Nordic countries. Available to purchase from November 2019, are two unique, indulgent flavoured coffees, one black coffee and a range of Limited Edition accessories, designed with the most discerning of coffee and design aficionados in mind.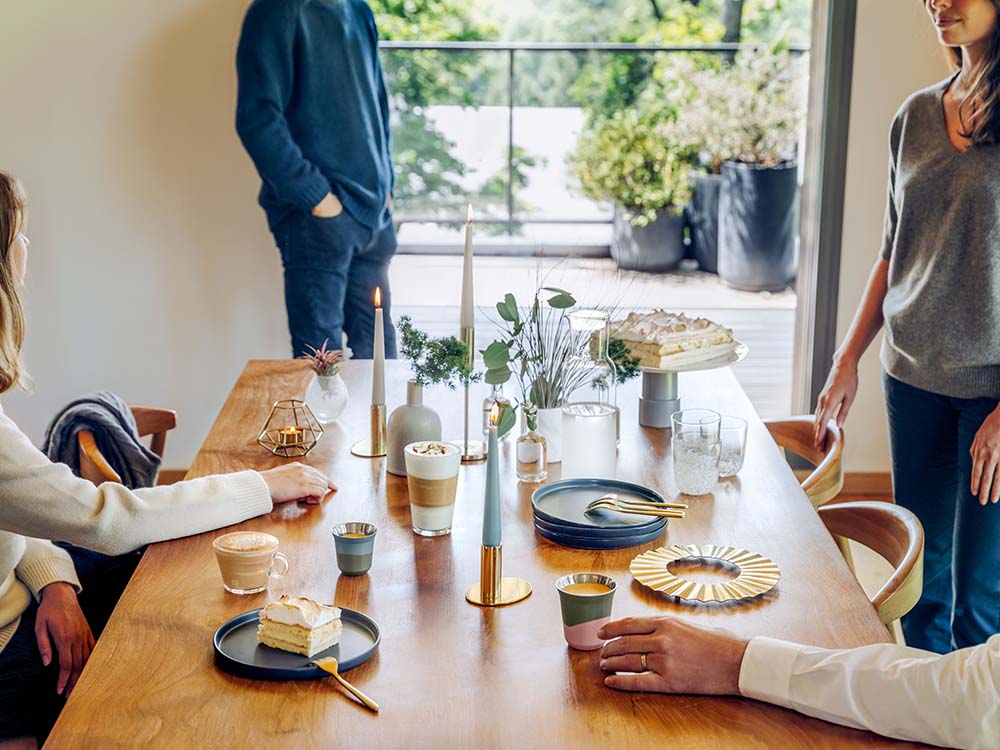 As part of Nespresso Original, the Nordic-inspired Limited Edition includes two new indulgent flavoured coffees: Nordic Almond Cake Flavoured and Nordic Cloudberry Flavoured. Based on traditional Nordic ingredients and influences, the Nordic Almond Cake Flavoured coffee features a combination of biscuit and vanilla aromas, with a Livanto base, inspired by the traditional Norwegian cake, Kvæfjordkake. The Nordic Cloudberry Flavoured coffee features the delicate, tart taste of cloudberries which grow in the extreme climates of the Nordic countries. The coffee has all the roundness of the Livanto base with a sweet, jammy fruitiness and a hint of acidity.
For those that enjoy staying true to the original long black, Nordic Black coffee is available to purchase. It is an aromatic African and South American Arabica blend. Elegant, sweet fruity notes combine with a smooth and lingering cereal aftertaste to create a light bodied, long, black coffee with a medium intensity.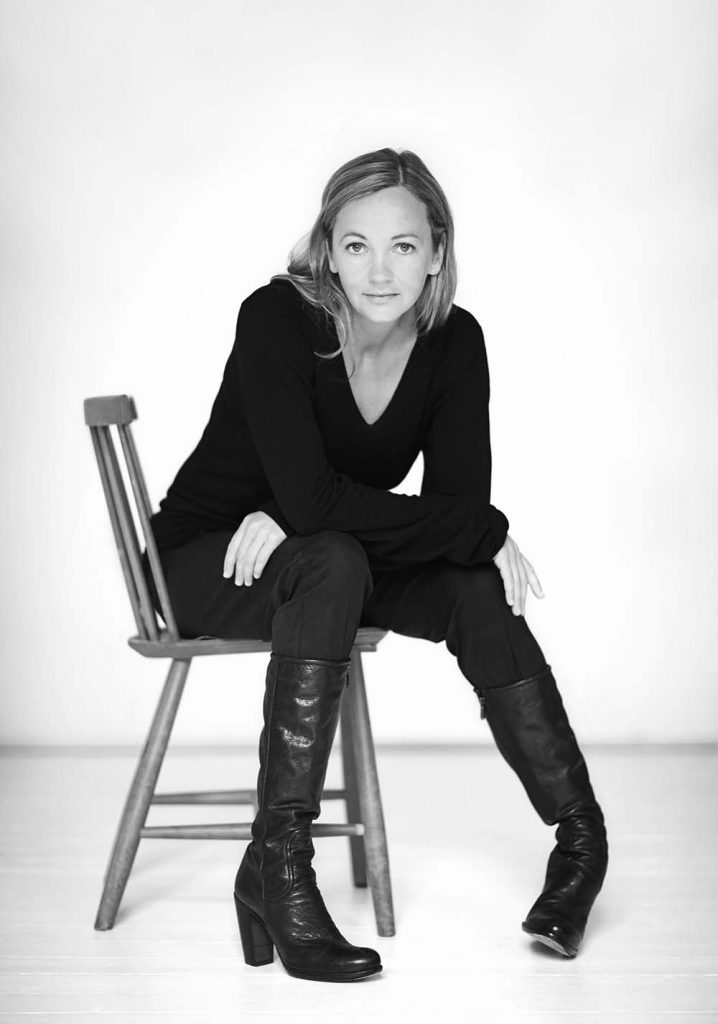 Louise Campbell's Scandinavian influences are clear to see in the design of the Limited Edition capsules, sleeves, and accompanying accessories. The Nespresso Nordic-inspired range perfectly reflects the Nordic trend of stylish minimalism with traditional influences of nature, as seen in designs which illustrate the many layers of the Nordic culture and landscape. The collection will be completed by two Limited Edition types of PIXIE Cups and a View Cube. Each accessory elevates every coffee moment, making for the perfect festive gift this holiday season.
Louise Campbell commented: "I was thrilled to bits when I heard that my proposal for making the capsules even more precious than they already are by varying the designs was accepted, making each of them as fascinating as pebbles on a beach and as irresistible to collect. I took this idea of variation with me through the rest of the campaign. I hope the products and designs will provide a breath of fresh, Nordic air during a very busy season. I also hope it will remind the viewer of the beauty of nature and the thrill of paying attention to detail. Each part of my work can be seen as a postcard from the North. Be it a capsule, a shopping bag or a sleeve."
So go and celebrate the joy of Nordic indulgence this festive season with Nespresso, by sharing a coffee and a special connection with a loved one during the busiest time of the year. The range is now available in the boutique, pop-up stores and online on November 8, 2019.
For more information, visit www.nespresso.ph.
Nespresso Boutique- R1 Level, Power Plant Mall, Makati City
Nespresso Pop-Up Stores:
Upper Ground Level, Greenbelt 5
Lower Ground Floor, One Bonifacio High Street Mall
Upper Ground Floor, Uptown Mall
Level 1, Shangri-la Plaza
Ground Floor, The Podium
Upper Ground Floor, Robinson's Magnolia
About Louise Campbell
As a leading figure in contemporary Danish designer, Louise Campbell experiments with free, unconstrained forms and new technologies. Her work is reputed for gently twisting not only everyday objects and situations, but also materials and manufacturing processes in new directions. She has been granted numerous awards for both her commercial designs and her one-offs, has worked with companies such as Louis Poulsen, Zanotta, Baccarat and Royal Copenhagen, and her pieces can be found in museum collections across Europe and the United States.
Hits: 108