A Bloom in Every Bite
Food has served as an escape these past few months. With most of us staying home and trying to keep busy while locked down, cooking and baking posts have dominated social media. With limited travel options because of quarantine regulations, home-based hobbies are keeping everyone sane and busy.
Sweet treats and flowers are a great combination to uplift moods. Normally in the form of a bouquet and a box of goodies, I've decided to play with the concept and combine blooms and sweets in one bite.
On a pre-pandemic trip to a Chinese grocery, I found the cutest bottles of dried flowers. Meant to be steeped in hot water and made into herbal tea, I thought of incorporating the pretty dried flowers into a cookie. My recipe for this month is my personal reminder of better days. We may be in difficult times, but we can sure put some blooms in our sweets.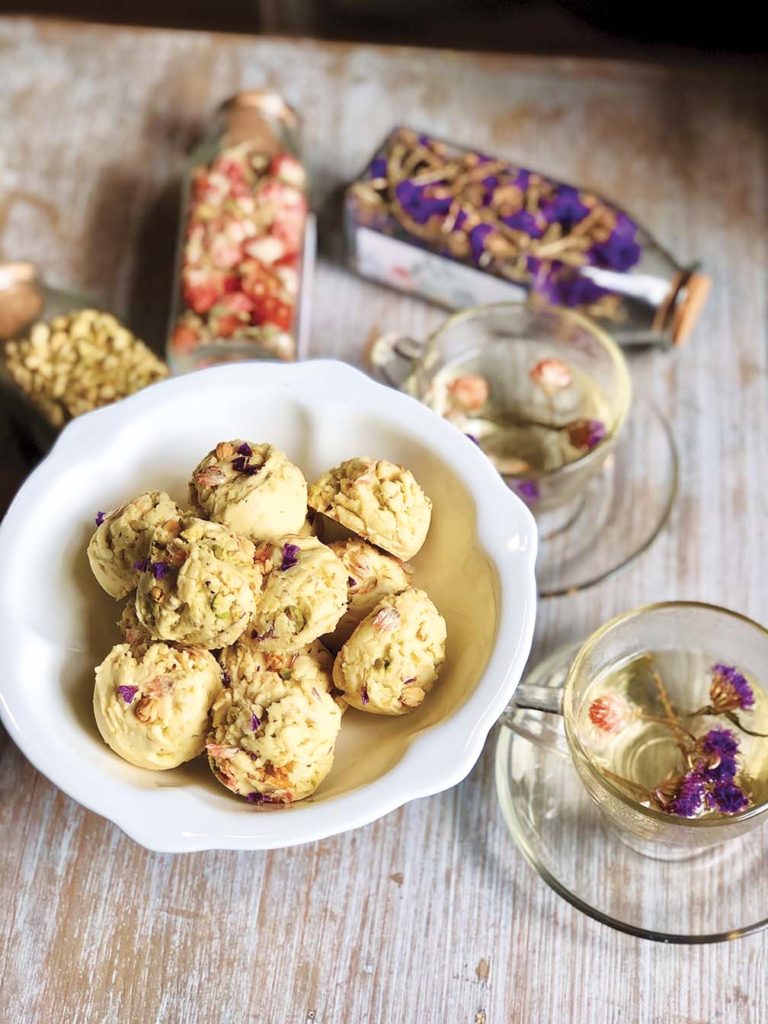 Floral Tea Cookies by: Chef Gel Salonga-Datu
Makes 10 small cookies
Prep time 30 mins.
Baking time 10 mins.
Ingredients:
1/4 cup dried flowers, steeped in hot water
1/2 cup unsalted butter
1/2 cup powdered sugar
1 tsp vanilla extract
1 1/4 cups flour
1/4 cup chopped cashew
1/4 cup chopped pistachio
Procedure:
Rehydrate dried edible flowers in hot water then pick the petals and set aside.
Cream butter and powdered sugar with a mixer and add vanilla.
Mix in the flour and the nuts.
Add flower petals but set aside a few to place on top.
Form the dough into small balls and place on a lined baking tray.
Press a few more petals on top of the dough balls and bake at 180˚C for 10 minutes.
Once baked, place on a wire rack to cool and serve with some floral tea.
Hits: 308