Bring Summer Cookout Vibes Into Your Home With Breville Philippines!
Learn upgraded heritage recipes from seasoned chefs.
Premier home lifestyle brand Breville Philippines just brought the ultimate summer cookout vibes to everyone's home during its virtual 'Hey, Home Fryer!' event last April 24, 2021. The online session invited culinary luminaries Chef Waya Araos-Wijanco of Gourmet Gypsy Art Cafe and Chef Gem Tee of Salta Ristorante to share some of their favorite heritage recipes to everyone who loves being masters of their kitchens.
Also placed in the spotlight is Breville's new kitchen essential, the Smart Oven® Air Fryer which is the third generation of the brand's infamous Pro ovens. Using this kitchen must-have, Chef Waya and Chef Gem introduced a few upgrades to their recipes to make them healthier, more appetizing, and of course, more enjoyable to everyone.
Those who attended the event got exclusive access to Chef Waya and Chef Gem's recipes as well as some pro-cooking tips that every home cook can use to elevate their kitchen creations. Chef Waya, for example, shared her family's heritage mechado recipe which was developed by her father. The 'Ama's Mechado,' which is also being served at Gourmet Gypsy Art Cafe, is a savory and rich creation that uses marbled beef 'batok' cooked in tomatoes, wine, and ground liver. For the session, the recipe got extra treatment by getting some healthy air-fried vegetables created using the Smart Oven® Air Fryer.
The Air Fryer was used to elevate the taste of vegetables using its smart pre-set function. As Chef Waya explains, "It still has the pre-sets of the Smart Oven that I love but they added air fry and the air fry basket. It's so easy to use. You just choose the air fry function and it will give you the recommended temperature, but you can still adjust it."
"Ang maganda din namanditosaating Smart Oven, meronsiyang Slow Cook function so if you do want to do your mechado in there, you can."
Check out the recipe below:
Ama's Mechado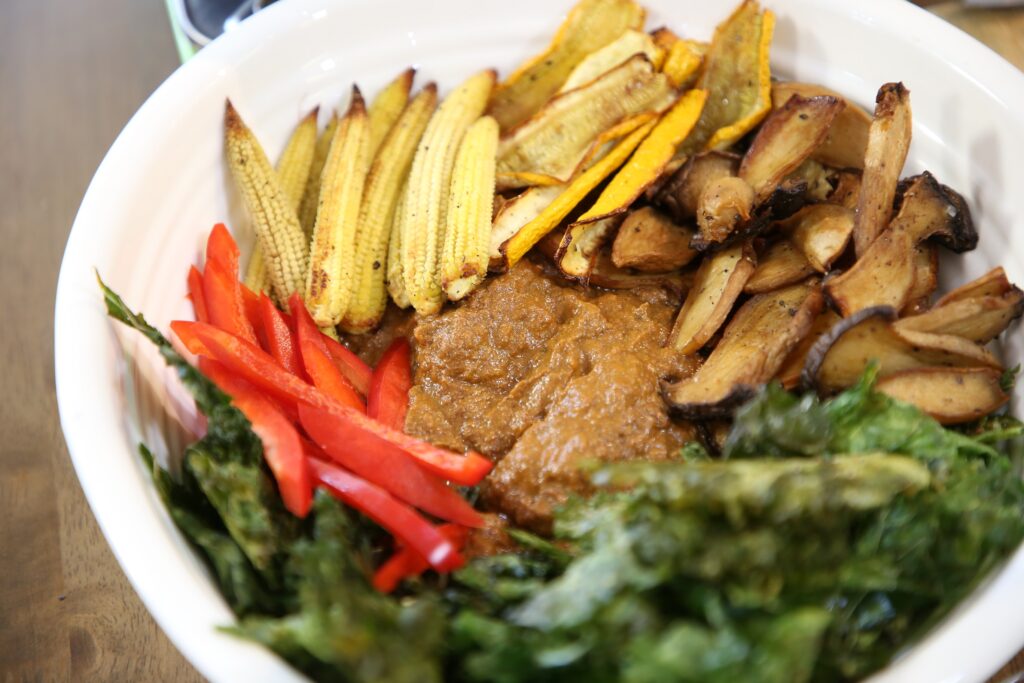 Ingredients
3 kg beef batok, cut into 2 inch cubes
½ kg beef liver
120 ml olive oil
60 grams garlic, finely chopped
120 grams onion, finely chopped
120 grams celery, finely chopped
120 grams carrots finely chopped
2 kg tomatoes, peeled, seeded and chopped
100 grams tomato paste
500 ml red wine
1 liter water
4 laurel leaves
10 grams smoked paprika
Salt and pepper to taste
Procedure
Season beef cubes with salt and pepper. Heat half the olive oil and sear the beef in a hot pan until all sides are browned. Do this in batches, do not crowd the pan. Set aside.
Season liver with salt and pepper and grill until well browned. Cut into cubes and blend with water until it forms a smooth paste. Set aside.
In the same pan, add the rest of the olive oil and saute garlic, onion, celery and carrots until soft. Add the tomato paste and keep stirring until the tomato paste and veggies are well caramelized and fragrant.
Add the seared beef cubes, pureed liver, red wine and water and bring to a boil. Add the laurel leaves and simmer until tender.
Finish by adding smoked paprika and more salt and pepper to taste.
Air-fried Veggies
Ingredients
Kale
Zucchini
Baby Corn
Mushrooms
Olive oil
Salt
Pepper
Procedure
Sprinkle some olive oil on the veggies and give a few turns to coat. Season with salt and pepper.
Arrange veggies in the air fryer basket and cook for 8-10 minutes. Garnish the mechado with the veggies.
Chef Waya also shared the stage with her son Chef Kulas Besa who showed the audience how to whip up the best chicken wings, the healthier, air-fried way. During the session, Chef Waya also talked about how important it is for parents to share their passion for cooking with their kids.
"Lalo na ngayon nasa bahay ang pamilya, isasanakita ko, nagluluto ang mgabata. It's really heartening to see because cooking is a life skill. Hindi women's work ang cooking. It's everyone's work."
"There are ways to introduce them to cooking. Make the kitchen something accessible to kids. It's really the attitude that you start them with that makes them love it."
Of course, a summer cookout will not be complete without a good serving of warm dessert. For this, Chef Gem Tee shared her Apple Crumble recipe which she upgraded by making it vegan!
The owner of Salta Ristorante also opened up about her love for the dessert which started during her childhood. "Growing up in a big family, our bonding moment is really cooking. Especially during special occasions like Christmas and Chinese New Year when we have lots of fruits. We bake many trays, bigay natin sa kapitbahay, sa Tita and Tito."
"I'm using apples for the theme of family traditions. Growing up with a Chinese family, kahonkahon ng prutas and mga regalo ng titos, titas, kumpares, and kumares ang nakukuhanamin. For this recipe, I made it healthier by using Whole Wheat Flour and Olive oil instead of butter."
She even dished one good tip that can keep apples fresh. For her Vegan Apple Crumble, she added brandy and lemon to prevent the slices from browning too fast. As for the crumble, a good amount of olive oil gave the most perfect, crumbly crust after she popped it in the Breville Air Fryer.
Vegan Apple-Pear Crumble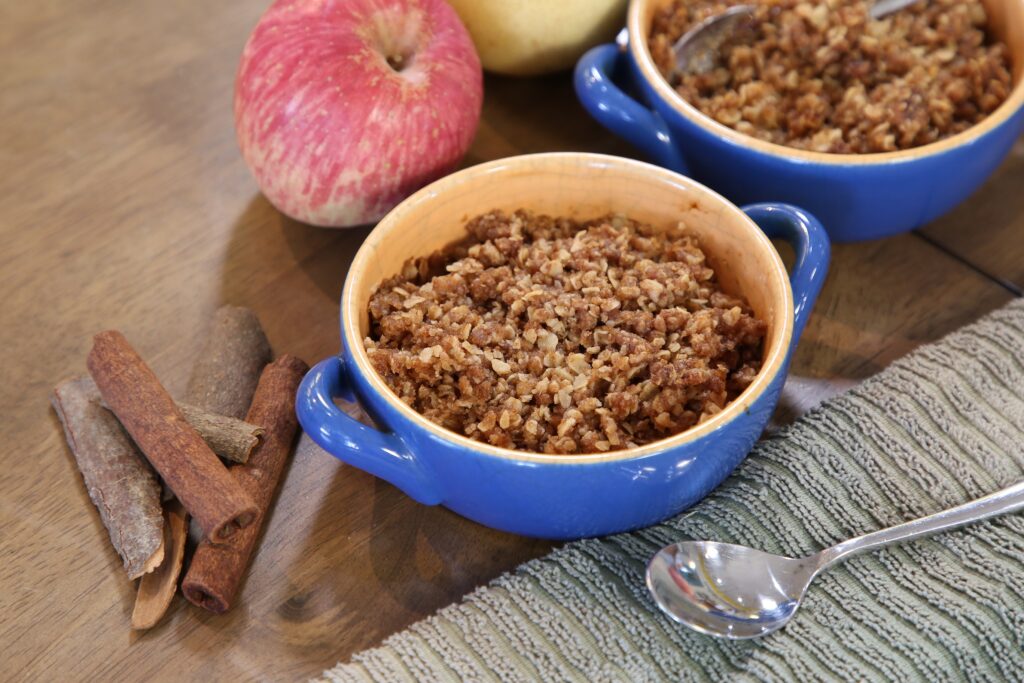 Apple Filling Ingredients
500g Fuji Apples (or Pears, or mixed), peeled &sliced
¼ cup brown sugar
1 tbsp cornstarch
½ tsp ground cinnamon
Pinch of salt
1 tbsp brandy
½ tbsp lemon juice
½ tsp vanilla extract
For the Crumble
½ cup whole wheat flour
¾ cups quick cooking oats
½ cup brown sugar
½ tsp ground cinnamon
6 tbsps olive oil
Procedure
Mix all the Apple Filling ingredients together. Set Aside.
Layer the apple mix into a 8×8 greased baking dish .
Set the Breville Smart Oven to Air Fry. 350F for 25minutes.
Prepare the topping. Add the all purpose flour, rolled oats, brown sugar and cinnamon to the mixing bowl and mix together. Then add in the olive oil.
Use your fingers to spread the topping over the apple layer, crumbling it with your fingers until it is evenly spread across the top.
Place into the oven and air fry for 25 minutes until the top is nicely golden brown and the apple mix is bubbling up the sides.
Chef Gem also talked about how smart appliances like the Breville Smart Oven® Air Fryer are perfect for everyone, especially those who want to save on kitchen space and beginner cooks. "We're living in a very fast world so perfect talagaitongBrevilleAirfryer because it is very convenient and compact. It also has a lot of functions."
The Smart Oven® Air Fryer comes with 10 cooking functions and a dual-speed convection feature that makes cooking time faster by 30 percent. It also has a smart algorithm that decides the ideal cooking environment for every recipe, making it perfect for newbie kitchen warriors.
Everyone can still watch the 'Hey, Home Fryer!' episode on Breville's official Facebook page which you can visit at https://www.facebook.com/brevillephilippines. For more information about Breville's products, follow their Instagram (https://www.instagram.com/breville_phils/) and Facebook accounts or visit their website at https://www.breville.com.ph/.
Hits: 439