Members of the Star Image family are battling it out on TikTok Live for SuperStar PK Supremacy!
Manila, Philippines – August 06, 2021 – TikTok, the leading destination for short-form mobile video, recently launched a regular series of live streams in the Philippines that features an assortment of celebrities who battle it out in a round of Player Knock-Out (PK). PK is a friendly battle between two streamers, where viewers decide who comes out on top through gifting. At the end of the battle, the creator who earns the most diamonds is declared the winner.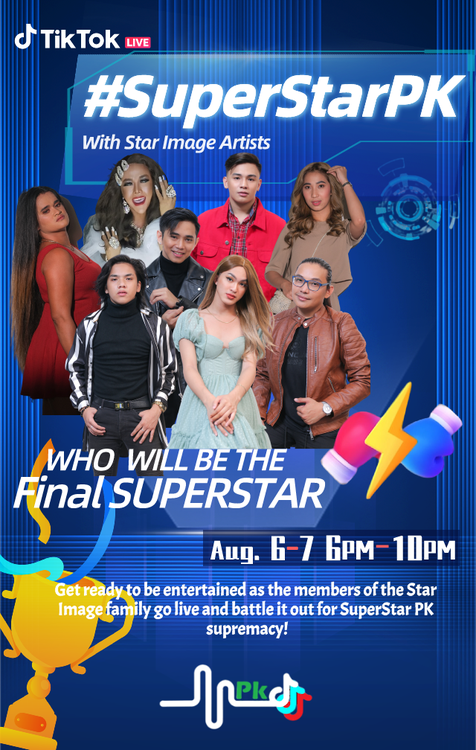 TikTok's #SuperStarPK Live premiered on July 28, with 16 live sessions that featured 16 celebrities from the Star Image Artist Management family as participants. After four nights, and eight intensely entertaining PK battles, eight creators emerged as victors, earning the right to compete in the second round of PK live streams.
The winners of the first round of PK battles were vlogger and social media personality, Buknoy Glamurrr; vlogger, Dadang; Kapitan VJ, owner and founder of Star Image Artist Management; dancer, Duke Kraizen Cruz; TikTok comedy content creator, Magdalena Fox; vlogger, Feng Dela Cruz; Naomi Ganda, another TikTok comedy content creator; and actor and vlogger, Mitch Raymundo.
The second round of PK battles is happening on TikTok on August 6 and 7, from 6:00 PM to 10:00 PM. On August 6, Friday, the eight qualifiers who will go head-to-head are:
6:00PM – 7:00PM: Buknoy vs. Dadang
7:00 PM – 8:00 PM:   Mitch vs. Duke
8:00PM – 9:00PM: Kapitan VJ vs. Magdalena Fox
9:00 PM – 10:00 PM: Naomi vs. Feng
Similar to the first round of matches, those who receive the most diamonds during their PK battle will be declared the winner of each match. Following that, the four winners from Friday will meet again on Saturday, August 7, to battle it out once more on TikTok. Then from there, two finalists will go head-to-head in one last round for the title of Final Superstar.
Connect with followers through TikTok LIVE
TikTok makes it easy for creators to connect with their followers, and grow their audience through its various, easy-to-use app features. TikTok LIVE, in particular, is a great way to do this, enabling creators to share more of themselves through longer-form video, and in real-time. Followers or fans are also able to ask questions and interact with their favorite creators anytime they go live on TikTok.
TikTok's Livestream series is not only entertaining for viewers but also a tool that sparks conversation on various topics between different fan groups and helps creators and celebrities connect with their followers on a wider scale, which inadvertently drives more live traffic on the platform. As more celebrities join these streams, and experience TikTok LIVE in a fun and entertaining way, the community of celebrities on the platform has grown and strengthened as well.
Don't miss the next round of celebrity PK battles on TikTok! Download the app on your iOS and Android devices today.