Mondelez Philippines Recognizes Top Schools and Volunteers
Manila, Philippines – October 4, 2021 – One of the best things about community outreach programs is their ability to bring people together. Programs that aim to be inclusive are those that are able to drive innovation and growth.
The Joy Schools program of snacks company Mondelez Philippines is one such example. Started in 2011, it is celebrating 10 years this 2021. In this time it has reached 5,378 children through a 9-month feeding program; 19 schools nationwide for at least 2-years of adoption; achieved 10,800 volunteer hours through company employees; and touched the lives of 24,739 students through various other intervention programs.
As an inclusive program, the celebration of the Joy Schools' 10 years would not be complete without recognizing the people who made each day of its decade possible: The Schools and Teachers it has adopted. As such, Mondelez Philippines held an awarding ceremony to thank and recognize three schools that made the most impact on their students through the program.

"The Joy Schools is our flagship community program in the Philippines and in Southeast Asia. Through it we aim to provide interventions on nutrition and active play, to promote the well-being of our adopted students. More importantly, we aim to help level the playing field for public elementary students so that they receive nutrition and support that equip them for a brighter future," explains Atty. Joseph Fabul, Corporate and Government Affairs Country Manager of Mondelez Philippines. He continues, "These programs could not have been possible or successful without the collaboration of the schools we adopted and their teachers. They implement and monitor our feeding program, and they make the most of the sports equipment, laptops, and WIFI devices we provide for the students. While we have invested as much as P40 million in the program in the past decade; the time, passion, and energy of our schools and teachers have contributed much more to its success."
Top Three Joy Schools Awarded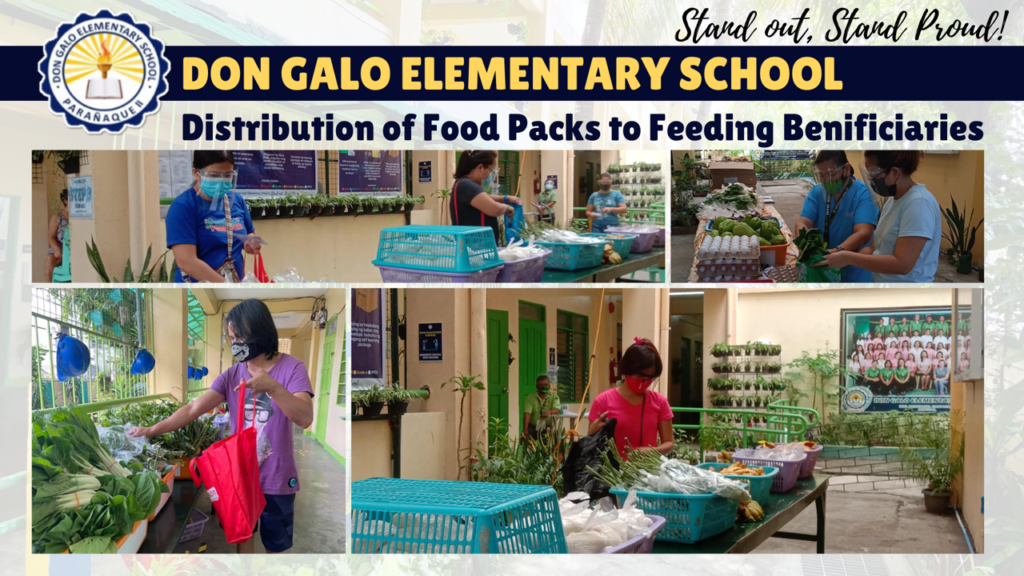 While 19 schools have been adopted by the Joy Schools thus far, three were recognized during the ceremony held with long-time program partners the Philippine Business for Social Progress(PBSP) and the Department of Education – Paranaque Division. These awarded schools were P. Zamora Elementary School in Pasay City, Balara Elementary School in Quezon City, and Don Galo Elementary School in Parañaque City.
"As Mondelez Philippines' partner in the Joy Schools implementation these many years, we supported them in identifying schools who have not only implemented the program well but made the most of the resources provided to them to extend and strengthen their impact," shares Elvin Ivan Uy, PBSP Executive Director. "For Padre Zamora, we saw how they made the most of the vegetable garden materials and learning is given to them to supplement their school feeding program. For Balara Elementary and Don Galo Elementary, it was their ability to ensure the feeding program continued despite the pandemic. From a previous daily feeding in school, they were able to efficiently implement the new weekly pick-up of vegetable kits by parents of the students. For these reasons, we are honored to call these schools our partners in the Joy Schools program with Mondelez Philippines."
Volunteers of the Decade Awarded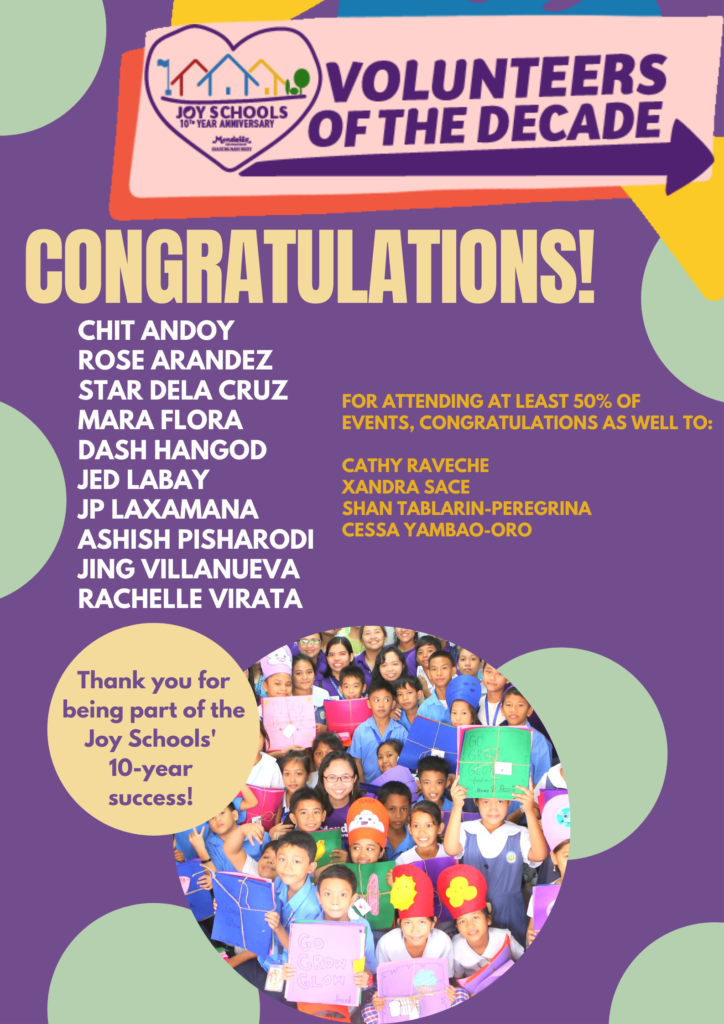 "The schools and the teachers of our Joy Schools program made a difference every day for the students. In addition, the people who gave life and spirit to the program were our own people, the volunteers from Mondelez Philippines," adds Atty. Fabul. "We also celebrate the contributions of our people in sharing their time, resources, and enthusiasm with the Joy Schools through our volunteer activities. They brought happiness and fun to the students through 18 events held in the past 10 years. Specifically, we commend 10 volunteers who have participated in more than 50% of these events. They are our Volunteers of the Decade, and they are as much a part of our program success as our schools and teachers."
Joy Schools continues to make an impact today by adopting three public elementary schools. Starting October 2021, the program will commence a weekly vegetable pack distribution for 300 students and their families. These aim to provide good nutrition to support students' education and ease the burden of hunger for families affected by the pandemic. For more information about the Joy Schools program, click here.