MALABON IN A BOX
Bringing a slice of the City of Taste and Heritage to your home
Whether you're finding a way to elevate your salu-salo or looking for a unique gift idea, these Malabon products will surely be your next holiday staple!
PANCIT MALABON
Rich, flavorful, and filling — Pancit Malabon is arguably the most popular contribution of the City in the culinary world. This special dish is made of rice noodles mixed in its signature orange sauce. It is then carefully topped with layers of crunchy garlic ground pork, cracklings, eggs, fresh pechay baguio, ox tongue, and shrimp. Make sure you squeeze in some calamansi to brighten up the flavors!
MAMON TOSTADO
Sweet, crunchy, buttery, and sugary— these famous biscuits guarantee a no-fuss, grab-and-go snack that's sure to delight the kids and the kids-at-heart.
YEMA PALITAW
These bite-sized pillows of sticky rice are filled with sweet custard that comes with a special dipping of grated coconut mixed with sugar and sesame seeds.
KAKANIN
Looking for something filling that goes well with your coffee or tea? Your best bet is this classic merienda. Signature best-sellers include layers of rich and creamy sapin-sapin, kalamay ube, kalamay mais, kalamay kutsinta, kamoteng kahoy or cassava, and biko.
HAZEL'S PUTO
Those who say that puto is boring have yet to try Hazel's Puto. This delicious puto is made special with salted egg and cheese toppings. You also have you try their best-selling puto pao with pork asado filling.
VALENCIA TRIANGULO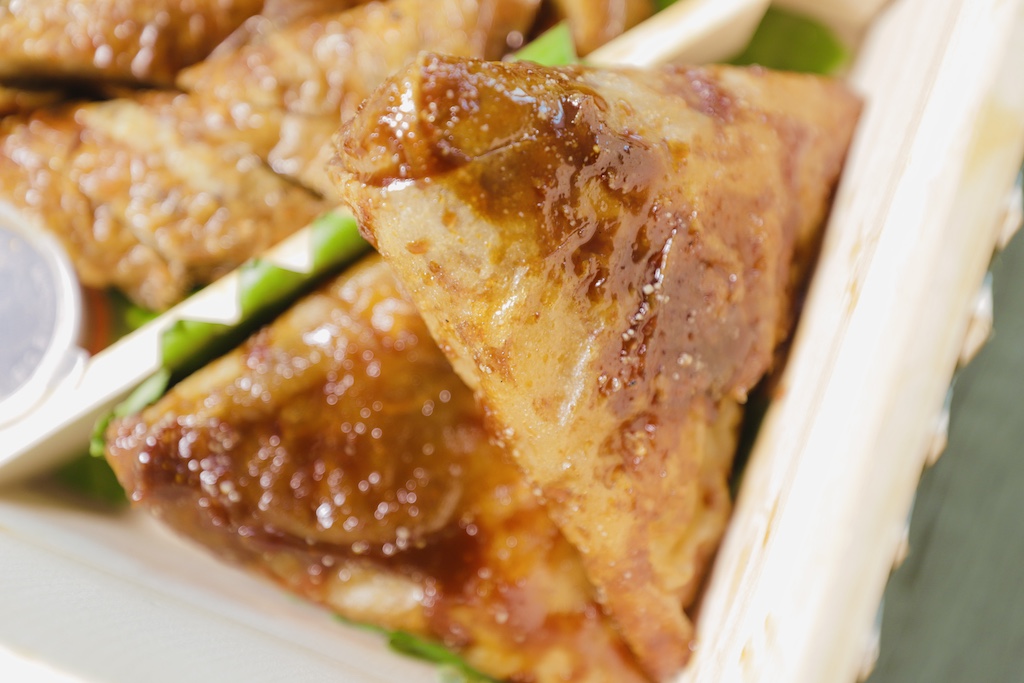 Turon but make it fancy! This local delicacy is stuffed with bananas, langka, and pinipig, which is then deep fried to perfection. 
QUEKIAM
A Malabonian take on a Chinese classic, Quekiam makes for a hearty merienda with its sausage-like mixture of ground pork and shredded turnips, wrapped in bean curd sheet, and best paired with a sweet and spicy sauce.
SOFT BROAS
This version of ladyfingers boasts of special cream filling that adds that extra layer of sweetness to every bite. A perfect dessert to end every meal!
SPECIAL HALO-HALO
You don't have to wait for summer, you can make your own special halo-halo at home! Just add milk and ice and you already have the best Filipino dessert.
ATCHARANG DAMPALIT
Looking for a relish that would elevate your everyday ulam? Try Atcharang Dampalit! Made of pickled sea purslane, this delicacy is equal parts healthy and yummy!
Hits: 269