Watch and dine at Araneta City with these irresistible offers from Gateway Cineplex 10 and Pizza Hut
As more establishments reopen to welcome back customers, many have started to experience once again the satisfaction of eating out together with the ones they love. The same can be said for cinemas, allowing moviegoers to experience anew the magic of the big screen.
Araneta City knows this, which is why the City of Firsts has launched two promos that will surely satisfy not only the most avid of film fanatics but also those who love dining out. Get ready to watch and dine with these irresistible offers from Gateway Cineplex 10 and Pizza Hut that you won't want to miss!
Enjoy P100 off on your movie tickets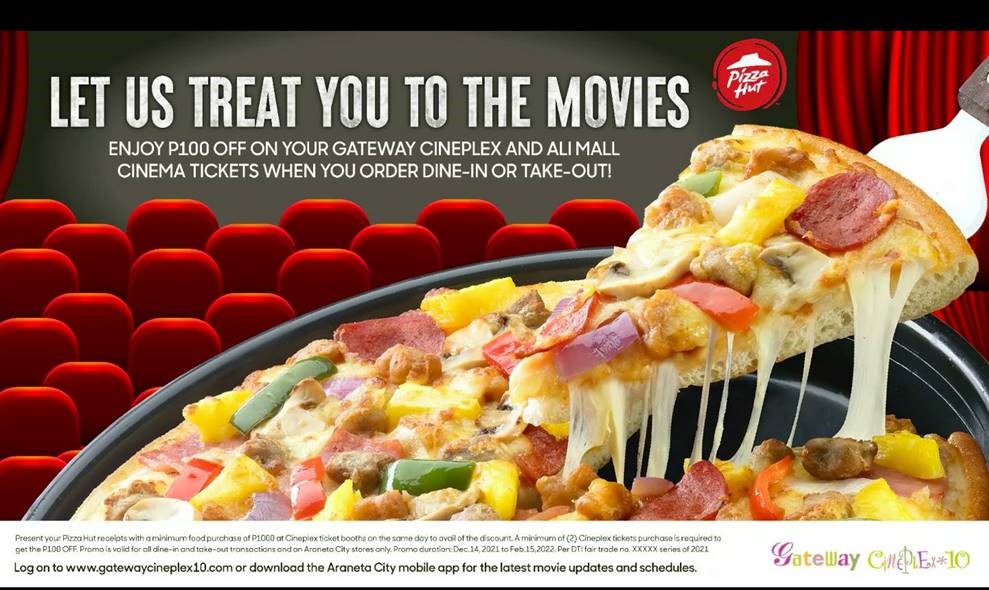 Before you go to the cinema to see that movie you've been anticipating, why don't you head on over to Pizza Hut first? Not only will you be able to enjoy great-tasting pizza, pasta, and other all-time Pizza Hut favorites, you can also get an awesome discount on your movie tickets!
You heard that right! For every minimum food purchase of P1000 at Pizza Hut, you'll be able to enjoy P100 off on your Cineplex movie tickets if you purchase them on the same day. Just make sure to present your Pizza Hut receipt and purchase at least two (2) tickets to avail of the discount!
Get 20% off on Large Pan and Stuffed crust pizzas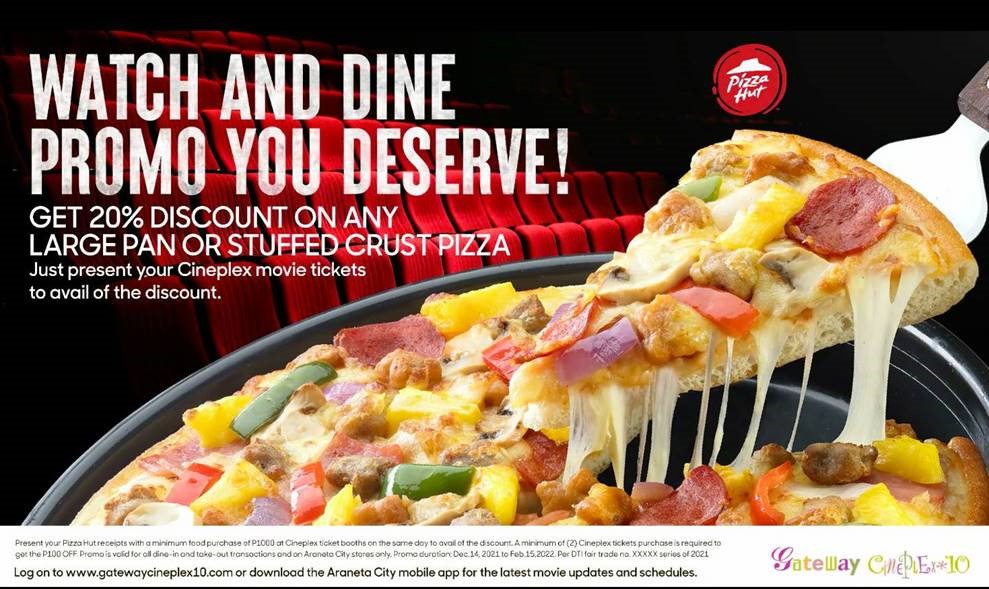 Okay, maybe you prefer eating out after watching a movie, so you can talk about your favorite scenes and plot twists over a sumptuous feast of warm and flavorful food. If this sounds like you, don't worry because we also got you covered!
Head on over to Pizza Hut for your post-screening discussion and enjoy 20 percent off on any Large Pan or Stuffed Crust pizza order for every single purchase of cinema tickets from Cineplex. Make sure to keep your tickets after your screening so you can present them when you're ready to order!
Both of these promos will be available until February 15, 2022, only, and are valid for all dine-in and take-out transactions in any Pizza Hut branch within Araneta City. What are you waiting for? Avail of these watch-and-dine offers today for a fun time only at the City of Firsts!
For the latest news, movie updates, and schedules from Cineplex, log on to www.gatewaycineplex10.com or download the Araneta City mobile app!
Keep track of the latest updates and deals from Pizza Hut by following and giving the brand a like on Facebook, Instagram, and Twitter, or log on to www.pizzahut.com.ph.
Hits: 477