Tim Hortons Philippines partners with Nestlé to launch plant-based menu
(MANILA, Philippines) 27 January 2022 – Something to help you in your New Year's resolution to eat healthier in 2022. Tim Hortons Philippines partners with Nestlé Professional Philippines in its plant-based movement to launch the HARVEST GOURMET® plant-based products. Tim Hortons Philippines has added two delicious offerings to its menu: the meat-free Classic Barbecue Sensational® Burger, and meat-free Grilled Quesadilla with Barbecue Sauce. Launched in all 31 Tim Hortons Philippines stores just last month and available for a limited time only, these offerings provide consumers more options and access to plant-based products—and is a welcome addition for anyone committed to eating better and healthier for the new year.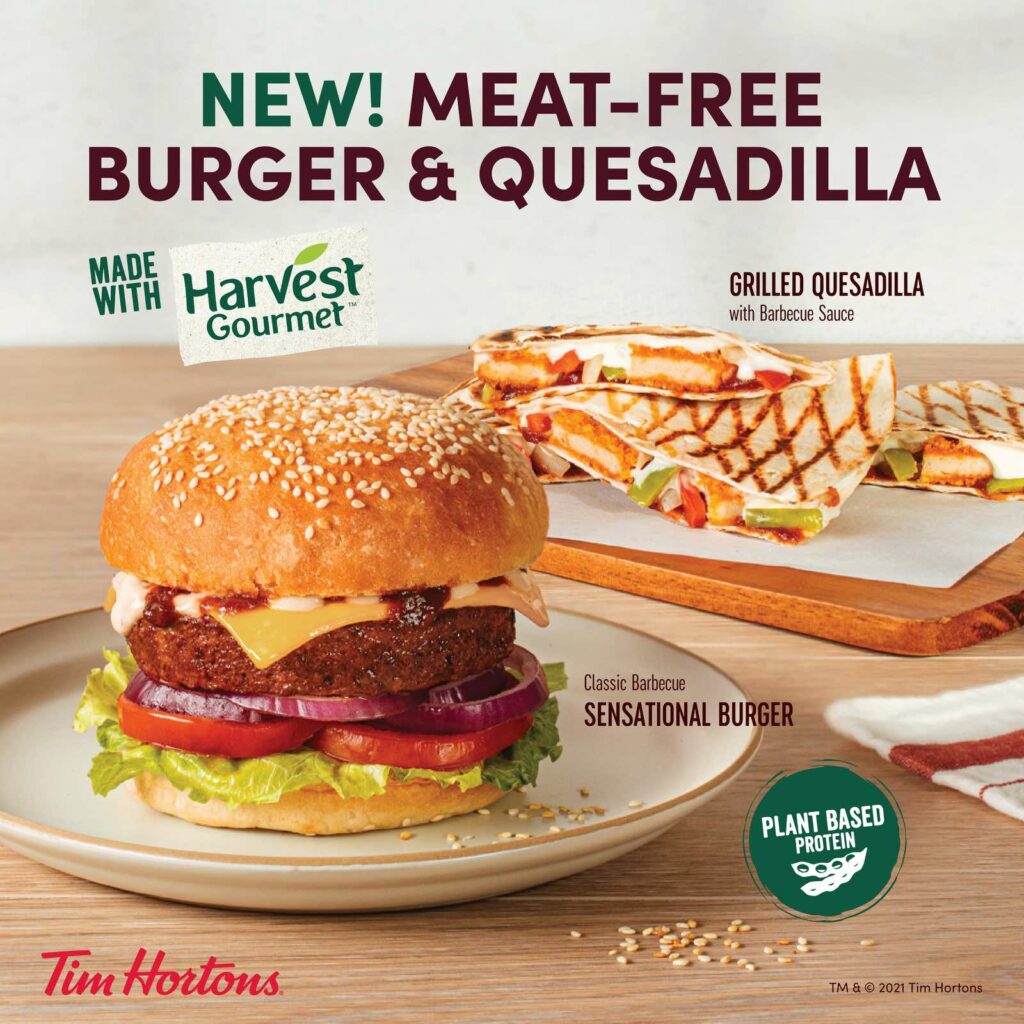 The meat-free Classic Barbecue Sensational Burger contains HARVEST GOURMET® patty, barbecue dressing, fresh tomato, onion, lettuce, and cheese, sandwiched in a brioche bun, and is priced reasonably at P230. The Grilled Quesadilla with Barbecue Sauce uses HARVEST GOURMET® Schnitzel pieces, enveloped in a soft grilled tortilla with barbecue dressing, onion, green peppers, and cheese, priced at P190, giving consumers an affordable meat-free alternative. Although they are meat-free, a lot of consumers have said they could not tell the difference from meat.
With the growing demand for plant-based food, TimHortons Philippines and Nestlé Professional, the foodservice unit of Nestlé Philippines, have joined forces to develop this meat-free menu without compromise on taste. As more Filipino consumers are consciously making more informed food choices based on health and environmental reasons, TimHortons and Nestlé are tapping this growing trend of 'Flexitarian' consumers who are looking for healthier alternatives and choosing to reduce their meat intake with plant-based food. This trend has also been accelerated by the current COVID-19 pandemic that has led people worldwide to be more conscious of their health and the impact of food sourcing on the environment.
"We are very proud of our collaboration with Nestlé Professional and HARVEST GOURMET®, and we are excited to offer our customers the healthy, nutritious, tasty meat alternatives they seek. At Tim Hortons, we are committed to serving high-quality and great-tasting food and beverages every day, while reducing our environmental footprint. The plant-based menus are a tasty alternative for everyone who would like a substitute for animal meat. These menus are about providing more choices to our guests, who are asking for a variety of options and more plant-based products. We are confident that our guests will love our plant-based menus," said Rickie Yap, Tim Hortons Philippines President, and CEO.
"What we are seeing is that the demand for plant-based food is not just a short-term food trend anymore, but really a growing social movement for sustainability, and that's why we are really calling the F&B industry to join us in this plant-based movement, and we are so proud to have Tim Hortons joining us in this call. We believe the F&B community has a leading role to play in driving this change," said Alexander Ong Oh, Business Executive Officer of Nestlé Professional Philippines.
"Every plant-based menu added and served in restaurants and hotels will be a step closer towards promoting not just a healthier lifestyle, but the sustainability of our planet. And we are excited to leverage our global knowledge and latest technology in plant-based food to bring to our customers and to Filipino consumers products that deliver on health, taste, and texture. Today, it is indeed possible already to enjoy plant-based food without compromise. I invite everyone to taste it to believe," added Oh.
To stay updated with the latest Tim Hortons Philippines news and for takeout & delivery options, you may follow them on Facebook, Instagram, Twitter or visit their website.
HARVEST GOURMET® products are also available through Nestlé Professional Philippines and e-commerce partners: Rare Food Shop, Lazada, Shopee, and Wholemart PH.
For more information on HARVEST GOURMET® products, please visit the official Nestlé Professional Philippines Facebook page.
Hits: 566