Splendid Dinner Buffet Offers at Diamond Hotel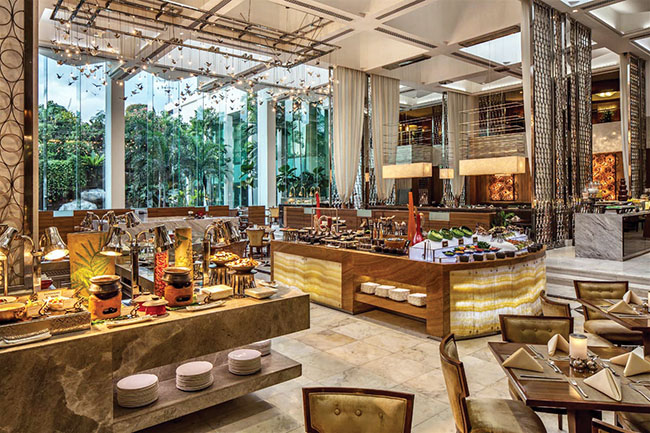 Corniche restaurant of Diamond Hotel Philippines expands its themed buff et nights by also featuring American and Middle Eastern gourmet treasures. Embark on a culinary adventure and indulge in an international extravaganza of flavors on diff erent evenings of the week. The gastronomic journey begins on a Tuesday, welcoming you to an enchanting Arabian taste escape. Partake of rightly seasoned dishes prepared to achieve the authentic flavors of the Middle East. Savor a sumptuous array of rare delicacies from Tabouleh, Garithes Yiouvetsi (Baked Prawns with Feta and Ruccola), Arabic Lamb Stew with smoked Onions, Beef Kofta braised with Vegetables Curry, along with desserts such as Baklava. The Arabian Delights dinner buff et is available for Php2, 150 nett per person.
Thursday night multiplies your delight with the Steak and Pasta Night. The buff et table will be laden with succulent steaks and pasta dishes heaping with flavorful goodness! Your night banquet charms with the best choice of cut steaks; US Striploin Steak, US Rib Eye Steak, US Hanger Steak, Beef Tenderloin Steak and Roasted US Prime Rib seasoned with savory marinades and seared to perfection. Get your limitless fill for only Php2,550 nett per person. Prices are inclusive of tax and other charges. For restaurant reservations call 528-3000 ext. 1121.
---
WANT TO KEEP UPDATED?
Join us on our newsletter!
[wysija_form id="2″]
Hits: 103