A Cherokee-Inspired Easter Celebration at Richmonde Café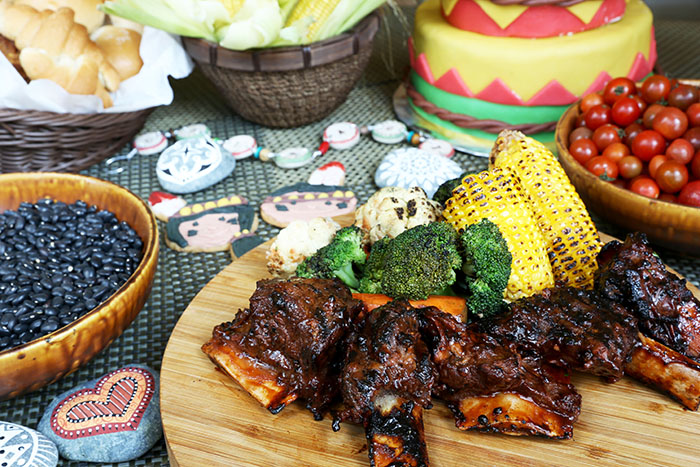 Known for its use of natively-sourced ingredients and food that remind you of cozy weekends spent at home, Native American Indian cuisine boasts of sumptuous courses with the perfect balance of simple flavors and savory tastes that never fail to impress.
On April 5, 2015, all trails lead to Richmonde Café's Cherokee Easter Barbecue Lunch Buffet, a Native American Indian-inspired buffet that will celebrate the indigenous cuisine recognized worldwide for its inviting zest and notable dishes. End the  Lenten Season with a bang and say "Osiyo!" to a spread of classic, American-themed comfort chows like Red Cabbage Coleslaw, Potato Salad, Nachos with Cheese, Baked Mac & Cheese, Baked Potato with Sour Cream, Bacon Bits and Chives and Chili Con Carne. Cherokees are also known to be meat lovers and Richmonde Café's meat selection won't disappoint: from Seafood Skewers, Southern Style Fried Chicken and Roast Prime Rib to an overload of flame-cooked options such as Barbecue Chicken Wings, Pork Chop BBQ, Smoked Hickory Pork Spareribs BBQ, and Jack Daniels Beef Ribs, your protein needs will surely be covered! Cap off the meal with a trip to dessert heaven with a serving or two of Chocolate Cheesecake, Banana Chocolate Tart, Apple Strudel, and White Tiramisu Cake. Aside from palatable entrées and divine desserts, fun Easter activities such as an Easter egg hunt, cupcake decorating, and arts & crafts also await kids 6 years old and below, so don't forget to bring along the little ones for a complete family experience you wouldn't want to miss!
The Cherokee Easter Barbecue Lunch Buffet is available on April 5, 2015 from 11:30 AM to 2:00 PM at the Richmonde Café for PhP 899 nett. Children aged 6 to 12 get to experience this splendid dining fare for only PhP 450 nett and kids 5 years old and below eat for FREE!
The Richmonde Café is located at the second floor of Richmonde Hotel Ortigas, 21 San Miguel Avenue, Ortigas Center, Pasig City. For inquiries or reservations, please call 689-8419 or 638-7777 extension 3409. For more information on Richmonde Hotel Ortigas, log on to www.richmondehotels.com.ph or connect at facebook.com/RichmondeHotelOrtigas, twitter.com/Richmonde_rho, and instagram.com/Richmonde_rho.
Hits: 122