Pinoy 'kitchen kings' excel in international culinary tilt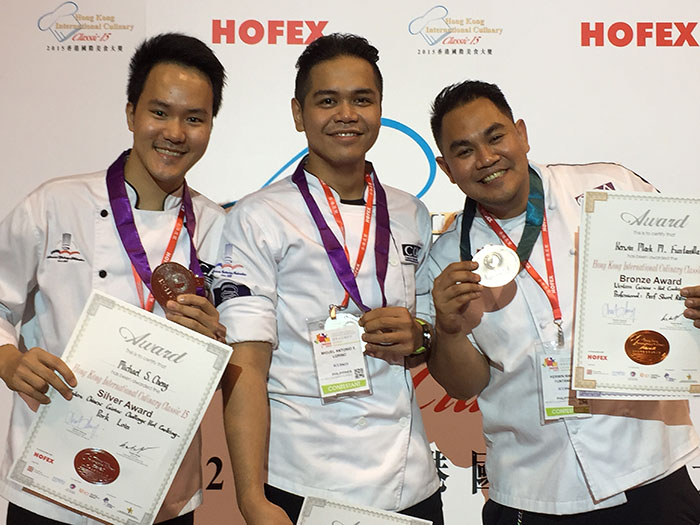 Filipino pride reigned supreme once more as three top master chefs from the Center of Culinary Arts, Manila (CCA, Manila) delivered a fiery winning performance in four individual live-cooking categories – bagging several medals that include two silvers, a bronze and gold with distinction – in the recent HOFEX-Hong Kong International Culinary Classic (HKICC) 2015.
CCA's winning team – composed of Chefs Kerwin Funtanilla, Michael Cheng and Miguel Antonio Soriano Lorino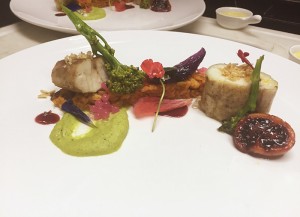 headed by Team Manager Chef Annali Mariano — was hailed the best and took home the prestigious professional honors in this year's biggest culinary arts competition event in Asia. Instrumental in CCA's successful HOFEX bid are Dr. Veritas Luna, Chancellor for Education; and Ms. Liza Morales, CCA School Operations Manager and this year's overall Team Coordinator; together with coaches and mentors Chef Josh Boutwood, Chef Sau del Rosario, CCA Culinary Director; and a CCA alumnus who is now a very successful restaurateur. Student-assistants Jade Claudine Quinsaat, Karla Pia Cardenas and Abigail Zandra Marie Ortiz were a big help to the team, as well.
The CCA, Manila delegation to HOFEX-HKICC 2015 is supported by its major sponsors: Clara Ole, Lee Kum Kee, TABASCO and San Remo.
Chefs in action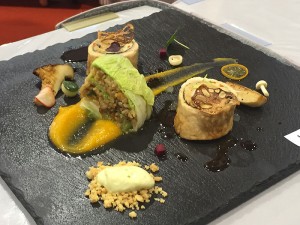 Chef Miguel Antonio Soriano Lorino earned the prestigious gold with distinction after his solo category masterpiece, "Il Agnello Pascuale", was judged the best cuisine in the Golden Bauhinia Cup Western Cuisine at the HKICC 2015.
Rising on top of five other top regional finalists, Chef Miguel impressed the international panel of judges with his entry, which showcased diverse influences and his mastery of the highest culinary standards. The lamb dish consists of prime lamb loin cooked sous vide with honey mustard granola crostoso, espresso porcini jus, lemon crème, paired with prosciutto gnocchi alla romana with parmesan cream and dried fruit crumbles, carrot fondant, roasted Portobello slices, garlic mint vinaigrette, dressed brussel sprouts, green pea puree, and confit of shallot petals and butter roasted figs.
"It's really an honor to win against some of Asia's best chefs. The competition was tough as there were more than 50 entrants per professional category," said Chef Miguel, who also won a silver medal in another individual competition, the Western Cuisine-Professional: Sustainable Fish category with his Spanish-inspired entry, "Magellan's Reef".
During the grand finals, Chef Miguel was also praised not only for the dish but also for his cleanliness and organizational skills. "He was the only competitor with a printed recipe name as well as the standardized recipe provided for the judges to assess," added Chef Annali.
Two-time HOFEX competitor and 2013 gold medalist Chef Michael Cheng, meanwhile, added another feather in his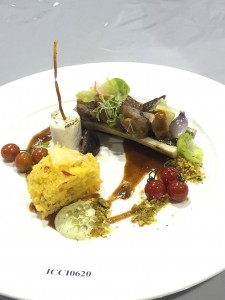 toque when he earned another silver medal at the Hot Cooking: Pork Loin category. He impressed judges with his creation, "The Hour of the Pig."  He bested 45 chefs from other Asian countries.
Showcasing his signature techniques, ingredients and creative style, Chef Kerwin Funtanilla's entry, "Campfire," (braised beef in figs, coffee and bone marrow dish) merited him a bronze medal in the Hot Cooking-Beef Short Ribs category.
"We are very proud of our chef-delegates. Their victories are tantamount to priceless. We commend them for showcasing their talents at their best, and for keeping the flame of excellence alive in whatever endeavor they do. Their success serves as an inspiration for the entire CCA community, and puts into perspective what CCA, Manila is doing earnestly in raising the bar of professional culinary education standards for the past years," said Badjie Guerrero-Trinidad, CEO of CCA, Manila.
'Home' of Champions
According to Morales, the CCA Team prepared for the HOFEX-HKICC tilt as early as January. "Dr. Veritas Luna and I came up with a list of candidates, all with proven record and experience in competitions. After a deliberate selection process, and upon Dr. Luna's final approval, we held an audition. Out of the finalists, Chef Sau together with one of our CCA alumni, advised me to send the three chefs."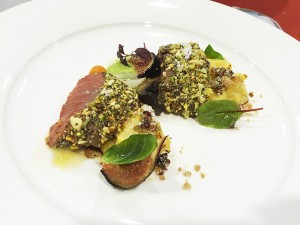 "The management gave the three chefs its full support in terms of funding for the practice ingredients and we let the competitors have exclusive use of the R&D lab. All the needed resources were provided to the competitors on time. It was clearly CCA team effort at its best," she added.
All the winning chefs are among the successful alumni of CCA, Manila, which internationally-recognized culinary programs exemplify the breadth and depth of being a passionate and world-class culinarian. As the country's pioneer culinary education institution, CCA, Manila's history at HOFEX is long and distinguished. Since joining the competition, CCA chef-delegates have already become top contenders, bringing home honors by garnering consecutive medal wins in various categories for the past years. These memorable triumphs have established CCA, Manila as the "home" of world-class culinary talents.
For inquiries on the diploma or short courses, call CCA, Manila at 218-8566 or e-mail: marketing@cca-manila.com. Visit www.cca-manila.com.  The main campus is located at 287 Katipunan Ave., Loyola Heights, QC. Application is ongoing.
Hits: 97