Fulfill Dad's Simple Wishes this Father's Day at B&P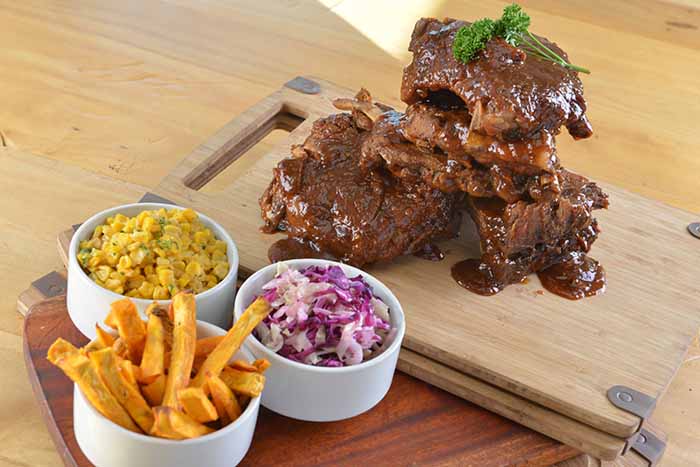 Stumped on where you can take dad out for Father's Day? Look no more! B&P has some awesome things in store for you and dad this month of June so you can indulge in good food, great memories and cool gadgets.
A feast of great proportions 
A huge appetite needs an equally huge spread. Satisfy dad's hankering for meaty comfort food with unlimited servings of B&P's saucy and smoky ribs from June 19 to 21 at the Shaw and Il Terrazzo branches and all Mondays of June at the McKinley branch. The flavorful ribs come with a choice of steamed rice, sweet potato fries, braised cabbage and garlic corn that's sure to satisfy dad's hunger and make him feel like a kid again – barbecue-y fingers and all.
B&P has also taken desserts to a whole other level with extra-large choices and extra special flavors for the month of fathers. Fulfill dad's secret wish by getting him the Johnnie Walker Cake – a rich, velvety Chocolate cake soaked in Johnnie Walker Syrup, filled and covered with dense Johnnie Walker infused ganache topped with chocolate curls and cocoa powder. You can also surprise him with B&P's Surprise Cake (three layers of moist butter cake filled with fluffy marshmallow icing in between filled with M&M candies) or Burger Cake (a giant, moist rum-infused chocolate cake patty, sandwiched in between butter cake buns topped with toasted sesame seeds with marshmallow icing lettuce, icing catsup and icing cheese that's also available in Junior Size).
Want to give dessert a personal touch? Pre-order B&P's Giant Cookie (8-inch buttery sugar cookies decorated using M&M chocolate candies) and write a sweet message for the first man you ever loved in royal icing as a touching end to a memorable meal. All desserts are available month-long in all of B&P's branches.
Gadgets Galore 
Aside from indulging in comfort food, dad can also get his fill of gadgetry at B&P. Free discount vouchers from Beyond Innovation (distributor for audio and video brands such as JBL, AKG and Harman Kardon) are in store for dads who will visit B&P's branches.
Be your dad's Proud Kid 
You also get a chance to win cool gadgets by being a #ProudKid. Say just how great dad is loudly and proudly with B&P's #ProudKid promo for the month of June.
Post one of dad's photos – a candid throwback photo of him or a recent selfie – and tag B&P on Facebook or Instagram with the caption "#ProudKid of (Your Dad's Name)" and you will get the chance to win tech accessories or a free feast on Father's Day weekend as grand prizes.
A total of 5 winners (2 winners for Shaw branch, 2 winners for McKinley branch, and 1 winner for Il Terrazzo branch) will get to take home an AKG 318 Earphones and BOOQ Apple cases while one lucky Proud Kid will get to win a filling feast for 4 on Father's Day weekend.
Promo period is ongoing until June 18 and winners will be announced via Facebook and Instagram. Vouchers can also be redeemed at JBL Sound Gallery in B3 Bonifacio High, Street or at JBL / Harman Kardon Concept Store, 3rd Level, Ayala Fairview Terraces.
Let dad indulge in gourmet goodness to his heart's content at B&P and have the greatest time sharing a laugh, a wacky selfie and nifty gadgets with him. Plus dad gets stylish too at great value discount as G2000 gives away discount vouchers.
B&P is located along Shaw Boulevard (631-3252), Il Terrazzo Tomas Morato, Quezon City (374-7730), McKinley BGC (833-0440), and its newest outlet in and soon to open in Cyberscape Alpha in Ortigas.  Check out B&P's Facebook/Twitter/ Instagram official page (BNPhome).