Jollibee partners with Museum Foundation to make museum visits more fun for kids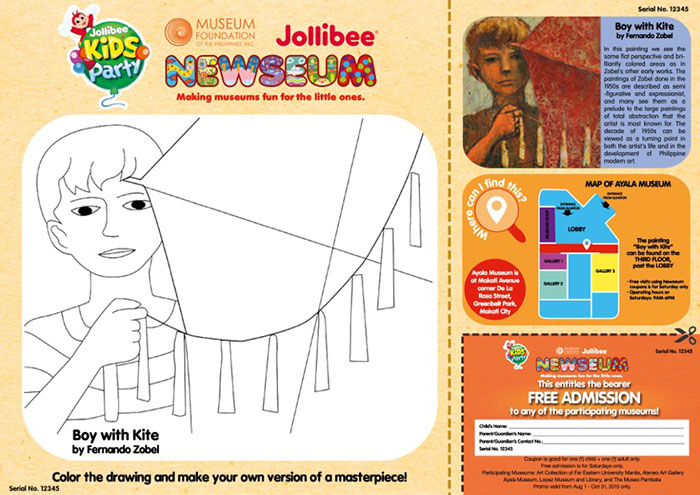 A trip to the museum brings out the kid in everyone – marvelling at the art pieces of the masters like Juan Luna's España y Filipinas at the Lopez Museum and Library or the contemporary art pieces in the Ayala Museum, or be in awe at the rich historical value of the artifacts that gives a glimpse of life before colonial rule. With the collaboration of Jollibee, the country's leading fast-food chain, and the Museum Foundation of the Philippines, Inc. (MFPI), an organization of advocates and benefactors of the arts, museum trips just became more fun and accessible for kids.
Dubbed Newseum, the joint campaign of Jollibee and the Museum Foundation, aims to promote arts appreciation among children through free museum visits and providing Filipino masterpiece-themed activity sheets that kids can color.
Kicking-off in August, Newseum will enable Jollibee Kids Party celebrants in participating stores to visit nearby museums for free. Jollibee Kids Party guests can also discover the world of master Filipino artists Arturo Luz, Fernando Zobel, Mauro "Malang" Santos, Peter de Guzman and Sharry Bobadilla thru coloring their masterpieces featured in special activity sheets.
Once colored, these activity sheets can be used as entrance coupons by kids to partner museums, namely the Art Collection of Far Eastern University Manila, Ateneo Art Gallery, Ayala Museum, Lopez Museum and Library, and the Museo Pambata. Some museums even have special activities prepared for the kids. Submitted activity sheets will also serve as the kids' entries to the special raffle where a Jollibee Kids Party gift certificate worth P6000 is up for grabs.
"Art is key to child development," said MFPI board member Weng Domingo, who conceptualized the project. "We want art and cultural awareness to be inclusive – to be accessible to everyone."
"Jollibee's thrust is to help and promote the holistic development of children, and one aspect of this development is through arts and culture appreciation. That's why we welcome this partnership with MFPI as we want to start the habit early on among Filipino kids," said Jollibee Vice President for Marketing, Harvey Ong.
MFPI is a non-government organization composed of advocates and benefactors of the arts. The group is also responsible for unique art-filled events that include Art in the Park and MaArte Design Fair. Jollibee, meanwhile, has been pioneering various kids programs that promote multiple intelligence including the Jollibee Kids Club talent camp activity and year-long workshops as well as the recent Jollitown Funtasy Land events.
To see the list of participating Jollibee outlets, check MFPI's website, www.museumfoundationph.org. For more information, contact Museum Foundation of the Philippines at (+632) 697-9509 or 404-2685 or email inquiry@museumfoundationph.org.
Hits: 88