Change The Way You Think About Your Juice At Crate&Barrel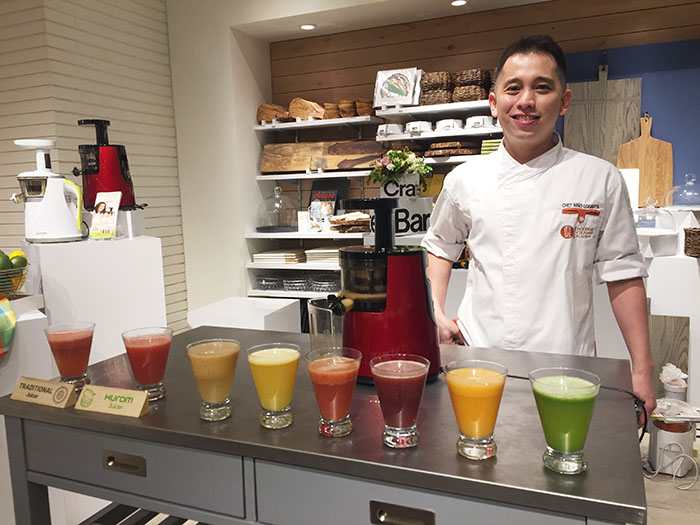 Juice has always been one of the most popular ways to quench our thirst. And as time passes, our juices have become more and more artificial and less and less nutritious. Sugary juices have been convenient, but have cost us a serious uprising of obesity and other food related diseases.
These unfortunate springing of different diseases have been Hurom's inspiration to introduce its newest and most innovative slow juicer in the market, HH Elite Series. The second generation of Hurom Slow Juicers ensure a better preservation of the essential nutrients and fresh taste of the vegetables and fruits using its advanced "Slow Squeezing Technology" which effectively squeezes the ingredients along with all its goodness.
The HH Elite Series also features a new control lever, giving you the control of your preference of consistency with your juice. Energy efficient and tough, it can process fruits, leafy vegetables, wheat grass and more. Added to that, it's as quiet as a whisper meaning – you can juice in the morning without waking everybody up.
Change the way you juice and start drinking the tastier and healthier way with Hurom Slow Juicer HH Series. Available in all Crate & Barrel Stores.
About Crate & Barrel
Working directly with European ateliers and factories to import their products, Crate and Barrel was among the first retailers to make contemporary tabletop and kitchenwares affordable to American consumers. Now in its 50th year, Crate and Barrel is a multi-channel family of brands and an internationally recognized industry leader, known for exclusive housewares and furniture designs, excellent value and superb customer service. To learn more about Crate and Barrel, visit www.crateandbarrel.com.
About Hurom
Hurom Co., Ltd has specialized in the production of juicers and juice extractors for dozens of years. Featuring the patented Slow Squeezing Technology (SST), Hurom's latest offering operates at only 40 RPM and uses a mere 150 Watts of energy, instead of 1,000-24,000 RPM and up to 1,500 Watts of energy like a typical centrifugal "High Speed" juicer. Hurom's method of extraction is masticating and pressing. Designed to preserve enzymes, nutrients and flavor, Hurom produces richer colored juice.  For more information, please visit  www.hurom.com.
Hits: 60