Shakey's Chicken 'n' Mojos Spice Things Up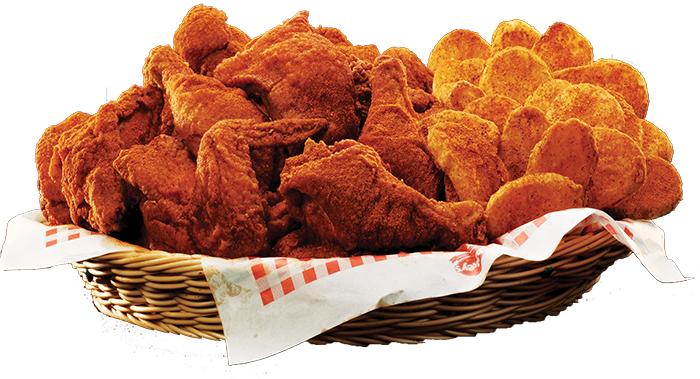 There's nothing like a little spice to introduce a new kick to familiar flavors.
Shakey's is a friendly and casual restaurant where families and friends can count on getting good food while having a good time.  Walking into the restaurant and being greeted by its familiar smells, cheerful staff, cozy interiors, and ever-dependable menu always makes any Guest feel right at home.
Adding a novel twist to its awesome twosome Chicken 'N' Mojos combination, Shakey's decides to shake things up by injecting some spice into the inseparable pair. Introducing the Spiced Chicken 'N' Mojos: another dish we can add to our list of Shakey's all-time favorites.
Shakey's Chicken 'N' Mojos is now unquestionably considered a meal's main event and can hold its own in the menu. Best enjoyed with an ice cold drink, it can be paired with the world famous thin-crust pizza for a truly satisfying meal. Coated with a batter seasoned to perfection, sinking your teeth into their tasty chicken leaves you brazenly licking your fingers and wanting more after every bite. The mojos are so addictive that one basket is simply never enough.
The Shakey's fans who know and love the Chicken 'N' Mojos combination need not be alarmed nor intimidated by their new reddish hue. The color clues us in on a subtle new flavour that has a spice designed to make you salivate.
The Spiced Chicken 'n' Mojos dish is cleverly seasoned with a skillfully measured spice to enhance the existing flavors of our favorites, and not overpower them. A secret blend of pepper and spices only adds an exciting twist to the awesome twosome we know and love. Needless to say,  the Shakey's Chicken 'N' Mojos spiced option is now definitely giving current pizza stars of the Shakey's strong competition.
For more information LIKE Shakey's Pizza on Facebook and FOLLOW @shakeysph on Instagram.