Newport City celebrates chocolate & wine with a decadent month-long festival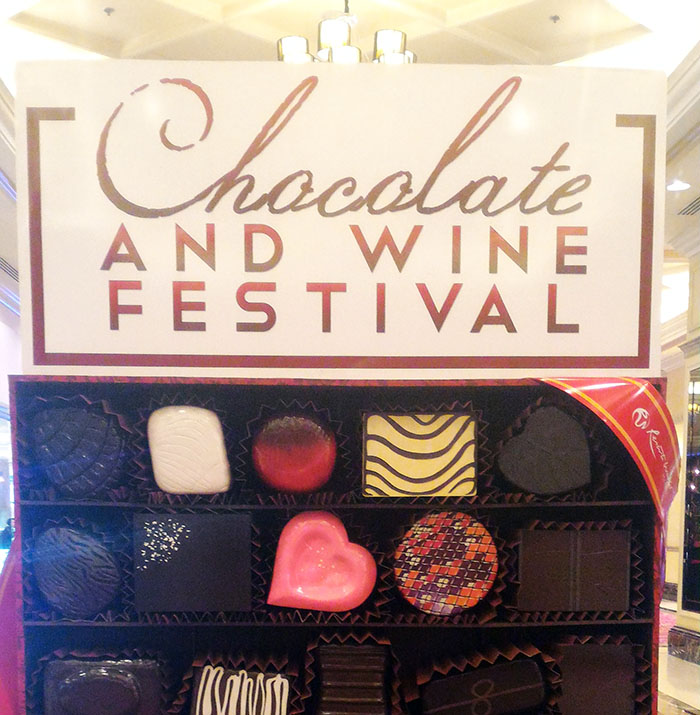 Megaworld Lifestyle Malls and Newport Mall is celebrating the decadent duo of chocolate & wine with delicious pairings, chocolate carvings and more at its Chocolate & Wine Festival this October.
Chocolate Creations, paired with wine
Newport Mall's Chocolate Creations are even more delectable when paired with wine! Available from Oct. 1 – 31, this collection of chocolate desserts can be enjoyed with a glass of vino at participating establishments. The list is posted at the Chocolate & Wine Gallery at the ground floor of Newport Mall from Oct. 1 – 12.
Among the not to be missed pairings this year is a trio of chocolate desserts and wines from Bar 180 – there's a Deconstructed Peanut Butter Praline, paired with a Montes Late Harvest Riesling, the Mary Jane Cake, which has Raspberry Jelly and a Dark Chocolate Ganache, to be enjoyed with a glass of Montes Alpha Syrah and the interesting Chocolate Soup (a rich combination of dark and milk chocolate) topped with walnuts and pistachios, which is paired with a Montes Alpha Cabernet Sauvignon.
Other chocolate desserts one can try at the festival is Crisostomo's Madrid, a ChocoMani cake garnished with chocnut candy, drizzled with fondue and topped with mint leaves and their GatoNegro Cabernet Sauvignon. Johnny Kahuku's Hawaiian Volcano Lava Cake is a luscious spiced dark chocolate cake with raspberry that one can have with a glass of their Barefoot Sauvignon Blanc White Wine.
For a twist on the typical buchi, Johnny Chow is offering an orange marmalade infused dark chocolate buchi and their Alexis Lichine & Co Cabernet Souvignon or Merlot.
Peanut butter and chocolate fans should definitely stop by The Italian Market for their Humble Pie, a peanut butter and dark chocolate pie made even yummier with vanilla ice cream and a glass of Fantini Farnese Montepulciano D'abruzzo.
Chocolate ice cream is also represented through Mr. Kurosawa's Chocolate Jelly with Cream, chocolate ice cream mixed with anglaise and chocolate coffee jelly topped with whipped cream, chocolate powder and syrup. Mr. Kurosawa also offers a Yellow Tail Australian Wine Merlot.
Other delish chocolate dishes include TWG's Chocolate Macaron, Villa Del Conte's Praline Balls (choose from nine delectable flavors!), FIC's Tsokolate, a rich full-flavored ice cream inspired by the tsokolate eh and Coffee Bean & Tea Leaf's cakes.
Chocoholics can also enjoy an indulgent chocolate buffet and Chocolate & Wine Pairing Night on Oct. 22, 6PM at Impressions in Resorts World Manila. Guests can purchase tickets for P1,500 and enjoy a wide selection of chocolate desserts, cakes, dark and white chocolate fountains and more.
Chocolate & Wine Market
From Oct. 1 – 4 and 15-18, chocolate and wine lovers should get their wallets ready as Newport Mall's Plaza at the second floor transforms into a Chocolate & Wine Market.
Guests can check out chocolate treats from Nestle Kitkat and enjoy eating them at the Kitkat benches scattered all over Newport City. Chocoholics can also satisfy their sweet tooth with chocolate desserts and wine from Café Maxims, indulge in pralines from Villa Del Conte and try chocolatey caramel apples at American Caramel Apples.
More chocolates will also be available from Food Bin, Pipers Pan, Yellow Sprinkles, Picole, Unit 16 Sweets, MedChef, Mio Gelati, Choco Atbp., Coldstone, Kimbee, Snack Box, Hattendo, Frost & Fill, Barris Chocolate and Momilo Mio.
Chocolate & Wine Gallery
This year's Chocolate & Wine Festival also allows guests to enjoy the fusion of food and art.  At the Chocolate & Wine Gallery open from Oct. 1 -12, guests can check out beautiful chocolate paintings and sculptures from Marriot Hotel and Resorts World Manila Food & Beverage, see wine selections from the Philippine Wine Merchants and learn all about wine & chocolate pairing from the pairing guide.
Guests can also enjoy their chocolate and wine with wonderful performances at the Chocolate, Wine and the Arts showcase, happening 6PM on Oct. 2-3 and 16-17.
The Chocolate & Wine Festival was created by Megaworld Lifestyle Malls and Resorts World Manila, and sponsored by Nestle Kitkat, the Philippine Wine Merchants, Villa Del Conte and Gallo Wines.
For more information on Newport Mall's Chocolate Festival, please call the Megaworld Lifestyle Malls Concierge at 709-0888, 709-9888 or 09178380111 or Resorts World Manila at 836-6333 and 908-8833 or visit www.megaworldlifestylemalls.com
Hits: 48