World-renowned Japanese Master Chef Andy Matsuda returns to the Philippines to conduct cooking classes at CCA, Manila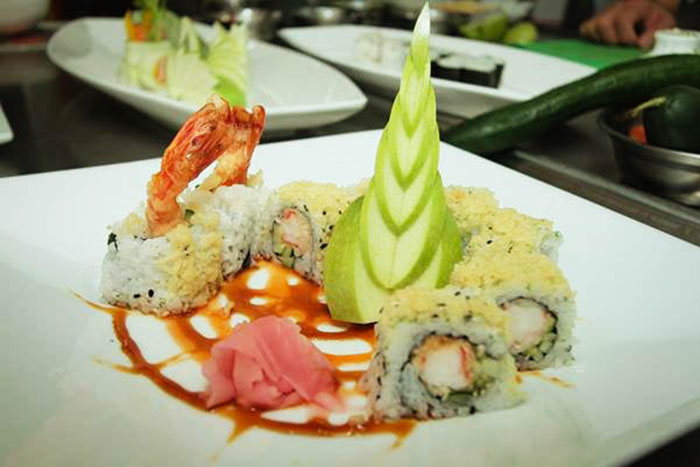 Thinking of perfecting your skills at preparing Japanese cuisine, especially with preparing sushi and kushi-age? And how about mastering the art of bento (lunch box) preparation? Learn this and a lot more in a "Learn from the Master" class series in the first and foremost institution for culinary education in the Philippines, the Center for Culinary Arts (CCA, Manila).
CCA brings back the Sushi Sensei, Chef Andy Matsuda of Sushi Chef Institute in Torrance, California, for this year's series of cooking classes called "All The Japanese Craze" for those who want to master the craft of Japanese cuisine, featuring the art of preparing sushi and other Japanese culinary essentials that's so kawaii (cute)!
As starters, CCA will offer Chef Andy's 2-day fundamental sushi making classes at CCA, Manila.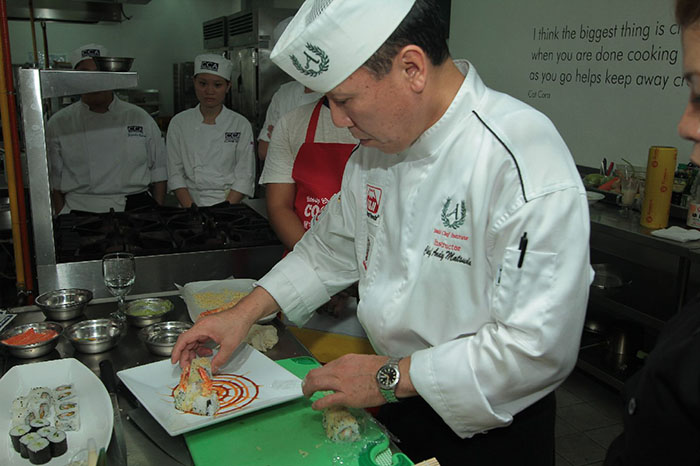 Day 1 (October 19) starts with basic sushi rice making, followed by different rolling techniques in order to create different shapes of sushi, ending with cutting and decoration, for take-out and plating presentations. Day 2 (October 20) starts with teaching fish preparation using sea bass and snapper, including the Nigiri 6-step sushi rice movement, summing it up with neta cutting and nigiri making, as well as decorations for sushi combo.
Chef Matsuda will also conduct an advanced sushi workshop on October 21, where he will introduce traditional methods like the zuke, an old-fashioned Edo-style method of immersing sashimi into soy sauce to preserve and enhance its flavor; and aburi, which involves topping sushi with partly grilled, partly raw fish topping. He will also teach how to make sashimi decorations and Edomae (Tokyo-style) sushi combinations.
The famous sushi master is also conducting a 1-day class for Bento Box preparation on October 22.  It will feature a detailed presentation on creating casual Bento boxes for the family, something they can look forward to when they're having lunch with their classmates (for kids) and office colleagues (for adults) and will include techniques on preparing chicken teriyaki, tamagoyaki, sausage and vegetable presentation.  It will culminate with creating bento box decorations.
On October 23, he will also give an exciting lesson on Kushi-age cuisine.  Kushi-age (or kushikatsu) are skewered pieces of meat, seafood and occasionally vegetables that are seasoned, dipped in egg flour and panko (Japanese breadcrumbs) and later deep-fried in vegetable oil.   He will orient students on preparing the skewers, the Kushi-age batter and the different sauces that are paired with them.
Chef Andy is the CEO and chief instructor of the Sushi Chef Institute, where chefs from all over the world come to learn from him.  He practically grew up in the kitchen, when his family opened a traditional Japanese restaurant near Kobe and was an apprentice in Genpachi, considered one of the famous restaurants in the Japanese culinary capital of Osaka.  He was also a member of the Yosei-kai, an organization of sushi chefs in the country.  He has been to the Philippines several times upon the invitation of the CCA, where he has previously conducted classes.
All of Chef Andy's classes will be conducted on CCA Manila's main campus at 287 Katipunan Avenue, Loyola Heights, Quezon City.  For inquiries, call 218-8566 or e-mail: talktoccamanila@gmail.com or visit: www.cca-manila.edu.ph.
Hits: 56