World's First Inverter Chest Freezer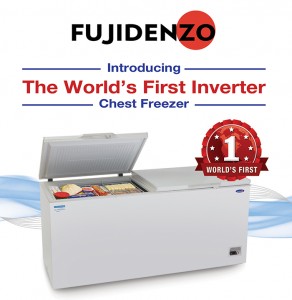 Inverter technology can be most commonly found in air conditioners. It works by controlling the amount of cooling required depending on the surrounding temperature which helps reduce energy consumption and lower the electricity bill no matter how long it has been in use. Now the food trade industry can also enjoy the benefits of the same technology to help run their business as Fujidenzo Home and Commercial Appliances proudly brings the very first Inverter Chest Freezer in the world.
Designed for continuous use, this 20 cu.ft. chest freezer with model number IFC-20A is perfect for any business especially those that run a 24/7 operation. With the world's first chest freezer equipped with inverter technology, business owners can now save up to 30% from their electricity costs while still getting the best freezing performance. Armed with a digital temperature control and an LCD display, which allows you to precisely control and see the temperature inside the unit, all these ensure that the products will always be kept fresh. The Fujidenzo Inverter Chest Freezer also has roller feet for easy transport and key locks to secure the products inside the freezer.
Fujidenzo Home and Commercial Appliances has been bringing high quality appliances that are extremely durable and energy efficient since 2005. It offers a wide variety of freezers, chillers, refrigerators, inverter air conditioners, cooking ranges, and even washers that are perfect for any home or business.
Trusted by some of the biggest names in the food industry such as King Sue, Arce Dairy, Bounty Fresh and the like, Fujidenzo Home and Commercial Appliances has the widest selection of freezers and chillers with over 100 service centers nationwide.
And with this new product from Fujidenzo, local businesses can now enjoy the benefits of having the World's First Inverter Chest Freezer to reduce their daily operating costs.
Fujidenzo is available in all leading appliance stores nationwide.  For more information, please visit their website at www.exatech.com.ph.
Hits: 240