Pancake House: It's Not That Complicated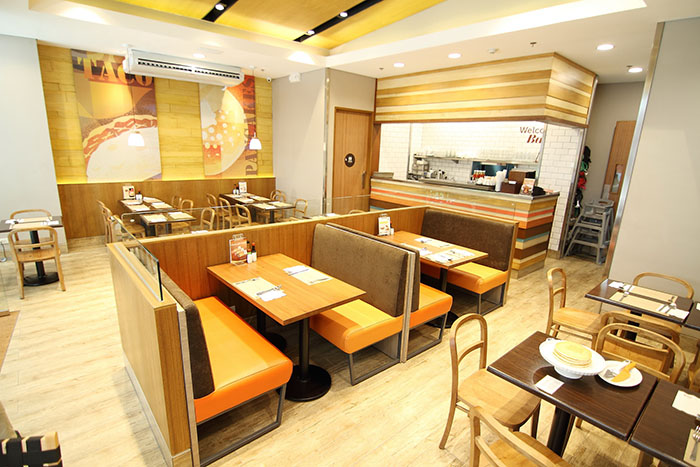 There are a lot of things happening in a single day. From the moment one wakes up, there is already a morning routine, a ride to catch, a call to make, a destination to reach on time.  Sometimes, a day is more complicated than the rest that we wish that a Monday be fast-tracked to the weekend, when we can enjoy a simpler routine that is less harried and less complicated.
Yes, it's true. Ask a lot of today's urbanites… they will tell you that life for them is so fast-paced that time flies by swiftly. Sometimes, meals are eaten hurriedly to catch deadlines, attend meetings, and finish tasks.  Conversations with colleagues are mostly about work and early dinners are avoided to beat the rush-hour traffic.  Even in this modern wired world, people are really not that "connected."
Life does not have to follow a routine – and you don't even have to wait until the weekend to enjoy some comfort… Why not stop for a moment?  Stand up, invite your office mates to a meal that reminds everyone of the comfort experienced during weekends.  There is happiness in a simple meal, one that is not complicated and familiar to each one.
New campaign
For more than 40 years now, Pancake House has served generations of diners who have enjoyed its menu of everyday comfort food. Stepping inside Pancake House immediately brings someone to a friendlier place, one that eases their stresses away, perks up their moods and brings back wonderful memories.
With this, Pancake House introduces its new campaign called "It's Not That Complicated."  After all, the best things in life are those that are really not complicated.
"For us, the campaign really is being able to continuously service the needs of our customers and the reality of their changing lifestyles. Everything is fast paced now and we are coming in as a place for the needed break from the complexities in life. To be able to dine in without having to overthink and just relax.  We believe that our food and menu is a reflection of that. It's simple and it's delicious comfort food," explained Marc H. San Juan, Senior Marketing Manager of Pancake House.
As diners get to enjoy pleasant conversations or make friendly connections, they can look forward to Pancake House's crispy Pan Chicken, Best Taco in Town, Spaghetti with meat sauce and the comforting sweetness that comes with every bite of their favorite pancakes.
"The menu can be enjoyed every day and any time of the day. It's all-day dining. These are recipes which have become part of the Filipino dining experience," added Mr. San Juan. "We are really going back to our roots. Highlighting what Pancake House has become known for –simple, comfort food with a feel of home goodness that is sure to delight your palate and warm your hearts."
Pancake House has nurtured generations of happy customers who have treated its four corners not only as a dining space but their sanctuary for all times – especially among those who want to start their day right or end the night on a lighter note.
Expansion efforts
"Our aim is to continue expanding the presence of Pancake House in the Metro and other highly urbanized cities in the country. We want more people to have the Pancake House experience and be welcomed with a cozier, warmer and inviting ambience," said Gretz G. Rivera, Chief Operating Officer of Pancake House.
The new look of Pancake House's stores which will be characterized with earthy tones and warm lighting, the perfect ambience to set the mood for a relaxing and casual dining experience.  It welcomes diners from all walks of life and doesn't intimidate them.  Customers will be greeted by Pancake House's staff ready to make their dining experience less complicated.
As Pancake House is now part of the dynamic Max's Group, it is gearing up to strengthen its presence and boost expansion.
"We believe in continuously making ourselves relevant to the market. Our expansion aims to give accessibility to our customers who have not been back but at the same time giving newer customers the opportunity to experience the brand," said Mr. Rivera. "As part of the Max's Group, we believe that it is an advantage for us as we get to expand more our operational efficiencies and have a bigger group to support us. With Max's 70 years of experience added with our more than 40 years, there are a lot of best practices which we now are incorporating into our system."
Create happy moments every day. Happiness – #itsnotthatcomplicated at Pancake House!
Share your Pancake House experiences by liking or following us on Facebook (PancakeHousePhilippines), Instagram (pancakehouseph) and Twitter (@pancakehouseph).
Hits: 90