Crowne Plaza Manila Galleria Chefs named the Ultimate Chef Warriors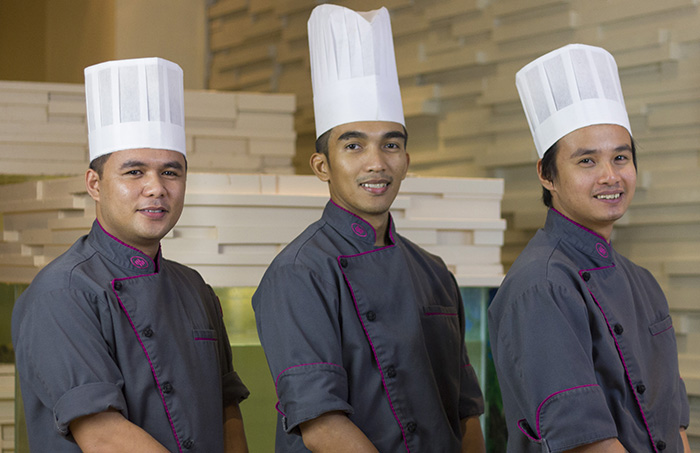 Crowne Plaza Manila Galleria chefs were awarded as the Ultimate Chef Warriors in the recently concluded Chef Wars, held at Maya Kitchen in Makati City.
The two-day event focused on creativity and innovation of each team in creating their own dish using all-local ingredients in a free-style cooking competition.  Crowne Plaza Manila Galleria's team was hailed the over-all champion after showcasing exemplary dishes using the native "calamansi" in their 3-course masterpiece.
The team composed of Chefs Manuel Abogado for appetizer, Christopher John "CJ" Sanchez for the main course, and Jude Enierga on desserts, wowed the judges on their unique creation using the local ingredient.
Chef Manuel, did a Lemonsito Island with Rock & Roll Tuna and Bloody Sabbath Strawberry Yogurt, which was inspired by his love for seafood. Meanwhile, Chef CJ's entry for main course was a Calamansi Chicken Tagine with Spicy Dill Bangus and Vegetables, Eggplant and Potato Puree with Calamansi Anchovie Foam, a total hit as the mixture of all flavors played well with calamansi. Chef Jude prepared a four-type Indian inspired dessert – Calamansi and Cashew Barfy, Green Goddess Calamansi Carrot Halwa, and Baby Coconut Macaroon.
The competition was judged by food and beverage professionals including Executive Chefs, hotel and restaurant owners, and culinary experts from leading manufacturing industries.
Crowne Plaza team represented the National Capital Region (NCR) after winning the elimination round in September which featured tamarind as the base ingredient.
Sample the creations of these talented and award-winning culinary experts at Crowne Plaza Manila Galleria. For more information and reservation, please call 633.7222 or email fandb.reservations@ihg.com.