Be the Kitchen Superstar with Hunt's Holiday Recipes
Bring out the kitchen superstar in you this holiday season with recipes from Hunt's Tomato and Spaghetti Sauces. Prepare exceptional dishes that are perfect for the feast during the much-awaited time of the year.
Cook fuss-free dishes that the family will surely love this holiday season. Impress them with Pulled Pork Rigatoni and Classic Beef Mechado, made with Hunt's Tomato & Spaghetti Sauces.

CLASSIC BEEF MECHADO
There's nothing like a classic dish such as Beef Mechado at the center of the holiday table. Enjoy this beef stew delicacy with assorted vegetables in Hunt's Tomato Sauce.
Ingredients:
1 Kg Hunt's Tomato Sauce
1 cup onion, diced
2 tbsp garlic, minced                                                                                                                                  
1/4 cup oil
1 can whole button mushrooms
1 to 2 pcs. bay leaf 
1/2 tbsp whole peppercorns
1 tbsp salt
1 tbsp sugar
1/2 Kg pork fat, cut into large cubes
1.5 Kg beef shortplate, cut in desired serving sizes (cook until tender)
3 to 4 cups beef stock
1 medium red bell pepper, cut into large cubes
1/2 cup green olives, pitted
Procedure:
Start by drizzling olive oil in a pot over medium heat. Sauté onion and garlic for a few minutes, then add the one kilo pack of Hunt's Tomato sauce. Add in the bay leaves, peppercorns, salt and sugar then let it simmer for 10 minutes.
On a separate pan, sauté and render the pork fat in high heat.
Add in the beef chunks and wait until it darkens. This should take around 5 minutes.
Transfer the cooked meat to the simmering Mechado sauce pot and let the meat simmer in it until it's thick. Finally, drop the bell peppers, olives and mushrooms in and let simmer for five more minutes, and then it's ready to serve. This makes 9 to 12 servings.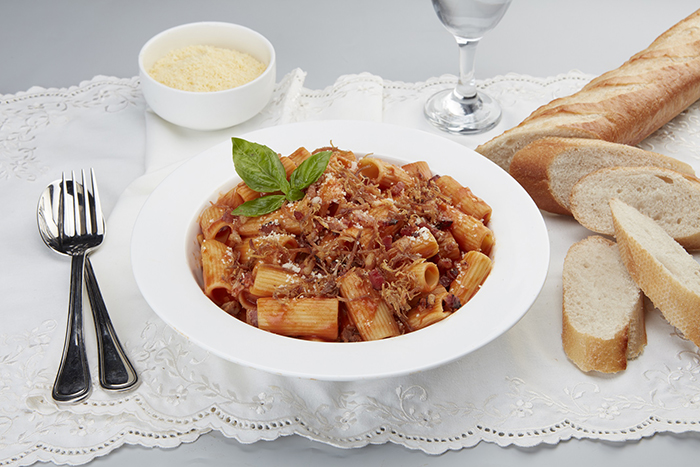 PULLED PORK RIGATONI
Amaze the family by incorporating shredded pork in a pasta dish with the Pulled Pork Rigatoni recipe. Combine braised pork with Hunt's Basil & Cheese Spaghetti Sauce and rigatoni cooked al dente for an exciting pasta meal.
Ingredients:
¾kg pork kasim
1 pack Hunt's Basil & Cheese Spaghetti Sauce 1Kg
½ tbsp garlic, minced
1 pc onion, chopped
250g bacon, sliced
½ cup parmesan cheese
½ tsp paprika
500g rigatoni pasta
3 pcs bay leaf
3 tbsp oil
1 tsp salt
½ tsp white pepper
Procedure:
However fancy and daunting this dish sounds, it's actually very easy to make. Start off by boiling the pork kasim in a pot with three bay leaves for 30 minutes. Drain the pork, shred it and set aside. One can simultaneously prepare the rigatoni pasta on a separate pot.
Meanwhile, fry bacon and pork in a large pan until crispy. Portion the crisped bacon and pork. Set aside half of it for garnish later and keep the other half in the pan. Sauté in the garlic and onions together with the remaining crisped bacon and pork in the pan. Sprinkle in paprika, salt, and white pepper before adding in the Hunt's Basil and Cheese Spaghetti Sauce. Let this simmer for a few minutes.
Finally, drain out the rigatoni then mix it well with the pulled pork sauce. Serve with cheddar cheese and crispy bacon and pork on top for ultimate satisfaction. This makes 9-12 servings.
Hits: 136