Aspiring ice athletes assured of full support towards winter Olympics dream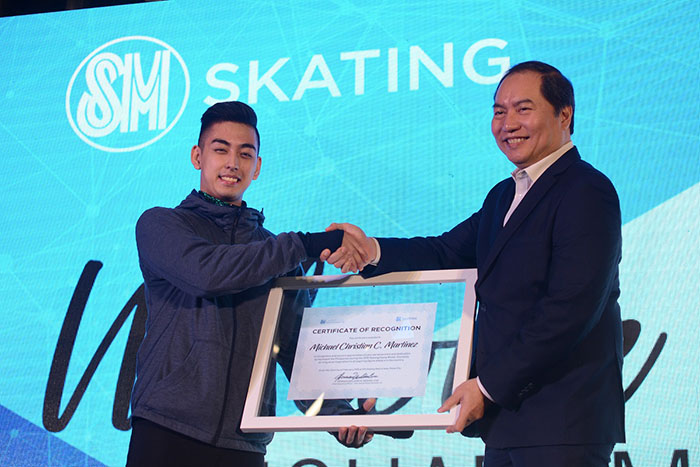 SM Skating, a major patron in the country's ice sports program, has vowed to continue developing the talents and skills of young, aspiring athletes, to keep alive dreams of qualifying and making a strong finish in future winter Olympics games and other tournaments.
SM Skating executives reiterated their commitment to provide training and offer world-class ice skating facilities to Filipino ice athletes after welcoming home figure skater Michael Christian Martinez at the Olympic-size rink inside the SM Mall of Asia in Pasay City.
"We are grateful for the sacrifices made and dedication shown by Michael Martinez in the just concluded winter Olympics. He has become not only a source of pride but also an inspiration especially for the budding ice athletes who, I believe, will carry our country's colors in future international competitions," said Herman Emiliano Medina-Cue, SM Lifestyle Entertainment Inc. chief operating officer.
Martinez represented the country in the 2018 Winter Olympics in PyeongChang, South Korea where he came up short in his bid to advance in the men's single figure skating event. Despite the setback, the winter Olympian is honoured to be given the chance to compete once more in the global ice tournament.
"Competing at that level of the winter Olympics, in the company of world-class figure skating talents, and performing in front of the world, is already a reward. I am honoured to have represented the country in that tournament and hope I have become an inspiration to the next generation of ice athletes," said Martinez.
Martinez was welcomed home by his family, supporters and fans. He was also presented with a certificate of recognition for his efforts in representing the country and heralding ice skating in the Philippines to new heights.
Martinez had a relatively short time to prepare as the Philippines was only advised and allowed to compete as a first alternate after Olympic qualifier Sweden withdrew in January. Prior to his return to the winter Olympics, Martinez won the silver medal in the 2017 Southeast Asian Games.
Home of the country's ice athletes
SM Lifestyle Entertainment Inc. has been supporting the development of Filipino ice athletes, including the Southeast Asian Games gold medal-winning Philippine Ice Hockey team, and various ice sports in the country by implementing the SM ice skating sports program and maintaining Olympic-size ice skating rinks in Metro Manila and Cebu City.
Some of the young athletes who train at SM Skating are figure skaters Jules Alpe, Alisson Perticheto, Samantha Cabiles, and Sofia Guidote.
The ice skating rink at the SM Mall of Asia can host not only recreational and competitive figure skating and speed skating events but also ice hockey games.
Located at the main mall's third level, the 1,800-square meter rink boasts of complete facilities for hockey games such as a digital scoreboard, players' boxes, scorekeeper and penalty boxes as well as two locker rooms with hot and cold shower.
Visitors can conveniently watch practices, training, exhibitions, shows, games and tournaments at the 200-seater stands located around the rink. Those wanting to take a quick bite can head to the snack booth for hotdogs, burgers, nachos, popcorn, coffee cakes, pastries and ice-cold beverages.
The ice skating rink also has a spacious lobby and multi-purpose rooms for sports training, meetings, and social functions while a clinic provides immediate first-aid assistance for any minor sports-related injuries.
About SM Skating
Starting as a leisure rink built by the inspired Henry Sy Sr. whose interest was piqued by the grace and class of figure skating, the SM Skating Rink possesses the only Olympic sized ice skating rinks in the entire country. Aside from being a venue for events and leisurely skating, the SM Skating Rink also provides lessons for Figure Skating, Ice Hockey, and other sports on ice. Proving right of Henry Sy Sr.'s vision of a tropical country excelling in a winter-based sport, the SM Skating Rink has been home to world class figure skaters, such as Michael Martinez, who internationally compete in prestigious championships such as the Winter Olympics in Sochi. This year, the SM Skating Rink will introduce more sports and activities to learn on the ice, and events that will cater to the existing and new winter-based sports.
For the skating lessons, please visit: http://smskatingrink.com/rates-and-packages/
Hits: 56