Melco's Full Portfolio of Properties Awarded 71 Stars From Prestigious Forbes Travel Guide
Properties Across Portfolio Achieve 5-Star Ratings
Leads Macau by Collectively Attaining Ten Forbes 5-Star and Three 4-Star Awards
NÜWA Macau Becomes Only Property Awarded a Total of Five 5-Stars
Altira Macau is one of only two resorts worldwide with quadruple 5 stars
NÜWA Manila Earns the Only New 5-Star in Manila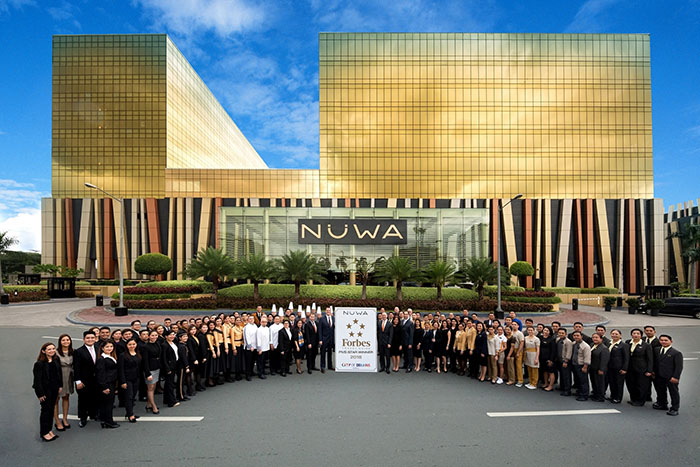 Macau, Wednesday, February 21, 2018 – Forbes Travel Guide has unveiled its official 2018 Star Rating List, bestowing Melco Resorts & Entertainment Limited (Nasdaq: MLCO) a collective total of 71 stars across the company's luxury integrated resorts. NÜWA Macau is the only property with a total of five 5-Stars for its offerings in accommodation, spa and restaurants including Jade Dragon, Shinji by Kanesaka and The Tasting Room. Altira Macau is one of only two resorts worldwide with quadruple 5 stars; and NÜWA at City of Dreams Manila achieves the only new 5-Star award for hotels in Manila. Achieving the Forbes 5-Star rating on their first attempt, NÜWA Manila at City of Dreams Manila and Studio City's Star Tower are only 2 of 27 hotels to receive the 5-star rating among over 50 countries.
Continuing on past success, this is the sixth consecutive year for NÜWA Macau to be presented the prestigious 5-Star Forbes rating. This year marks the ninth consecutive year for both Altira Macau and Altira Spa to receive the Forbes 5-Star distinction, while the hotel's signature Italian restaurant Aurora and renowned Japanese restaurant Tenmasa achieve 5-Star ratings for the fifth and fourth consecutive years respectively.
Mr. Lawrence Ho, Chairman and Chief Executive Officer of Melco Resorts & Entertainment, said, "The wonderful achievements awarded to Melco's properties by Forbes is a testament to our impeccable services and distinguished products on offer in both Macau and the Philippines. It is an honor to attain 5-Star distinctions across all three of our properties in Macau; to have Melco contribute meaningfully and significantly in helping Macau retain its status as the world destination with the highest number of Forbes 5-Star awards across categories. We are extremely proud of our colleagues who are the heart and soul of Melco's service culture. I would like to take this opportunity to express my appreciation and thanks to our colleagues for their commitment to excellence."
Melco's properties to be awarded Forbes Travel Guide 2018 distinctions are as follows:
Forbes Travel Guide 5-Star Ratings

Hotels

NÜWA City of Dreams, Macau

Altira Macau

Star Tower, Studio City

NÜWA City of Dreams Manila

Spas

NÜWA Spa City of Dreams, Macau

Altira Spa

Restaurants

Jade Dragon

The Tasting Room

Shinji by Kanesaka

Aurora

Tenmasa

 Forbes Travel Guide 4-Star Ratings

 
Spas

Zensa Spa, Studio City

NÜWA Spa City of Dreams Manila

Restaurants

Ying

Pearl Dragon
Forbes Travel Guide is the only independent, global rating system for luxury hospitality in the world. Creator of the respected Five-Star Rating system, the guide has provided the travel industry with the most comprehensive ratings and reviews of hotels, restaurants and spas since 1958. Forbes Travel Guide's team of expert inspectors anonymously evaluate properties against up to 900 rigorous and objective standards. Presently, the guide covers 162 destinations over 50 countries.
Hits: 49