Coffee Culture
Our obsession with coffee is seemingly boundless. We are always on the lookout for new methods to brew the perfect cup and new flavors to try. On the other hand, a classic brew is one of the most comforting smells and flavors our senses can claim to behold. One of the experts in the industry tells us where Figaro is at in the local coffee culture.
Figaro is the most well known homegrown café in the Philippines, how do you preserve the local flavor of your brands and shops?
That is absolutely correct. As the largest homegrown coffee chain, preserving and emphasizing our local roots is of utmost importance. We do this first of all by ensuring that we serve the best coffee with regard to freshness and consistency. Freshness of coffee is very important and while marketing and brand image plays an important factor in customers' perception, we at Figaro focus also on quality. Being a local coffee company, Figaro's coffee is not roasted, packed and imported from abroad, unlike the other major coffee players in the industry. Our coffee is roasted locally and delivered regularly to our branches, therefore ensuring its freshness. Customers can always be assured that the coffee they drink or purchase from Figaro is always freshly roasted and of the highest local quality.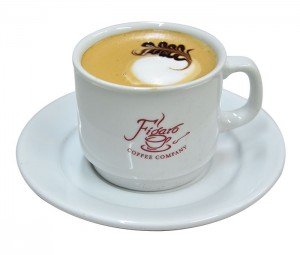 How do you keep local customers and attract new ones considering Figaro has been around for a long time?
You are absolutely right in saying that Figaro has been here for a long time. Figaro actually started in 1993, even before the major foreign chains entered the local scene. We are able to keep our loyal customers by having a strong foundation in our roots such as local coffee and personal service. While most coffee shops are "grab and go", Figaro keeps with the café feel of having our store personnel bring you your order at your table. We also pride ourselves in being lower-priced and more affordable as opposed to other coffee chains. It is very important to us to deliver excellent quality at affordable prices because at the end of the day, we want to give great value to our customers. To tap the younger market, Figaro is constantly investing in R&D of new drinks, food and pastries. This year we will be focusing more on our Filipino roots and the new products we will introduce will revolve around this theme. At the end of the day, there is plenty of room for all the coffee players in the industry, as shown by the entrance of new brands, year after year. Our main focus is customer satisfaction through high quality of product and service, keeping up with the trends, as well as balancing financial strength toensure long-term stability.
Do you keep up to date with the coffee trends abroad like draft coffee and cold brews? How do you think this will fare here?
We constantly keep an eye on what the new trends are here and abroad since the overall F&B industry is constantly evolving in line with people's preferences. Draft coffee, cold brews, and many others among the trends are very interesting but it is difficult to conclude which ones will be successful mainstay products and which ones will only be fads. The Filipino customers' preference is also very unique in the sense that we are highly influenced by so many cultures yet we also have our own unique taste. As a major coffee company, we keep an eye on the new local and international trends while at the same time making it a point not to forget our company's local foundations.
What changes, if any, are you introducing to the Figaro menu?
This year our theme will be focusing on local and homegrown Filipino favorites. The new products we will introduce will revolve around this theme. For the drinks, our plan is to overhaul our main offerings by introducing new ones as mainstay drinks and enhancing the old favorites. For food and pastries, there will be more items for take-out and gifting. We will also be doing a revamp of our retail coffee beans selections as well as a fun and new way of purchasing and enjoying your fresh Figaro coffee beans at home.
How does Figaro remain relevant in the face of sprouting artisanal and independent coffee houses, the so called third wave of coffee?
It is important to acknowledge the growth of third wave coffee shops because they help push everyone to keep improving quality, whether it be in store aesthetics, product selections or product quality. This is the spirit of competition wherein customers will always benefit. In evaluating the market, our philosophy is to adapt to those trends which have long-term soundness and avoid ones which are merely fads. This is very important because understanding your target market and their spending capability, as well as your own financial capacity, can determine whether you make it or break it in the coffee chain business. In line with this, Figaro will always remain relevant not only because of our extensive store network and established operational efficiency, but also because we are constantly evolving to meet customers' needs and tastes, as well as being sensitive to the overall business environment in the Philippines.
What is your personal favorite drink and pastry at Figaro?
My personal favorite is the Iced Cappuccino and our Carrot Cake. Our Iced Cappuccino stands out because of our strong espresso. Instead of being mellow, it gives you a real kick, which is what real espresso is supposed to be. I love our Carrot Cake because it is not too sweet and achieves a perfect balance of tanginess and crunch.■
Hits: 190