Recipes Made Healthier with Organique Acai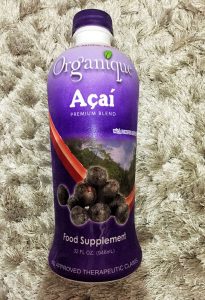 Organique Acai Premium Blend is a well-known heath food supplement in the wellness industry. Having the most potent antioxidant properties in the berry family, acai (pronounced ah-sah-ee) berries are small, dark purple berries that boosts the immune system and helps improve a lot of health-related problems.
Launched in 2009, Organique Acai Premium Blend has gone through extensive research and is made of natural, wild harvested Acai berries from the jungles of the Amazon in Brazil, and imported into California. Its manufacturing facility is known for its stringent regulation on food safety and quality processes. In fact, Organique Inc. prides itself in being certified by the United States Department of Agriculture as "USDA Organic".
Organique Recipes
Beyond being a health drink that you can consume on its own, not many realize that Organique Acai can also be used as a food component in recipes or as an ingredient in cooking.
So Organique Acai Premium Blend, through Epicurious of The Cravings Group of the Philippines, have developed 4 new Organique Recipes with the help of Chef Sau Del Rosario, one of the Philippines top chefs today.
This milestone was officially launched through an intimate media event held last April 21, 2016 at Epicurious Restaurant in Shangri-La Plaza Mall, Mandaluyong City. It was attended by some of the Philippines' top food bloggers who got an exclusive food-tasting of the four new Organique Recipes concocted by Chef Sau.
Organique Inc. Vice-President for Marketing Ms Cathy Sambalingon opened the program explaining how Organique Acai is harvested and the stringent process it goes through in manufacturing to ensure a quality product.
This was then followed by Dr. Sonny Viloria's lecture on nutrition and the health benefits of Organique Acai including detoxification, increased energy, stress relief, anti-aging, a better heart health, lower blood pressure, weight control, improved digestion, and improved function of immune cells, among others. Mr. Jonel Uy, Managing Director of social media marketing agency Digital Circles, hosted the program.
The highlight of the media launch was of course the Organique Acai Recipes. Chef Michel of The Podium's Blackboard led the cooking demonstration showcasing each of the four recipes. They are:
Pan-Seared Salmon-Terrine with Organique Acai Juice Gelee
Roasted Organic Chicken Salad w/ Organique Acai Juice Vinaigrette
Beef Tenderloin on Organique Acai Juice Ragout
Poached Apple w/ Organique Acai Berry Juice
All four recipes were a hit with the media guests and the rest of the crowd as camera crews from ABS-CBN's Salamat Dok and GMA NewsTV's Organique TV captured the on-the-spot cooking demo elegantly executed by Chef Michel at the kitchen showcase area of Epicurious deli shop.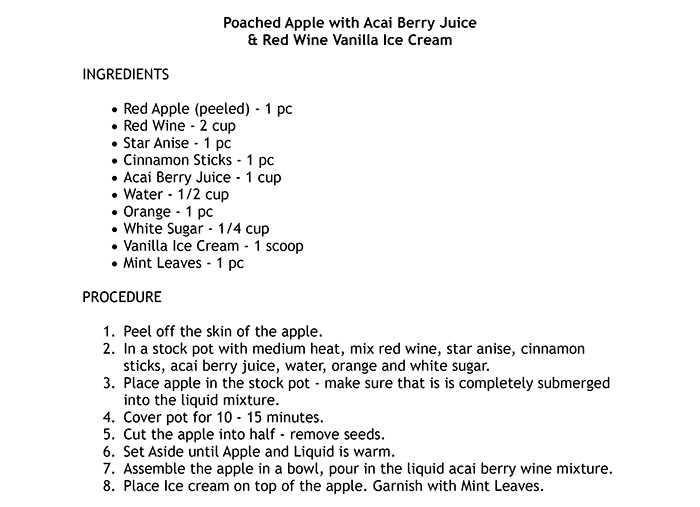 The tasting session started on a premium note with the pan-seared salmon-based appetiser complemented by the acai berry juice gelee. It was followed by the colourful Roasted Organic Chicken Salad with acai berry juice vinaigrette and baby arugula. The entree was Beef Tenderloin on acai berry juice ragout with pasta and root vegetables.
The healthy dishes was not limited to the main dishes. It extended up to the poached apple dessert which was infused with acai berry juice, red wine, and vanilla ice cream.
Both the online and mainstream media were ecstatic with the delicious taste of all four new healthy recipes.
As if the four sumptuous dishes were not enough, the guest were treated with an additional surprise – the Organique Acai Berry Smoothie fit for the hot summer season in the Philippines. It was a good punctuation in addition to the four-course meal all-infused with Organique Acai.
Daily Dose of Organique Acai
Recipes aside, if you intend to take Organique Acai as it is, the recommended dose is 30 to 60ml per day which can vary depending on the health condition of a person. 30ml is about equivalent to a regular shot glass.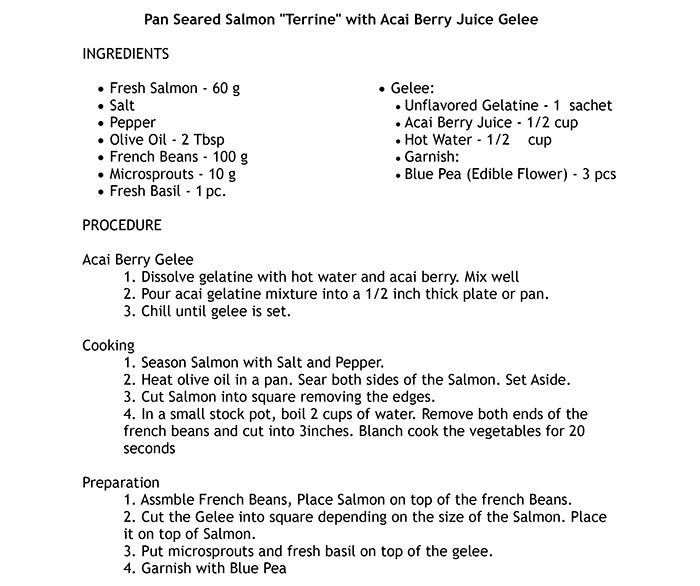 Be careful not to confuse Organique Acai Premium Blend with other acai-berry based products in the market as the former is only one with the highest concentration of acai in the Philippines and does not use preservatives.
In the Philippines, each 946-ml bottle sells with a suggested retail price of Php 2,500 at Robinsons Supermarket, Watsons, Mercury Drug, South Star Drug, and Pure Pharmacy. You can also buy online via Lazada Philippines with free delivery. Organique Acai is also distributed in Hong Kong, Japan and the Middle East.
Be #BerrySmart in taking care of your health, keep updated with "Organique Acai" on Facebook, and Twitter/Instagram at @OrganiqueAcai. Know more about Organique Acai through their website www.organique.asia or call (02) 4703580/(0922) 888 7884.
Hits: 135