An emerging destination where art, music, and good food collide
Along with the rise of the Manila indie culture, concept restaurants have been sprouting like mushrooms. These restaurants double up as coffee shops by day and a dining hub by night which offers a wide array of local and international inspired menu.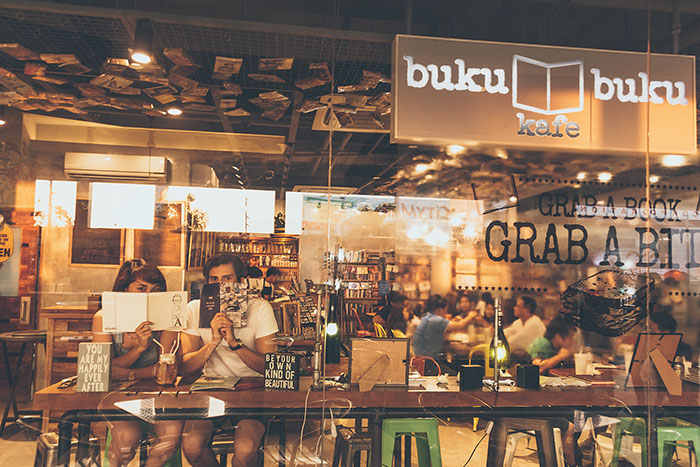 Once such dining place that has been gaining attention down south is the upstart yet promising Buku-Buku Kafe, owned by mother-daughter-son creative trio—Lyn Santiago who heads the operations, Jessica Santiago and Nicholas Santiago who both handle digital marketing and promotions. The café is relatively new but has been attracting locals, weekenders who frequent the south, artists and even style bloggers who enjoy this Instagram-worthy place, with each corner offering a unique character. Buku-Buku Kafe also serves as a perfect avenue for upcoming artists and musicians to get more visibility and tap an exclusive market sector without the need to spend so much on promotions. "I think our partnership with young local artists and indie musicians works both ways. They're pretty much in line with our brand vision; selling art pieces and having live performances from indie bands add up to the unique flavor of our café", says Nicholas Santiago. "One of our key missions is to bring together like-minded community and help boost the art and music scene here in the south", Santiago adds.
SPARKING THE CREATIVITY
Buku-Buku is a Bahasa term for 'many, many books'. The idea of putting up a concept café that offers a full dining experience came about when founders Jessica and Nicholas traveled to Japan where they chanced upon a small street coffee shop with a very artsy feel to it and at the same time allows artists to do poetry reading, and in some nights, live sessions with bands. "Traveling to different parts of the Asia and Europe exposed us to this type of scene these small 'underground coffee shops' are part of", said Jessica Santiago, Digital Marketing Manager.
More than just a dining spot, Buku-Buku Kafe serves as a 'book reading space' which bookworms will definitely enjoy. They also have Komiks and zines which the owners have been collecting for years—one thing that's not usually common in most mainstream bookstores. Apart from that, they also sell prints, postcards, notebooks, and other unique finds.
PASSION FOR GOOD FOOD
Love for comfort food is the one thing that the owners enjoy the most. Whenever they travel, food tasting is on their priority list. Across their travels, they've explored different dining gems in Asia and Europe and this is where the café-restaurant-book space concept was rooted from; essentially, putting together all the things they love. If you're a meat lover, indulge with their Beef Brisket Tapa—a full plated dish of slow-cooked beef served with garlic rice, fried egg, roasted tomatoes with added pickled onions and corn salsa. Another best seller in the house is their Romi Lamen which is a creative twist resulting something that looks like ramen but tastes like upgraded lomi. This dish is definitely something you wouldn't want to miss when you happen to drop by their cafe. Served with pork broth, roasted pork, pork liver, soft-boiled egg, shitake nori, chicharon, and kimchi, Romi Lamen provides a whole new level of gastronomic creativity. Apart from their staple coffee drinks, they also serve different selections of cocktail drinks which is perfect for a chill night with friends, accompanied by live music.
The emergence of dining spots like Buku-Buku Kafe is a testament that the food and art scene down south is definitely picking up.
Buku-Buku Kafe is located at the ground floor of Promenade Wing, The District in Imus Cavite. Check out Buku-Buku Kafe on Facebook (facebook.com/BukuBukucafe) and on Instagram (@buku.bukukafe) for more information.
Hits: 3542