Introducing the Executive Club at the Holiday Inn Golden Mile Hong Kong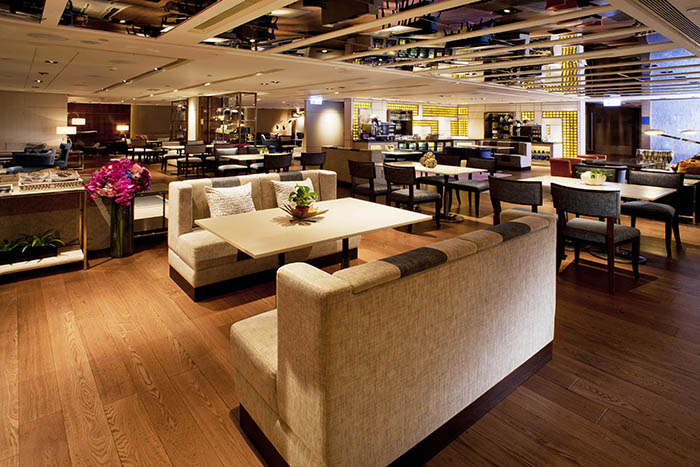 Ideal for both business and leisure travellers, the Holiday Inn Golden Mile's Executive Club continues to provide a standard and style of accommodation for guests who enjoy exceptionally personalized service and value-added benefits.
The Executive Club King rooms feature contemporary styling and are furnished with bespoke carpets in warm taupe paired with light 'truffle' coloured timber bedside furniture and writing desks. King-size beds are fitted with a handsome aubergine padded headboard that adds a vibrant touch.
The modern Executive Club Twin rooms have two double sized beds with eye-catching turquoise padded headboards, warm taupe bespoke carpets and cherry coloured timber bedside furniture and writing desks.
Located on Lower Level 2, the design of the Executive Club Lounge has been conceptualized by internationally renowned hospitality designer Mr. Manny Samson — whose previous works include the ANA Hotel in Sydney, Sheraton Laguna Resort and Sheraton Nusa Indah in Bali, and the Westin Philippine Plaza — it features luxurious finishes and prime ergonomics that further enhance the Executive Club's exclusivity, modern amenities and first class services.
Walls clad with silken textures and an interesting play of lines compliment artworks and elegant furnishings, while chrome accentuates different elements to give a luxurious and professional feel to the space. Differing wood finishes, stone floors in neutral hues and varying fabrics and weaves of the lounge seating combine to add warmth to the overall atmosphere. The efficient layout is perfect for the needs of VIP users.
The Executive Club Lounge is a relaxing area where guests can enjoy the most privileged service.  Our guests can enjoy a complimentary Welcome Platter, daily Club Buffet Breakfast, Afternoon Tea and evening Club Cocktails. Two private boardrooms are also available for business meetings.  It provides an efficient extension to the guest's office and offers maximum services to busy travellers, with a comprehensive range of secretarial and business services, including typing, photocopying, translation, Internet and email facilities. There is also a Cyber Station where guests can use the computer for typing and standard printing services. The Executive Club Lounge provides you with exclusive services from 07:00 to 23:00 daily.
Please find below exclusive privileges for your enjoyment during your stay:
Welcome platter
Complimentary daily Club Breakfast from 07:00-11:00 at the Executive Club Lounge
Complimentary afternoon tea 15:00-17:00
Complimentary evening Club Cocktails daily from 18:00–20:30
Complimentary Broadband & Wireless Internet access in guest rooms and Executive Club Lounge
Complimentary access to 4,000+ newspapers & magazines via PressReader
Complimentary local calls and faxes (except toll-free and calling card calls)
Complimentary standard printing service
50% discount on laundry services
Accumulative Hotel allowance $100 daily maximum up to $500 per stay
Complimentary use of Executive Club boardroom for 2 hours per visit (Advance reservations are required)
Complimentary late check out until 15:00 (subject to availability)
Complimentary use of the Health Club on the 19th floor, including the gym, outdoor swimming pool, sauna and steam facilities
In-room fax machine upon request (subject to availability)
Personalized check-in and express check-out
Feel at home while away at the Holiday Inn Golden Mile Executive Club Lounge.
For reservations and more information, please contact:
Holiday Inn Golden Mile on Tel; (852) 2315 1001, Fax: (852) 2369 8016, E-mail: reserv@holdenmile.com or internet: www.holidayinn.com/hongkong-gldn or contact any Holiday Inn hotel Worldwide or your Travel Agent.
Hits: 78