Bacchus brings extra energized play in Rampage LoL 2016 eSports tournament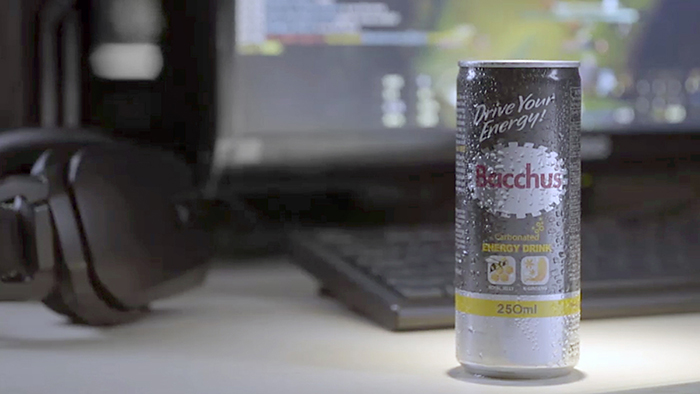 Thousands of Filipino gamers, cosplayers and young fans from all over the country recently took part in one intense online gaming convention as Bacchus, the No. 1 energy drink brand of Korea, together with Garena, the country's publisher of the game League of Legends, successfully hosted Rampage LoL 2016 tournament — the biggest and grandest eSports event held recently at the World Trade Center in Pasay City.
The grand rendezvous event for gamers, cosplayers and fans came as a big hit among the young audience who summoned the call and trooped to meet celebrities and their gaming idols. Not to be missed also are the LoL cosplay diehards who proudly paraded in their best fantasy costumes for the Cosplay Clash Performance. Amid the stunning lights and sound show, spectators also lined up to visit tech-related booths, like the Merchandise Caravan for limited edition and exclusive items, and the Bacchus sponsor booth which was a huge-crowd drawer. Korean brand ambassadors eagerly shared to visitors scores of samples of the new Bacchus Energy Drink Carbonated canned variant. Special gaming souvenir items were given away to game booth challenge winners. Joining the brand ambassadors is Dong-A Korea Vice President Lee Dong hoon who flew in to the country to grace the event along with Dong-A Philippines company officials led by its President/CEO Amen Say.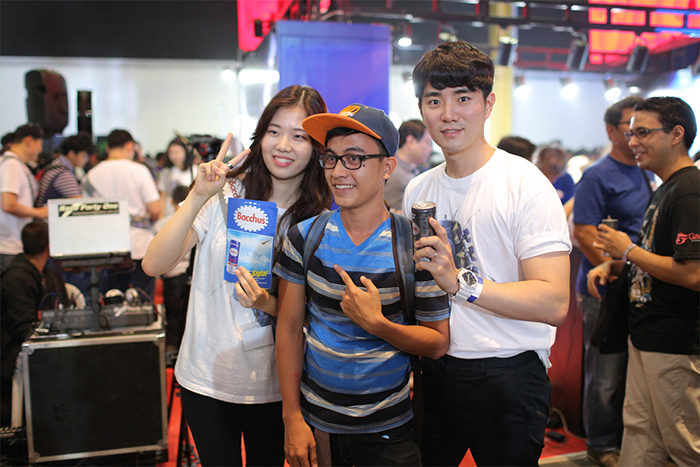 "The crowd turnout is much larger than I have expected. We are greatly inspired by this success. Just like in Korea, we have been actively supporting similar events and activities for young people. This is part of the company's commitment to cater and reach out to our target customers. The carbonated canned Bacchus, for instance, is a new and unique product, a first of its kind, which flavor is exclusively customized to fit the needs of our Filipino consumers," said Lee.
Lee also said that apart from eSports, Bacchus is aiming to support other sporting activities for young people that require the extra energy and mental boost. "The Philippines is a very active country, people are always busy and very diligent. These make them fit for the Bacchus image. Together with Dong-A Phils., we are committed in coming up with more exciting endeavors and product innovations," he concluded.
With the overwhelming success of Rampage 2016 and with the Dong-A group's mulit-year partnership with Garena, Filipino game enthusiasts can expect more thrills to come as this event is definitely not going to be the last.
"We see the trend and we see Esport as a main thrust for the brand. The Philippines has become home to a constantly growing community of gamers, with LOL rising as the No.1 multiplayer online game of today. Currently, talks are underway as we look into the possibility of sponsoring our own Bacchus Team," said Say.
Head-to-head matches between pros and amateur gamers were at the heart of this epic one-day gathering. As expected, the Pro Gaming Series 2016 Summer Split Finals match between Manila's Imperium Pro Team (IPT) versus Iloilo-based challenger Acclaim EmpireX (AEX) was competitive and fierce, as both sought to be hailed as winners with their near flawless game execution.
Ultimately, the best-of-five series ended with only one team, Team AEX  led by its captain Khenn Kanon Pragale, emerging as this year's LoL champion with a 3-1 score. Team AEX took home the coveted title along with trophies and grand prize of Php150,000. The team will represent the Philippines to compete against the strongest LoL teams in Southeast Asia in the 2016 Garena Premier League happening in Vietnam.
Prior to the fiery finale of the Pro Gaming Series-Summer match, Rampage 2016 also featured the Celebrity Showmatch among stellar personalities for one big live fight on the main stage. Team Sapphire, led by cosplay sisters Alodia and Ashely Gosiengfiao reigned supreme over Team Ruby by athlete and entertainer Eric "Eruption" Tai.
Dong-A Korea Vice President Lee Dong hoon and Dong-A Phils.' Amen Say brought the house down when they showed onstage two special video messages, one from the official team of Korea and the other from Champion Korean gamer Faker who expressed his desire to meet and play against Filipino pro gamers.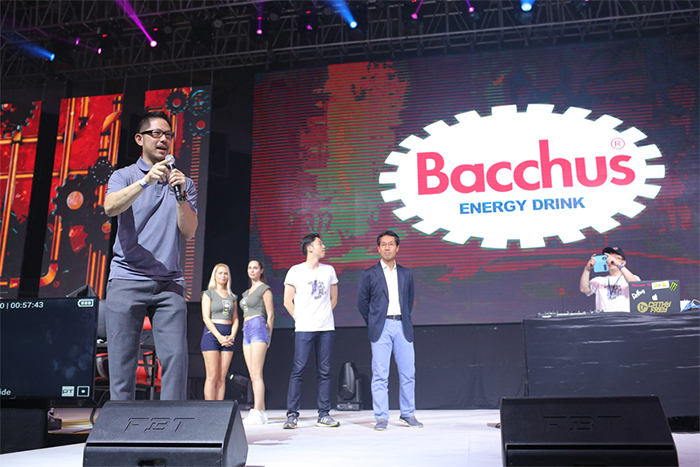 A firm supporter and advocate of balanced work-life, Bacchus, through Rampage 2016, maintains its thrust as it underscores the importance of engaging in fun, leisurely activities like eSports gaming.
"We are happy with the successful turnout of this gaming convention as all the games were intense and showed great strategy. Bacchus Energy Drink, with its highest amount of brain-boosting taurine, combined with the performance-enhancing royal jelly and ginseng, motivated gamers in bringing out their best game by increasing their level of play, stamina and mental focus," said Earl Yu from the marketing department of Dong-A Pharma Philippines, Inc., exclusive distributor of Bacchus in the country.
Available in all major drugstores and supermarkets nationwide, Bacchus Energy Drink is exclusively distributed locally by Dong-A Pharma Phils., Inc. (DPPI). Get more updates on Bacchus Energy Drink via www.facebook.com/Bacchus.ph, email: marketing@dong-a-pharma.com.
Hits: 100