The Business Center at Makati Diamond Residences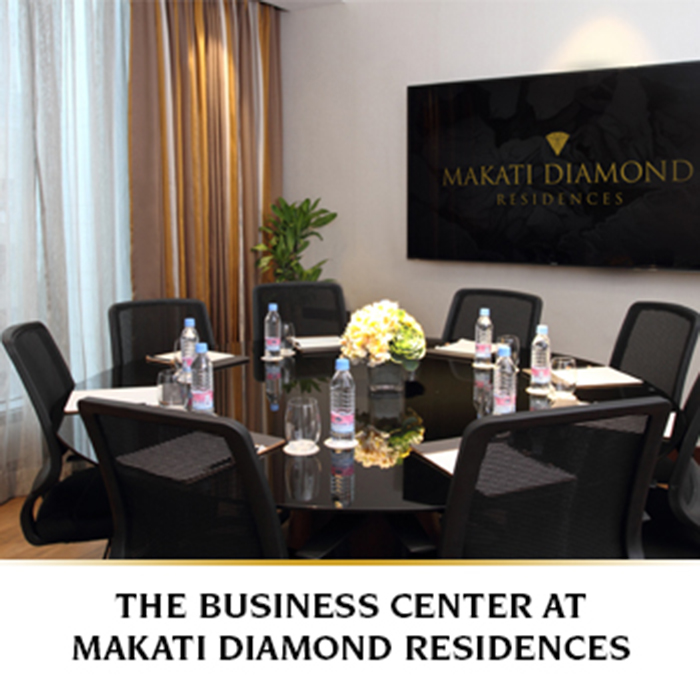 Known to provide the highest standard in luxury serviced living at the heart of Makati CBD, Makati Diamond Residences offers yet another amenity for the guests' convenience – the Business Center.
Expect an area conducive for round table discussion of your next project, interviews and the like. The Business Center offers three additional private meeting spaces that can accommodate up to eight persons complete with bas basic amenities such as complimentary Wi-Fi, use of the graphicote writing board, writing pads and pencil, bottled water and a private washroom.
Working lunch is made possible with menu offers from Alfred and Baked. A lighter fare of snacks and coffee may also be requested.
To address the basic demands of business travellers, the Business Center offers other services including incoming and outgoing facsimile, photocopying, printing and scanning services. Additional presentation requirements such as Laptops and projectors are available for a fee. Other services also include lamination, binding and courier services. Cellular local sim cards are also available for foreign travellers.
The Business Center is located at the 3rd Floor and is open from the hours of 9:00 am to 7:00 pm.
Makati Diamond Residences is located at Legazpi Street, Legazpi Village, Makati City 1229. For more information, contact +63 2 317 0999 or visit www.makatidiamond.com or email reservations@makatidiamond.com. Check facebook.com/MakatiDiamondResidences or follow @makatidiamondresidences in Instagram for more updates.
Hits: 48