Chocolate Lovers, Rejoice!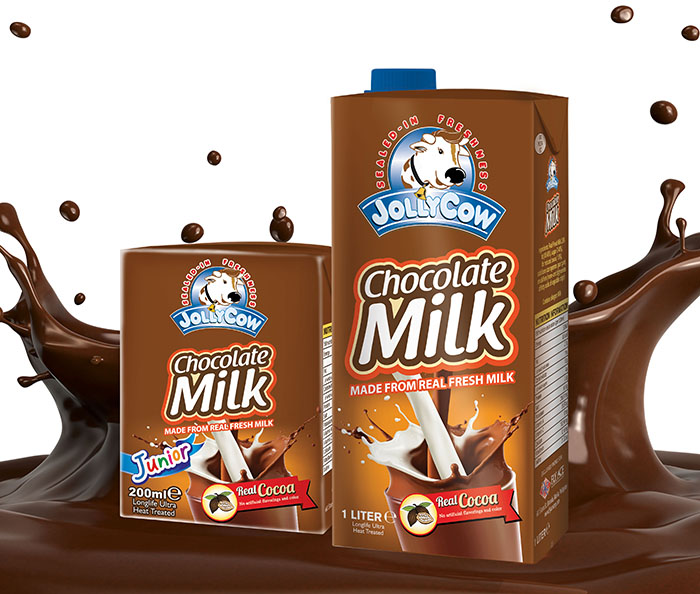 Jolly Cow's newest chocolate milk that's made from 100% Pure Cow's Milk and real cocoa with less sugar is the perfect combination of creamylicious and chocolicious goodness of milk and cocoa in one. What's more, its chocoholic taste is only the beginning, all Jolly Cow milk only comes from "happy cows" that were raised and bred in cow friendly farms in Europe, so you can look forward to enjoying tastier, healthier, and creamylicious milk quality in every pack.
Conveniently available nationwide in one liter and 200 ml sizes, Jolly Cow Chocolate Milk is best enjoyed chilled or as a delicious ingredient to liven up milkshakes and smoothies. Since it doesn't use vegetable fats to give it full taste, it is no surprise that both kids and young at hearts find it an irresistible source of their daily calcium and a source of energy. Perfect for dunking with your favorite bread, it is also the ultimate accompaniment for your favorite savory snacks, and is a healthier alternative for the sweet-toothed. Jolly Cow Chocolate Milk tastes so good!
"The introduction of this new variant of Jolly Cow continues to support the expansion of the product line in the country, and reinforces our commitment to bring the best food and beverages of the world to the Filipinos.   Jolly Cow Chocolate Milk is different from other chocolate drinks, as it only uses 100% Pure Cow's Milk, Cocoa, a little bit of sugar, and no vegetable fat added.  It is totally chocolicious! All our consumers will surely love it!" said Fly Ace Corporation General Manager, Ramon Daez.
Hits: 49