Young kitchen gurus Chef Winston Jerome Luna and Chef Mitchie Sison share their personal recipes for career success
What makes one successful? For aspiring chefs and food entrepreneurs, it entails having a strong level of commitment, passion, hard work, and clear career goals in mind. It also pays to gain inspiration from those who have chartered their course in the business, like Chef Mitchie Sison and Chef Winston Jerome Luna, two of the country's brightest culinary talents who shared their personal journeys and proven recipes for success.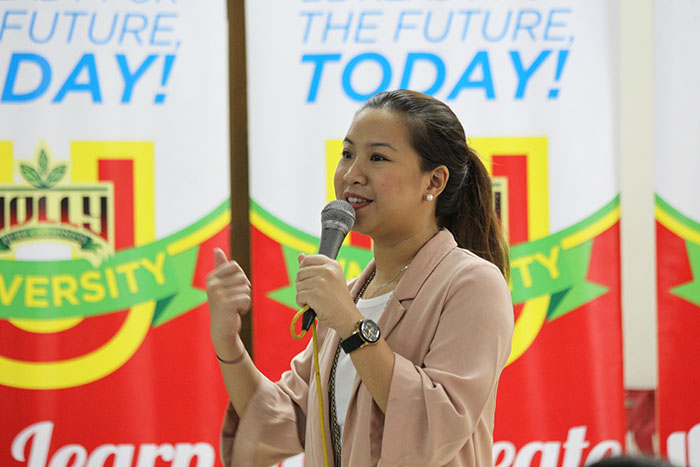 Commitment of Chef Mitchie
For celebrity chef Mitchie, she began to explore and develop her culinary and entrepreneurial skills back in her teens. She started with baking and selling brownies in school and she also enjoyed cooking at home or at her friend's house.
Over time, her desire to be a professional cook led her to study HRM in College of Saint Benilde where she learned techniques and cooking principles. Chef Mitchie slowly but steadily solidified her career working at an Australian ice cream franchise where she acquired a good grasp of professionalism, especially when it comes to customer service and store operations. However, her biggest career break came when she was chosen to be one of the chef hosts for a TV cooking show, Katoque, in early 2000's.
"It was an eye-opening experience for me to be put on the spotlight early in my career. It really motivated me to hone my craft more," muses Chef Mitchie.
Currently a consultant for restaurants, food companies and JOLLY brand ambassador, Chef Mitchie proudly says her meaningful career stemmed from gained experiences, and good professional relationships with colleagues in the industry.
"I'm very grateful for having supportive friends and industry leaders who believe in me. Many of them have been instrumental in opening opportunities that led to unforgettable milestones in my career. Commitment, professionalism, and staying true to your work standards are important in this industry. I'm also looking forward to launching my own food business by next year," she stresses.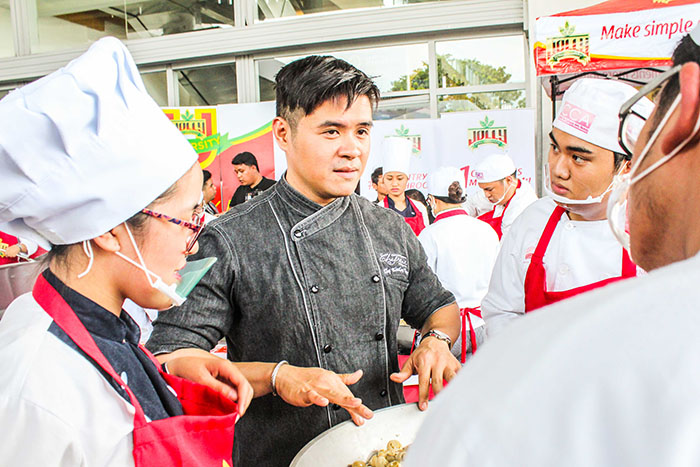 Determination of Chef Winston
Before becoming CEO of Chefwix Catering Services, Chef Winston Jerome Luna began his career journey with a passion and determination to succeed. At age 6, Chef Winston was already tinkering with recipes in the kitchen, experimenting on snacks, main dishes and desserts which he would happily serve to family.
However, his calling to pursue a culinary career came only after finishing his graduate studies, and he decided to take up formal culinary studies at the International School for Culinary Arts and Hotel Management.
"Being a professional chef is a destiny for me. As a chef, my goal is to constantly achieve perfection and excellence in everything I do; professionalizing the career came spontaneously as a result of smart work, perseverance and commitment," he says.
While he also points out to positive attitude and academic training as essential factors, Chef Winston stresses success also takes root in partnerships, be it with people, organizations, or brands that share mutual advocacies, as these can greatly help one achieve his or her desired career goals.
"I always look up to the JOLLY brand. The quality of the product speaks for the remarkable comments that we get from our clients. JOLLY has been a partner towards each success that we achieved. We love JOLLY and will make sure that we will move forward ensuring JOLLY is with us," he stresses.
Besides his regular stint as TV guest chef and reputation as one of the country's most promising food entrepreneurs, Chef Winston says he always cherishes the fulfilling rewards of his career and catering business.
"Creating magical moments is not easy. Marrying a masterfully crafted event with an exquisite dining experience is our commitment in delivering a memorable experience. Seeing happy faces and joyful remarks lift us up and inspires us," he remarks.
Both Chefs also pinpoint grit, open-mindedness, as well as, having a humble disposition as key traits to have if one wishes to achieve long-term career success. For those venturing further into the food business, Chef Winston advises them to build on their business knowledge to turn their passion and talent into a sustainable, commercial success.
The two young entrepreneur chefs are firm supporters of JOLLY, the number one canned vegetable brand in the country. JOLLY has always been supporting aspiring young chefs and food entrepreneurs to pursue their culinary dreams by sharing easy-to-do recipes and kitchen tips, along with bringing the best that will inspire them through various events such as the annual Jolly University.
Apart from their nuggets of wisdom, the chefs also shared their easy-to-prepare and cost-friendly JOLLY-inspired recipes which aspiring entrepreneurs can use for a start-up food business.